Channing Tatum plays Pink's husband in her sexy retro new video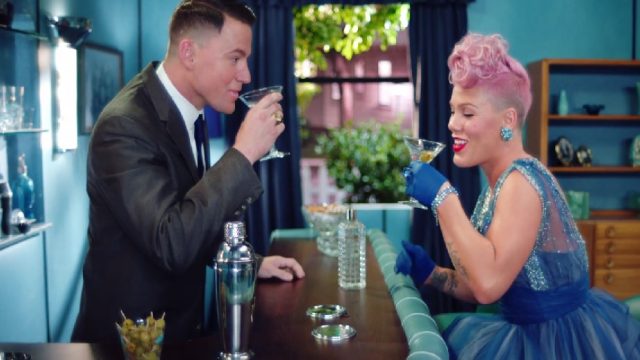 Here's some good news for fans of Pink's latest album — Channing Tatum is the star of Pink's new video for "Beautiful Trauma." And let's just say it's a music video that'll get people talking.
Tatum and Pink star as a married couple from the '50s. While Pink's dressed up in frilly attire, and taking on the stereotypical "wife" role from back in the day, the video shows that there's more flaws in their relationship than one may assume. We love it since it crashes stereotypical gender roles, and proves that even a couple that seems fine on the outside might have dark (and sometimes sexy) secrets that they're not too vocal about. Like, say, bondage and daytime drinking.
As for being open about stereotyped gender roles, Pink is seen burning shirts with an iron, along with dinner in the stove. In another scene, while the singer dances around a pink room with a basket of laundry, it's revealed that Tatum is in the closet trying on dresses. Refreshingly, the singer lovingly embraces this side of Tatum, and even helps with his lipstick.
Similarly to her video for "Try," the singer also busts out a few impressive dance moves reportedly choreographed by DJ Durrell and Nick Florez. The nearly 5-minute video even has a set of credits at the end, truly marking it as a work of art.
It should come as no surprise is currently the #1 trending video on YouTube.
https://www.youtube.com/watch?v=EBt_88nxG4c?feature=oembed
While you might not link Tatum and Pink, the two are actually friends. While she's better known for working with Janet Jackson, Jenna Dewan Tatum used to be a backup dancer for Pink. Regardless, he was the perfect choice — and it's clear the two of them have a lot of on-set chemistry.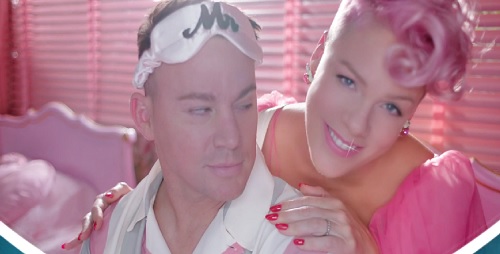 Last night, the singer teased the release of the song, which made fans pretty excited.
So we're happy to report that it was worth the wait.
Pink took a bit of a hiatus from music for awhile, and it's obvious that the time away helped her focus on perfecting her craft. Not only are we loving all the songs from Beautiful Trauma, which was released this October, but we dig the fact that she's put so much time into making her music video something special.