Halle Berry dared Channing Tatum to dress like a princess and sing "Let It Go," and he *went* for it
Channing Tatum continues to shock and amaze. After making Halle Berry drink a cup (like, a full cup, y'all) of whiskey at Comic-Con, he owed her the chance to get even. So after visiting Ellen, Berry left a sealed envelope with a dare intended for Channing to pay his debt.
And the dare was well worth the wait. Halle Berry dared her Kingsman: The Golden Circle co-star, Channing Tatum, to dress up like a princess and sing "Let It Go." We have ample evidence now that Channing Tatum is pretty much game for whatever…so, obviously, he delivered.
His princess costume was really, truly what dreams are made of.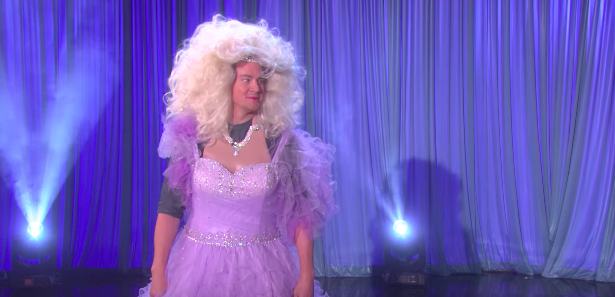 Our jaws were frozen to the ground for his whole performance. We know he's an exceptionally talented dancer and performer, and he clearly pulled out all the stops to take on this role. We're sure that, somewhere out there, Idina Menzel is green with envy. (Looking at you, Wicked fans!)
If you want to see his performance, check out the video below — we skipped to the crucial part for your convenience.
Make sure your volume's up and you're somewhere private, because not laughing out loud is so not an option.
https://www.youtube.com/watch?v=kdMCw-6NGFE?feature=oembed
(Oh, and fun fact: This isn't the first time Tatum has performed "Let it Go." He also did so on Lip Sync Battle, and let's keep this trend going!)
We don't know if we'd trade this for a Magic Mike show, but we're just saying… If we were offered the chance to see Channing Tatum perform something live, we'd have to think about it for a very long minute.
Huge props to Channing Tatum, who seems to have no problem letting it go to entertain us time and time again.