Changes are coming to "The Great British Bake Off," and we're not sure what to think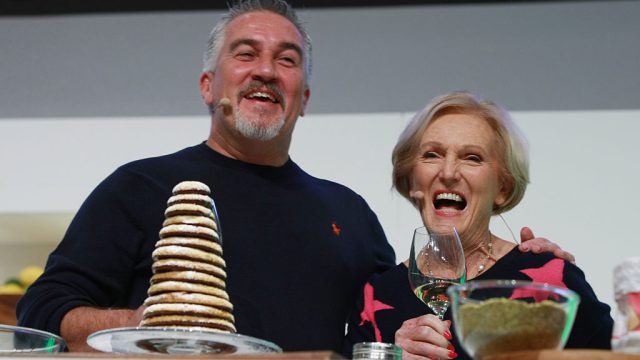 After being raised on American reality television shows, many Yankees have found respite in The Great British Bake Off, where lovely human beings of all ages, races, and genders struggle to make cakes and sweets in the English countryside, and the only drama comes when someone realizes they're going to have a "soggy bottom." And they call desserts "sweets!" It's charming AF and there's no alcohol, sex, or confessionals involved.
Alas, despite the fact that the show is quite possibly the happiest place on television, big changes are coming to The Great British Bake Off. As fans, we're not going to lie: We feel a little bit like Downton Abbey's Robert Crawley resisting the end of an era as much as humanly possible.
If you've never watched the show, we highly advise you to queue it up on Netflix, or find some reruns on your local public television channel. Unlike MasterChef, Top Chef, or Chopped (which are also amazing cooking competition shows for different reasons), The Great British Bake Off is akin to taking a yoga nidra class. It's the epitome of zen.
Yes, there is some snarky British eye-rolling, and nail-biting moments happen when you realize your fave hasn't let their pudding set long enough in the summer heat, but it's just the nicest. It's relaxing. Contestants are critical of each other, but kind. The judges are helpful. And there is cake. And British accents!
However, the show's new producers think Bake Off needs to up its game. At the Channel 4 Upfronts this week, producers said they want to "modernize" it. Yikes? As much as we love Gordon Ramsay yelling at people while they try to cater a desert wedding in two hours, we're not sure that kind of ~energy~ would work for our beloved baking show.
Changes were bound to happen, of course. The Great British Bake Off was once produced and broadcast by the BBC, the U.K.'s public broadcasting company. But last year, the BBC lost the rights to the show to Channel 4, which is a mostly commercially funded network.
It's kind of hard for an American audience to understand, maybe, since most of American mainstream television is broadcast by networks that pay their bills with advertising. But it would, roughly, be the equivalent of a really good show being created and owned by PBS and then sold to a major cable network, like NBC or Bravo.
Channel 4's chief creative officer, Jay Hunt, said that the network plans to keep The Great British Bake Off, just with some slight tweaks. She told reporters, "This is Bake Off but with an extraordinary, high calibre of contributors and it's got a slight Channel 4 feel to it. We've got a new tone to it, it's got a new comic riff to it. I think that feels modern and future facing."
This might have been a longtime coming, after everyone's fantasy grandmother and judge Mary Berry left the show last year — along with Bake Off's darling hosts — leaving Paul Hollywood and some new judges to take over after the changeover.
But that doesn't mean we have to like it.
Change happens, and hopefully the producers of the show will only make it better for their audience. But this is 2017 and, seriously, the world needs more of what goes down on The Great British Bake Off these days. If only soggy bottoms were the worst of our problems.