AW-m-g, Chance the Rapper's daughter has made her Instagram debut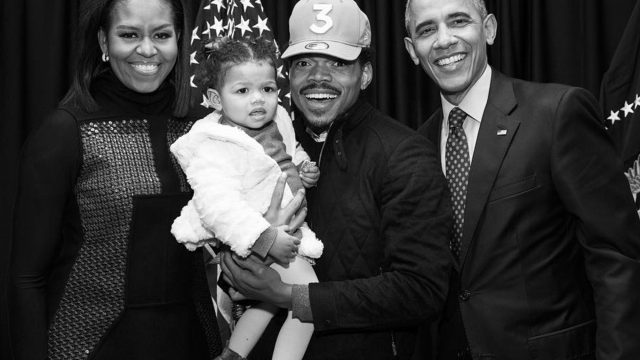 We know that celebrities are notoriously protective of their offspring, and rightfully so. Because of this, it is always such a treat when they do choose to share photos. This weekend, Chance the Rapper shared pictures of his daughter that are too cute for words. Kensli, who was born in September 2015, the rapper made it clear that she was going to remain off limits, rapping "My daughter looks just like Sia/you can't see her" on Kayne West's "Ultralight Beam."
Something made him change his mind, and we're not complaining; she's adorable! In a series of Instagram posts, the tot is pictured hanging out with her dad, chatting on the phone, playing the harmonica, and even getting to meet President Obama and the First Lady! It's wrong to be jealous to be jealous of a toddler right?
Many of the posts are followed by beautiful, heartfelt captions by her dad. It's clear that Chance the Rapper loves his little girl very much, and we're glad that he's sharing that love with all of us.
This is the girl who reintroduced me to God…
Starting her with music early
Kensli is not impressed…
It is clear that being a good dad is incredibly important to Chance the Rapper. "Dads know you can't/won't get this love anywhere else. We are the chosen few, the responsibility is heavy but duty is an honor. Mothers better know it ain't one thing in this world we can without you. Thank you to her mother, my mother and God for making all things possible. I can't wait to get back to this," he said in one of his Instagram posts. Break our hearts, why don't you, sir?
If you want another kick in the feels, check out his version of "Dear Theodosia" on the Hamilton Mixtape. It is abundantly clear that little Kensli is his inspiration.