Chance the Rapper got engaged at a July 4th party — and it was all caught on camera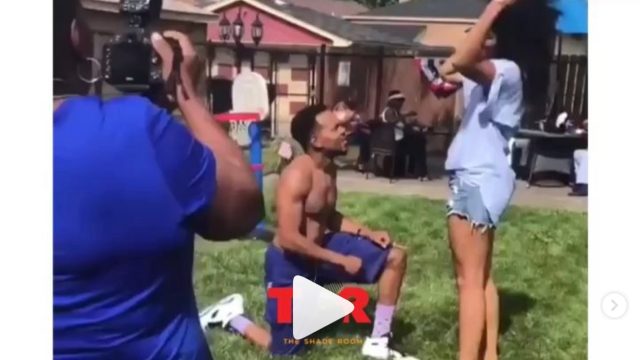 We're sending massive congratulations to Chance the Rapper and his new fiancée Kirsten Corley. Yesterday, July 4th, Chance popped the question at a backyard BBQ and lucky for us, the entire thing was caught on camera. Chance, whose real name is Chancelor Bennett, later confirmed his engagement via Twitter.
The independent rap artist, who scooped up his first three Grammys last year, has been with Corley since 2013. They separated briefly in 2015 after the birth of their daughter, but reconciled by March of last year. Two-year-old Kensli helped her dad propose to her mom yesterday afternoon while decked out in a red, white, and blue swimsuit (aww), while friends and family cheered from the sidelines as Chance asked Corley, "Will you make me a man and be my wife?"
In a May 31st Instagram post for Corley's birthday, Chance gushed about his then-girlfriend in a lyrical caption. He wrote, "From the beginning beginning to the end end. You are my oldest and best friend. You are responsible for everyone of the most wonderful things in my life. I'm forever grateful that God made me find you, and even more grateful that you made me find God. Forever and ever babe."
Tissues, please.
The Shade Room Instagram account posted video footage of Chance's proposal and shared a photo of Corley's stunning engagement ring.
Fans on Twitter noted that Chance finally achieved the goal he rapped about in his song, "All We Got." Well done, Chance. Mission accomplished. false
Congrats, Chance and Kirsten! Let us know if you need our updated address before sending out the wedding invites.