A brief history of Chance the Rapper and Kirsten Corley's relationship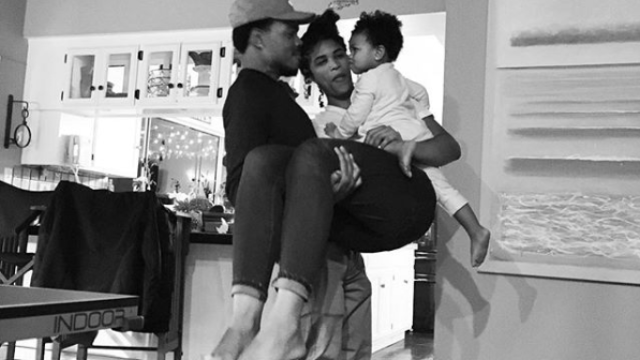 Yesterday, July 4th, Chance the Rapper (or Chancelor Bennett, as he's known outside of the music industry) got engaged to longtime girlfriend, Kirsten Corley, during a Fourth of July party. Chance got down on one knee in front of cheering friends and family and asked Corley if she'd "make me a man and be my wife." And the rest, as they say, is history.
The beautiful moment was thankfully caught on camera (notice the couple's two-year-old daughter Kensli was also there).
Chance and Corley have kept things relatively private since they began dating in 2013. Corley has appeared a handful of times on Chance's Instagram and was most recently the subject of a heartfelt May 31st birthday post.
"You are my oldest and best friend," Chance captioned the post. "You are responsible for everyone of the most wonderful things in my life. I'm forever grateful that God made me find you, and even more grateful that you made me find God."
Although the two seldom share details of their relationship with the public, fans learned that they separated shortly after daughter Kensli was born in September 2015. In February 2016, Corley petitioned to be the sole caretaker of Kensli and motioned that Chance should pay child support.
Corely ultimately amended her petition and the two worked out a co-parenting schedule later that year. According to IBTimes.com, the couple officially moved back in together in January of 2017. Corley's attorney told the Chicago Tribune that month, "All is well, and the motion has been withdrawn."
Later that month, Chance posted a photo of himself with Corley and Kensli with the caption, "No matter what we are, we're always family."
And judging how well the proposal went, we think it's safe to say Chance and Corley's relationship has never been better.
We're sending Chance, Corley, and Kensli all our congrats.