Try this champagne mug cake recipe and raise a carby toast to 2019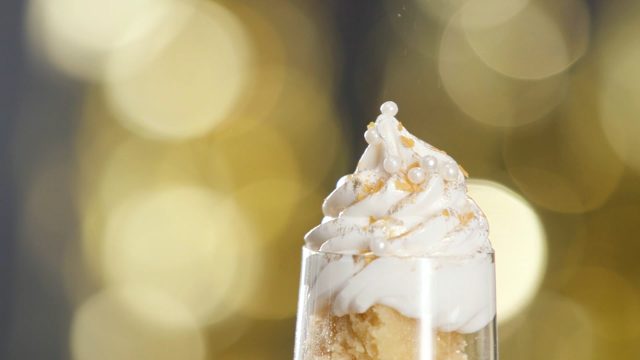 If you're looking for a new year's recipe that looks fancy but doesn't demand you be a pastry chef, join us in raising a toast with this champagne mug cake. It combines drinks and dessert in the perfect way, so you can ring in 2019 with both.
Important note: While this cake looks festive in stemware, be sure to cook it in a microwave-safe mug so you don't start your year with an explosion of glass. Once it's cooked, serve it in a champagne flute—whether to delight your favorite people or just to treat yourself with the luxury you deserve. Watch the video below for instructions.
[tempo-video id="5980694130001″ account="4607804089001″]
Champagne Mug Cake
Serves 1 (serving size: 1 flute)
Ingredients
2 Tbsp. salted butter, melted
2 Tbsp. granulated sugar
1/4 cup all-purpose flour
1/2 tsp. baking powder
1 pinch table salt
1 pinch ground nutmeg
1 large egg yolk
2 Tbsp. champagne or sparkling wine, divided
1/4 cup salted butter, softened
1 cup powdered sugar
1/8 tsp. vanilla extract
Gold edible sprinkles or gold edible glitter for garnish
Directions
1. Stir together melted butter and granulated sugar in a small bowl. Whisk together flour, baking powder, table salt, and nutmeg in a small bowl; stir flour mixture into butter mixture. Stir in egg yolk and 1 tablespoon champagne into flour mixture until thoroughly combined. Spoon mixture into a lightly greased 10- to 12- ounce microwave-safe glass mug.
2. Cook on HIGH for 60 to 90 seconds, checking after 60 seconds with a wooden pick. Let cool completely on a wire rack (about 30 minutes). Run a knife around edge of cake and turn out onto a cutting board. Cut cake into bite-size pieces. Place pieces into a champagne flute.
3. Beat softened butter in a small bowl with an electric mixer at medium speed until creamy; add powdered sugar alternately with remaining 1 tablespoon champagne and vanilla and beat on low until combined. Increase speed to medium-high and beat until fluffy. Pipe frosting onto top of cake in champagne flute. Garnish, if desired.
Note: Frosting makes enough for 3 or 4 cakes.