Ring in your NYE party with classy AF champagne "jello" shots drenched in gold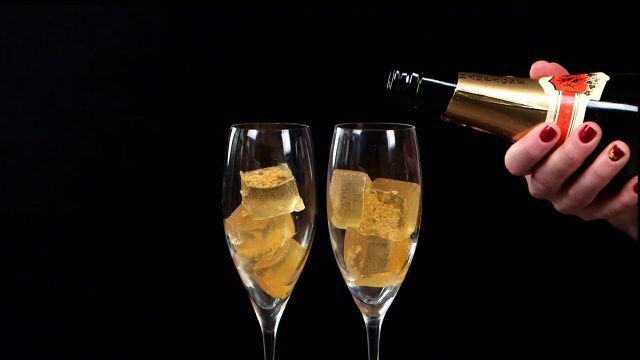 Champagne is the drink of choice on New Year's Eve, and there's nothing like toasting to the year behind you while looking to the year ahead. If you want to impress your guests at your NYE's gathering this year, look no further.
Alcoholic gelatin shots might remind you of your old college party days, but it's still one of the most fun ways to drink. It's time to class "jello shots" up with a little champagne. Champagne gelation shots represent an elegant way to sip your favorite bubbly. Cheers to the new you, the one who adds gold flakes to everything in 2018.
Watch the video below and remember to drink responsibly.
[tempo-video id="5689651992001″ account="4607804089001″]
Champagne Gelatin Shots
Serves 15 (serving size: 1 jello shot)
Active 10 min. Total 3 hours, 10 min.
Ingredients:
1 1/2 cups (12 oz.) Champagne
1 1/2 Tbsp. agave nectar
1 Tbsp. fresh lemon juice (from 1 lemon)
3 (1/4-oz.) envelopes unflavored gelatin
3/4 cup ginger ale
Edible gold leaf flakes (optional)
Directions:
1. Combine Champagne, agave nectar, and lemon juice in a small saucepan. Sprinkle gelatin packets over Champagne mixture, and let stand until gelatin blooms, about 2 minutes.
2. Heat saucepan over medium-low, and cook, stirring constantly, until gelatin dissolves, about 3 minutes. Remove from heat, and stir in ginger ale.
3. Pour mixture into a silicone ice cube tray. Chill until completely set, about 3 hours or overnight.
4. Remove from molds, and serve. Garnish with gold flakes, if desired.