Celine Dion cried when her son surprised her at the Billboard Music Awards and now we're crying too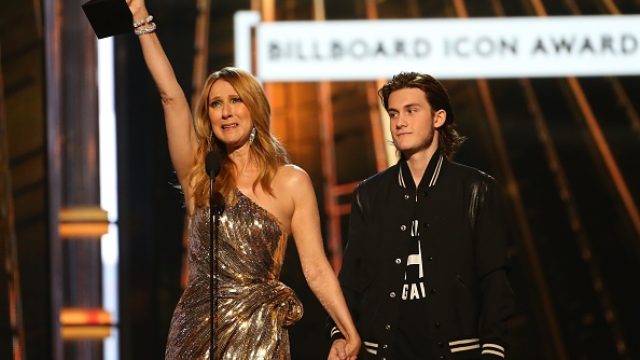 The Billboard Music Awards last night in Las Vegas featured some incredible performances (as always). But the night also included its fair share of tender moments, such as Kesha's touching performance and the Prince tribute by Madonna and Stevie Wonder. We also found ourselves with a serious lump in our throat after Celine Dion took the stage to receive her Billboard Icon Award.
Dion is only the fifth performer to ever receive the award. Past recipients include Jennifer Lopez, Neil Diamond, Stevie Wonder, and Prince. It's an enormous honor, and we're sure Celine Dion was moved to be chosen. But what really hit her (and us) right in the feels was when her son surprised her by presenting the award to her onstage. false
Dion had no idea her 15-year-old son René-Charles Angelil would be the one handing her the award, and the surprise got her super emotional. She cried, and TBH we cried right along with her.
Dion's husband of 21 years, René Angélil, passed away in January. Her brother, Daniel, died just two days later. Needless to say, it's been a tough year for Dion. In her acceptance speech, she apologized for her tears, saying, "I'm so sorry. I'm sorry for crying. I want to be so strong for my family and my kids. And I didn't expect that. I'm so sorry. I don't want to cry in front of you. You make me so happy. Thank you."
Celine! You don't need to apologize. You're an icon! Your tears are our tears.
She went on to say, "I want to thank the fans for traveling through music with me in good and bad times…All the people who believed in me. My family. My mom who wrote my first song, my children, René Charles. And most importantly, my beloved husband whom I know will continue to watch over me from up above."
Being the true icon that she is, Dion also performed last night. She sang Queen's "The Show Must Go On" with Lindsey Stirling (again, more feels!) in her first live performance since the death of her husband.
And she rocked it. false