Here's how Céline Dion responded when Drake said he wants a tattoo of her face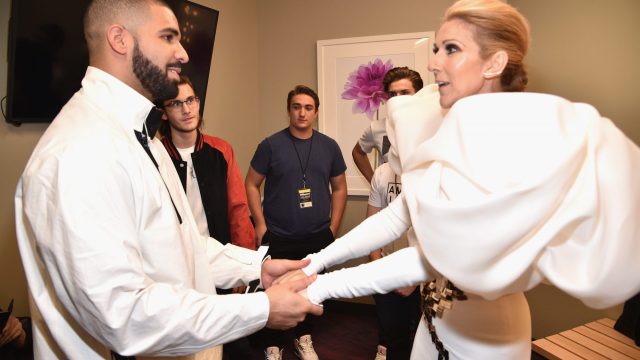 If someone told you they were going to get a tattoo of your face on their body, how would you react? We'd probably respond the same way Céline Dion did when Drake said he's thinking about getting her portrait inked on his ribcage.
The two musical icons met backstage at Sunday's Billboard Music Awards. Drake had an excellent night before the meet-up, having won 13 awards for his album More Life and rekindled his friendship with Nicki Minaj. And Dion had just brought down the house with her performance of her classic, "My Heart Will Go On."
Both stars were riding a post-award show high!
While riding up on Cloud 9, Drake was able to meet the Canadian queen herself, and he wasn't holding back on his fanboying.
"I'm like a year away from a Céline tat, so..." Drake informed Dion.
"Oh, I don't know," Dion responded before quickly changing the topic and introducing her son to the rap sensation.
Yeah, that's probably what our awkward selves would have said too.
According to People, Drake getting a Céline Dion tattoo isn't that far out of left field. He has record label logos tatted, a matching camo shark with Rihanna, and several portraits of friends and family members inked on his back.
So, if we see Dion's face pop up in permanent ink on Drake's side, we won't be completely shocked. Dion on the other hand, might be a bit stunned. But she can't say that Drake didn't warn her!