So many celebs are bravely sharing their stories of sexual assault to support Christine Blasey Ford, and we stand with them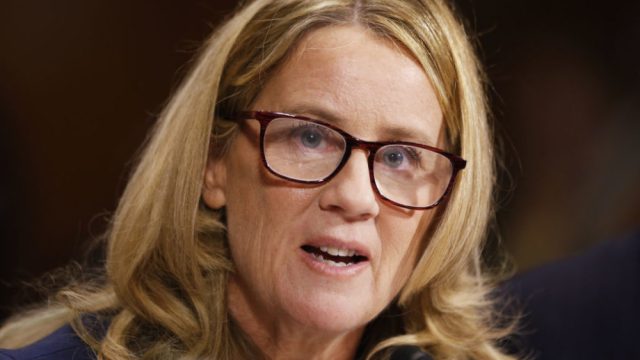 Yesterday, September 27th, the world watched as professor Christine Blasey Ford testified before the Senate Judiciary Committee about her alleged sexual assault at the hands of Brett Kavanaugh. As Ford delivered her emotional account of what happened that night, many, including celebrities, voiced their support for her and for all survivors of sexual assault.
In her prepared remarks, Ford said that she was "terrified" to testify but felt it was her "civic duty" to be there. She went on to discuss her difficult decision to come forward after so many years, and the harassment and threats she and her family have been subjected to since her allegations went public.
"I have had to relive my trauma in front of the entire world, and have seen my life picked apart by people on television, in the media, and in this body who have never met me or spoken with me," she said. "I have been accused of acting out of partisan political motives. Those who say that do not know me. I am a fiercely independent person and I am no one's pawn."
On Twitter and Instagram, several celebrities showed their support for Ford by discussing their own experiences with sexual harassment.
In an emotional tweet, Modern Family actress Sarah Hyland revealed that she was raped by a friend in high school.
Hyland wrote that she never came forward because she didn't think others would believe her.
Actress Busy Philipps shared a photo of herself at age 14, writing that it was taken the same year she was raped.
She acknowledged that it had taken her 25 years to come forward.
"Today is the day we are silent no more. All of us," Philipps wrote. "I'm scared to post this. I can't imagine what Dr. Ford is feeling right now."
https://www.instagram.com/p/BoPDmUYB1XE
Fuller House actress Jodie Sweetin came forward in a lengthy Instagram post to say that she had been assaulted.
"I stand with her. I AM her," Sweetin wrote. "I was the girl who never reported because I blamed myself. I was the woman who never reported because I didn't want to go through the pain and ridicule. The same sort of pain that I witnessed Dr Christine Blasey Ford walk through today."
Actress and model Cara Delevingne, who spoke up about being sexually harassed by Harvey Weinstein last year, also showed her support for Ford.
She shared why she didn't report the day before Ford's hearing, September 26th.
Actress Ashley Judd, one of the #MeToo movement's most vocal proponents, posted a series of tweets in which she supported Ford's testimony with her own experience of assault and trauma.
With the Kavanaugh hearings dominating the news cycle, the past few days have been exhausting and heartbreaking—especially for survivors of sexual assault. Remember to take care of yourself during this difficult time. As always, we stand with all survivors.
If you or someone you know has been sexually assaulted, contact the National Sexual Assault Hotline at 1-800-656-4673.