The most fashionable celebs lit up the Empire State Building Wednesday night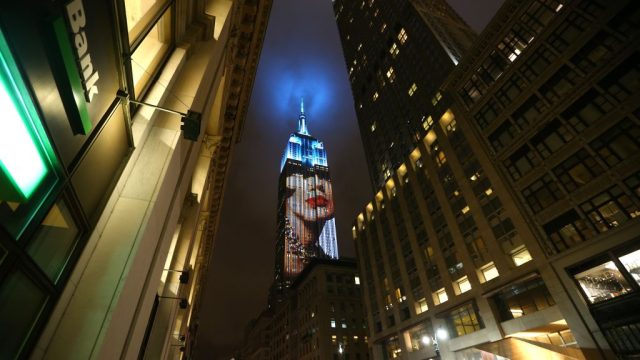 There's that saying about how if you can make it in New York City, you can make it anywhere. While that may or may not be true, a good sign that you've actually made it is having your image projected onto the Empire State Building, like Kendall Jenner, Rihanna, Reese Witherspoon, and the other subjects of Harper's Bazaar covers.
In honor of the magazine's 150th anniversary (that's a LOT of fashion), editor-in-chief Glenda Bailey ran the light show, in partnership with Tiffany & Co. from 8:30 p.m. ET until midnight on Wednesday. In addition to Kendall's current one and Rihanna's Jaws cover, Gwyneth Paltrow's March 2012 cover, Reese Witherspoon's February 2016 cover and Carolyn Schnurer's May 1947 cover were all projected, 42 floors high, onto the iconic building. Works from Andy Warhol and Richard Avedon were included in the show, along with Kate Moss (DUH) and Lauren Bacall.
If you were in the city, and able to get a glimpse of the north side of the building, it was a fashion sight to behold.
Kendall Jenner was able to catch hers, luckily. She snapped a picture from the Harper's party at the the Rainbow Room at Rockefeller Center, writing, "Empire State building ft. meeeeee." She was also featured with Bailey pulling the lever to start to the whole show.
Demi Moore, along with designers Alber Elbaz, Ralph Lauren, Brandon Maxwell, Carolina Herrera, and Gabriela Hearst were reportedly also in attendance according to The New York Post's Page Six, which knows everything. Could this party have been more Gossip Girl-ish? We don't think so, and we're a little envious we weren't invited.
Here are just a few of the moments we caught on Instagram.
But really, why hasn't Beyoncé done this yet?
It was likely the most fashionable three and half hours the Empire State has ever seen — which was the goal. Bailey told The New York Times on Tuesday,
"What I really want is to allow New Yorkers to enjoy the greatest fashion show in the world. It will be the greatest light show that has ever been.
Usually, the Empire State building is lit up with a color celebrating certain holidays (the next one will be green, for Earth Day) or when a sports team breaks a record. But we have to give it to Harper's Bailey and her cover models — they put on a good show.