Celebs are spending Labor Day weekend in serious style, here's who's relaxing the best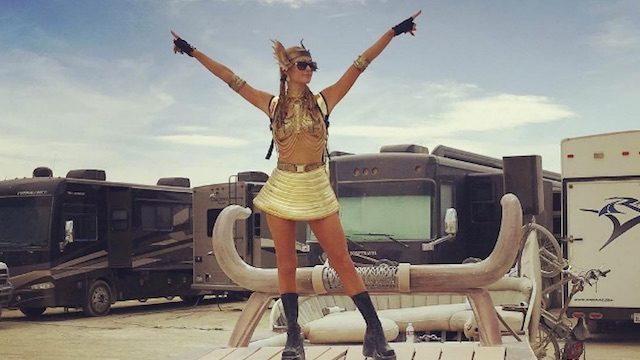 No one parties better than celebrities. With their fun party favors, dazzling attire and A–list guests, they throw some of the best bashes during the holidays. Labor Day weekend is no different because celebs are celebrating in serious style.
Can we celebrate Labor Day weekend every weekend?
Instead of a weekend filled with debauchery and late night partying, Hollywood stars are taking it easy this holiday and we don't blame them.
Most celebs like Emily Ratajkowski and host Cat Deeley are spending time with family. Others are celebrating Burning Man, the beautiful ocean view, football and incredible food. Celebrities aren't counting calories this weekend, that's for sure.
Take a look at some of your favorite Hollywood stars celebrating Labor Day weekend. Let's just say it looks the perfect way to spend the long weekend, if you ask us.
Look how adorable these two are!
https://www.instagram.com/p/BJ2tE0uA31M
We can't get enough of Deeley's smile. Pure bliss.
We're a little jealous of Allison William's view.
But Lauren Conrad's view might be a littler better than the HBO Girls' star.
Olviia Palermo's beach filled weekend seems like the most relaxing.
Hugh Jackman's weekend is off to a "sensational start," indeed.
Ashley Graham has the US Open on her mind this weekend.
John Legend has one thing on his mind this weekend – watch football with baby Luna.
Shay Mitchell is doing Labor Day Weekend food right.
Someone help Reese Witherspoon make dog popsicles happen.
https://www.instagram.com/p/BJ8lcPeAsBt
Paris Hilton enjoyed #BurningMan.
So did Katy Perry.
A lot of celebs did Burning Man this weekend, including Scoot Eastwood and Cara Delevingne.
We'll just enjoy our rosé all day and pretend we're celebrating in style like these Hollywood stars. One thing is for sure, we can't wait to see how they celebrate Halloween.