Camila Mendes, Antoni Porowski and other celebs are fostering shelter dogs amid the coronavirus pandemic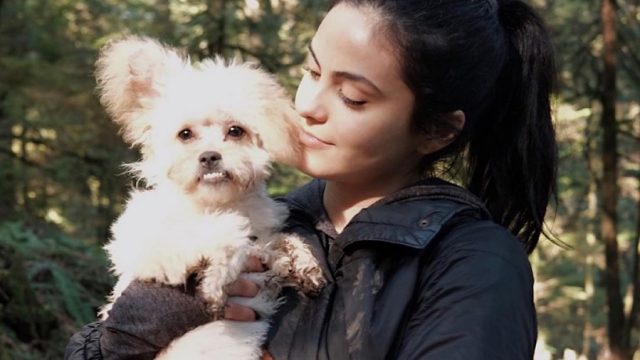 It's totally understandable to feel lost, confused, and powerless in the face of the global coronavirus (COVID-19) pandemic—in fact, it's totally normally to be feeling that way. But there are lots of ways you can help: by donating to nonprofits, buying groceries and supplies for friends and family who are self-isolating, or tipping delivery people extra generously. All these seemingly small acts of kindness can make a huge impact right now. And here's another option, if it's available to you: Join the ranks of celebrities like Antoni Porowski, Camila Mendes, Brittany Snow, and others and foster or adopt a shelter dog. (Or two. Or three.)
Robin Ganzert, president and CEO of American Humane, told Today that animal shelters "are going to be absolutely swamped with a tremendous number of pets" while the humans who could take care of them are practicing social distancing and self-isolation. But beyond providing these vulnerable animals with a temporary home, you may actually be saving their lives. Ganzert also said that "she worries the euthanasia rate will skyrocket in the United States during the coronavirus pandemic."
It should go without saying that there's a lot in it for you, too, if fostering is a viable option. First off, studies show that caring for animals can actually reduce cortisol levels, which can result in a stronger immune system—something we could obviously all benefit from right now.
And the emotional benefits of fostering are nearly impossible to quantify. At a time when virtually everyone is experiencing some level of loneliness, anxiety, and depression (in varying degrees, of course), a dog's unconditional love and consistent companionship can feel  life-saving. Also, if you were concerned, Ganzert confirmed that "there is no evidence that dogs and cats can transmit COVID-19."
If you still need some more convincing, here are some very cute celebrities with their very cute foster animals.
Camila Mendes
https://www.instagram.com/p/B-DG6mFh1V5
"My cuddly lil quarantine companion," the Riverdale actor captioned her post. "Don't know what I'd do without her. Pls consider fostering a furry friend with all this time you're spending at home!" Mendes added that she adopted her pup from The Labelle Foundation in Los Angeles, but that "you can just reach out to your local animal shelters and see how you can help."
Antoni Porowski
The Austin, Texas-based shelter Austin Pets Alive! posted this sweet Instagram video of Queer Eye's Antoni Porowski with his new puppy, Neon, a pit bull-beagle mix. "It's very important to support our local shelters, because they're getting a lot less foot traffic during this crazy old pandemic!" Porowski said.
Kyle Chandler
Another Austin Pets Alive! supporter: Kyle Chandler (who will only ever be coach Eric Taylor in our hearts) just adopted this sweet little baby named Clive.
"Actor Kyle Chandler and his wife Kathryn stopped by yesterday with the intention of fostering a dog," the shelter wrote in their caption. "Little Clive stole their hearts and they decided to adopt instead!" Clive, if you're listening: You have stolen our hearts, too.
Camila Morrone
Model and actor Camila Morrone is fostering this husky from Los Angeles-based Hollywood Huskies. "Fostering a puppy during this quarantine time has been the single best decision," she wrote. She added that "these sweet creatures need you so badly," an attitude we share about this beautiful fluffy puppy.
Brittany Snow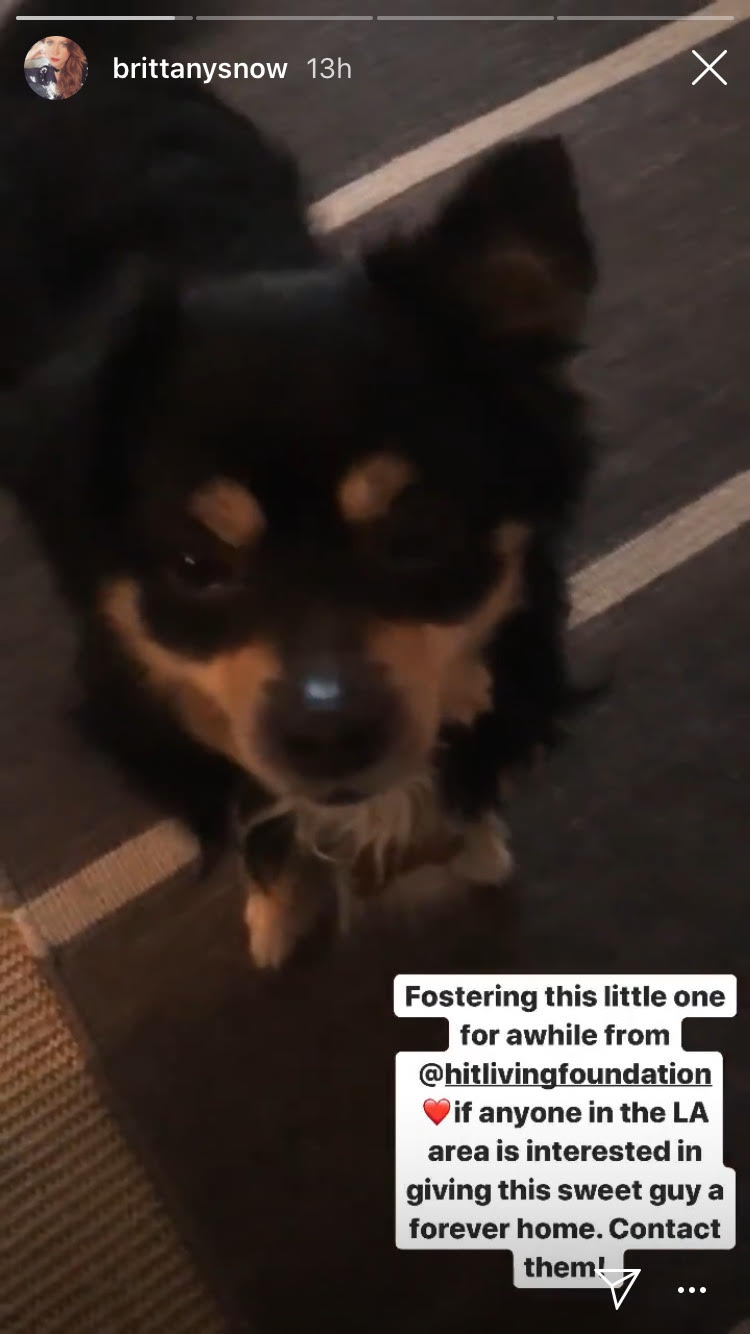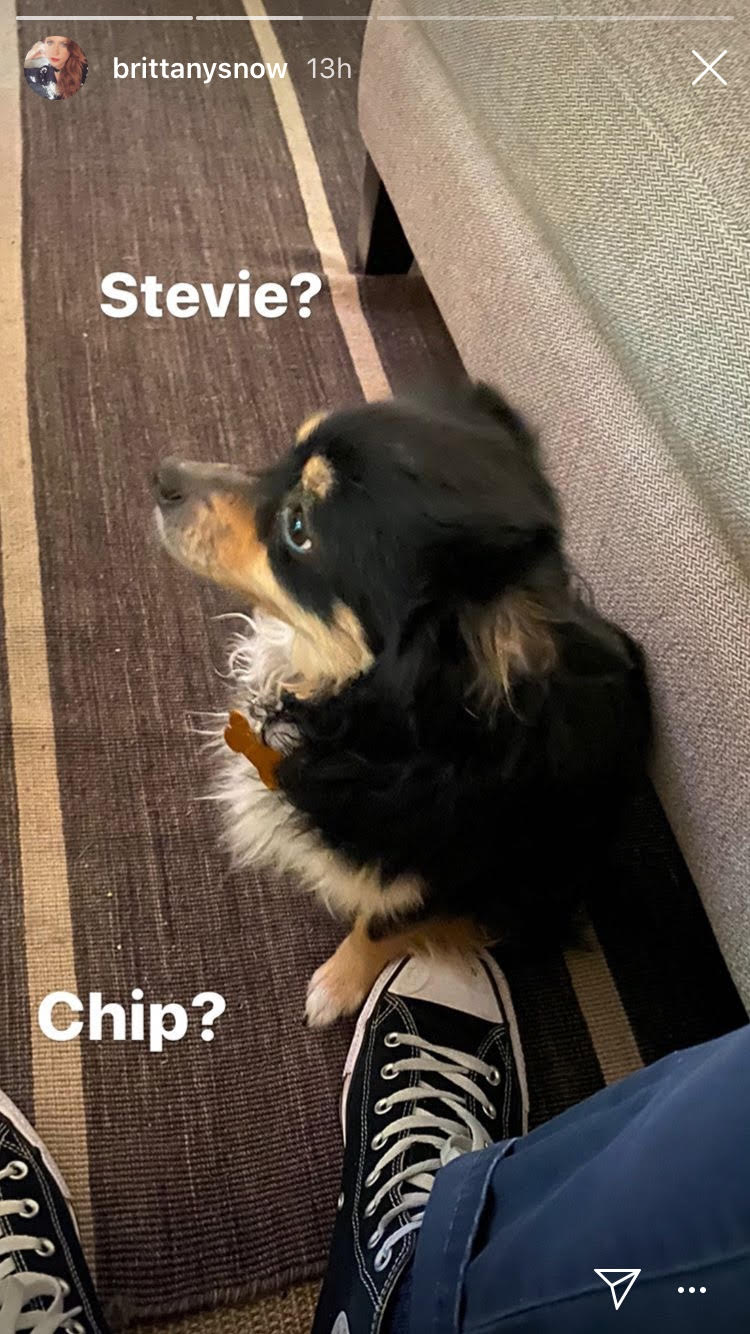 Brittany Snow posted photos of the pocket-sized puppy she's fostering from The HIT Living Foundation—and asked her followers to contact the shelter if they're interested in adopting him for the long haul.
As information about the coronavirus pandemic rapidly changes, HelloGiggles is committed to providing accurate and helpful coverage to our readers. As such, some of the information in this story may have changed after publication. For the latest on COVID-19, we encourage you to use online resources from CDC, WHO, and local public health departments, and visit our coronavirus hub.