An exhaustive guide to *almost* all the celebs at Coachella weekend one
And that's a wrap! In the blink of an eye, Coachella weekend one has come and gone. And in the midst of killer new Lady Gaga beats and a little Radiohead technical difficulty, celebs flocked by the dozens to Indio's most hallowed festival grounds. And of course, neither their presence nor their insanely good outfits (or beauty statements, ahem, Kylie Jenner) disappointed.
In addition to the usual Coachella suspects, like Kylie and Kendall Jenner, we saw a whole crop of fresh faces make their way to the desert music extravaganza. Of course, there were plenty of familiar faces as well, including the likes of Rihanna (in all her glittery glory) and Shay Mitchell in her go-to bohemian style.
Instead of having to scour your Facebook and Instagram feeds to get the scoop, we're breaking down all the major celebs in attendance at Coachella this week…and (most of) their ~unbeatable~ fashion choices!
Rihanna
In Gucci.
Hailee Steinfeld
In Zimmermann.
Vanessa Hudgens
In Camilla.
Olivia Culpo
In Tommy Hilfiger.
Kendall Jenner
https://www.instagram.com/p/BS7EtG_jOS3
In Esteban Cortezar.
Jeremy Scott & Charli XCX
https://www.instagram.com/p/BS6zvgYBAFb
Kylie Jenner
https://www.instagram.com/p/BS4iqxRBgpn
Patrick Ta & Shay Mitchell
Hailey Baldwin
Chanel Iman
Selena Gomez  & The Weeknd
Selena in an HVN dress
Aaron Paul
https://www.instagram.com/p/BS42AI0Bmca
In H&M.
Nina Dobrev
Lady Gaga
In Alexander Wang
Katy Perry
Taylor Hill
Jasmine Tookes
Evan Ross & Ashlee Simpson
https://www.instagram.com/p/BS6-UKtDfqL
Ireland Baldwin
https://www.instagram.com/p/BS93KdoB2DM
Peyton List
https://www.instagram.com/p/BS9zXj0grXs
In a Claudia Pink body suit.
Drake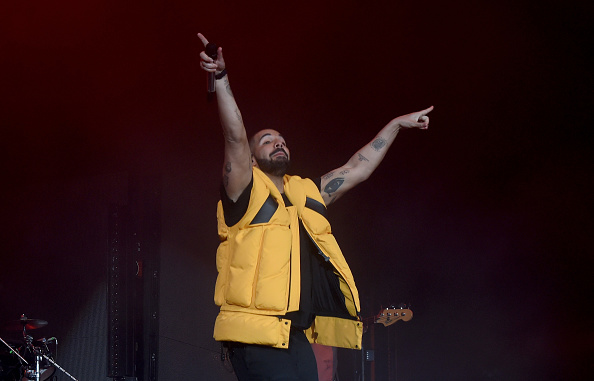 Ashlee Graham
In Ashley Graham by Dress Barn.
Alessandra Ambrosio
In Ale by Alessandra Ambrosio.
Nick Jonas
Emma Roberts
Ariel Winter
https://www.instagram.com/p/BTADdQphvvd