Celebs Are Obsessed with Ice Baths for Weight Loss and Mental Wellness
Stars are putting themselves on ice for its fat burning and mood boosting benefits.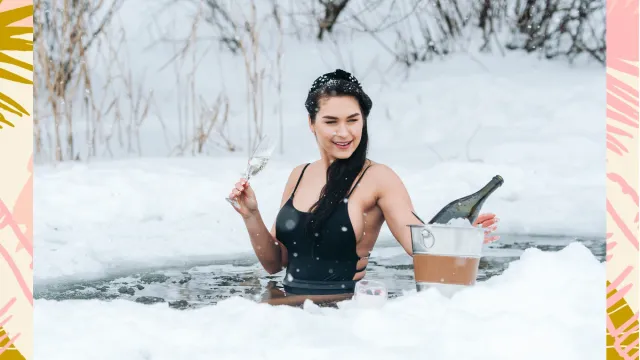 There's a chilly new trend that's sweeping Hollywood, and it's not for the faint of heart.
Kim Kardashian, Harry Styles, Kendall Jenner, Lizzo, Madonna, and Lady Gaga are all said to be fans of ice baths, joining the likes of athletes and fitness enthusiasts who have been taking the plunge too.
While the practice is centuries old, it seems to have gotten more popular lately. But why?
Jonathan Leary M.D., founder of Remedy Place, a wellness club in New York City that houses an ice bathing studio, says it's probably because people are catching on to the idea that cold baths come with a host of health and body benefits. These bonuses including decreased inflammation and swelling, a huge rush of endorphins, dopamine spikes, improved sleep, and help alleviating aches and pains, Dr. Leary says.
Ice baths, also known as cold water immersion therapy, do this by narrowing your blood vessels — which, in turn, lessens blood flow to those areas. That's why many people like to take a polar plunge after an intense exercise section.
Lady GaGa has said she takes an ice bath both pre- and post-show, and Kendall Jenner recently visited Remedy Place's ice bathtub in an effort to "tap into her highest self."
RELATED: 30 Best Zodiac Tattoo Ideas
Ice baths are a form of therapy that's exactly as it sounds — but there's no need to visit a fancy New York club to indulge in one. You can literally just fill your bathtub up with cold water and ice, and sit in it for up to 10 to 15 minutes.
Some people like to fill the tub with ice gradually, so they can tolerate the chill a little easier. Others just dump it in all at once and hop on in. In either case, you want the water temp to hover somewhere around 50 to 59 degrees. Brrr!
It's important to note that ice baths do pose potential risks in people with certain conditions, so be sure to speak with your doctor first.
And while there is science that supports the practice, it's not set in stone. In other words, there is no guarantee that you'll experience the reported benefits, nor is there any set time you should spend cold-dipping (although some experts recommend three times per week).
That said, here are the three most common benefits cited when it comes to ice baths:
1. Ice baths can enhance your blood circulation
"It boosts the cardiovascular circulation, which is beneficial for a healthy heart, a strong immune system, well-balanced mental health, and a high energy level," says Dr. Leary.
Lizzo, who uses a nearly $5,000 tub specifically made for ice baths called Plunge, uses it for its mood-boosting benefits, telling fans on TikTok that it "helps her anxiety."
2. They can reduce inflammation in your muscles
Scientifically, ice baths have been proven to help reduce muscle inflammation, states Dr. Leary.
"The temperature of the water lowers the damage of the affected tissue, and reduces further swelling."
Several studies have shown that cold water swimmers seem to be healthier overall than their tepid counterparts.
3. Ice baths may aid with weight loss
When practiced on a regular basis, cold water immersion is able to increase the metabolic rate by as much as 16%, as cited in findings by the Wim Hof Method.
RELATED: Hollywood Is Losing Weight and Sources Say Their Secret Weapon is a Prescription
Basically, it helps your body burn fat, which a 2022 study published in the International Journal of Circumpolar Health helped support. One researcher claimed to have burned 400 calories in one bath — that's the equivalent of an hour on an elliptical machine.
Again, talk to your doctor before dipping your toe in this health trend to determine whether or not it's right for you.
Jené Luciani Sena is an accredited journalist and internationally-renowned bestselling author, regularly seen on national TV outlets such as Access Daily, Today and Dr Oz. Touted as one of Woman's World Magazine's "Ultimate Experts," she's a TEDTalk speaker and a busy Mom of 4.
Read more