"Stranger Things" Millie Bobby Brown dressing as the Mad Hatter is too adorable for words
It's no secret that we LOVE the kids from Stranger Things. Not only are they adorable IRL friends who bonded behind the scenes during the first season, they're also just incredibly talented. And not to play favorites, because we love them all, but we think Millie Bobby Brown is pretty amazing. One minute, she's super relatable getting star-struck on a red carpet; the next, she's rapping a Nicki Minaj verse and absolutely slaying – it's no wonder Aaron Paul wants to adopt her (we kind of do, too).
Another thing we totally envy about Millie Bobby Brown is her incredible style. From serving up Wednesday Addams realness to mixing grunge and feminine elements, she has a fashion sense that's superbly developed for her mere 12 years.
This weekend, Millie Bobby Brown was at New York Comic Con.
https://www.instagram.com/p/BLSPxIfBJde
https://www.instagram.com/p/BLUjkJGhfbA
When she wasn't meeting fans or sitting on panels, though, she took some time off to visit the Disney Store, where she showed us a different side to her personal style.
https://www.instagram.com/p/BLULGqXhyhb
Yep, that's Millie Bobby Brown, dressed as the Mad Hatter. And yes, the enthusiasm in her face is incredibly endearing.
Equipped with a hat somewhat cut off by the photo, and tendrils of an orange wig, she's channeling Johnny Depp's Mad Hatter, but a lot less weird and a lot more huggable.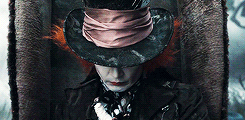 Captioning the photo with "Eleven/mad hatter" and using the hashtag #strangerwonderland, Millie Bobby Brown also just revealed the mash-up we didn't know we NEEDED.
Maybe with Halloween coming up, we'll get to see her (and the other Stranger Things kids, please, universe, please) dressed up in more fantastic costumes; for now, we'll just have to be satisfied with a taste of Stranger Wonderland.