Jenna Dewan Tatum tells us about her love of essential oils, and how she wants cargo pants to come back
Being alive is deeply stressful. Even when our plates are full of quality people and fulfilling creative projects, it's still crucial to carve out methods of slowing down and spending time alone. For the past decade, the actress and dancer Jenna Dewan Tatum has used essential oils to help herself recenter. Considering this fact, it only felt natural for Tatum to partner with Young Living Essential Oils for a scent-based event during New York Fashion Week.
The event featured four different scent-themed rooms: a bright pink Ylang Ylang-scented Floral room, a zesty yellow Citrus-themed room, an earthy, forested Peppermint-themed room, and the visually intoxicating Lavender room. Each room had a curated soundtrack and monochrome decorations to fully tap into the mood of the scent. It was legitimately surreal and intoxicating to spend time in these rooms.
HelloGiggles was able to talk with the lovely and hilarious Tatum about her longtime love affair with essential oils, meditation, and what to expect from World of Dance Season 2.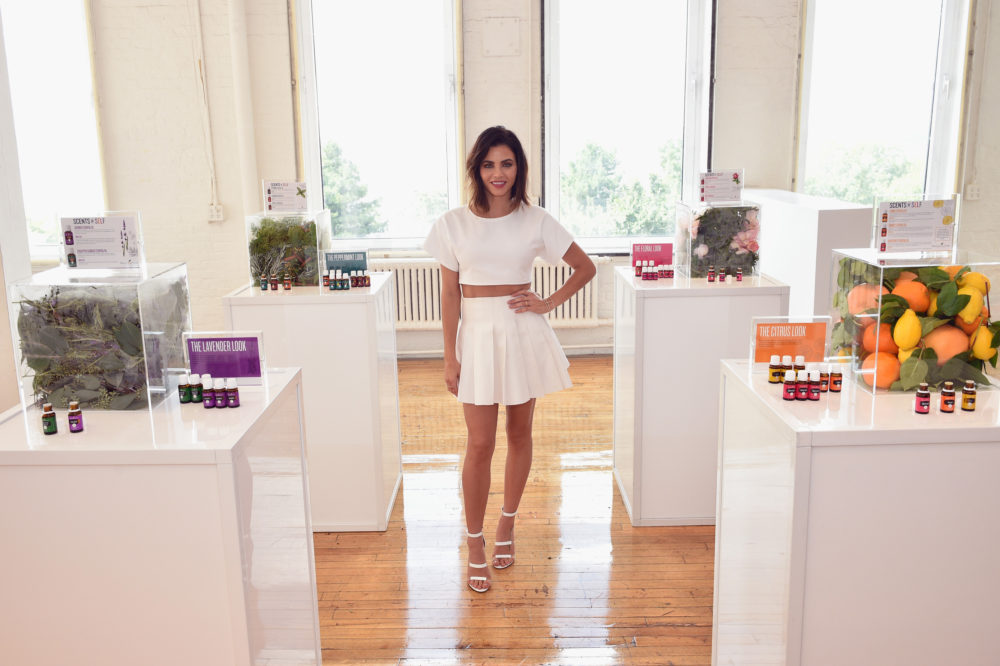 HelloGiggles: Have you been into essential oils for a long time?
Jenna Dewan Tatum: Yes. I'm what I call a "total oiler." I found Young Living essential oils about 16 years ago through a friend of mine, and I did a technique called "raindrop massage." I immediately felt the benefits and the calming feel — especially from the Lavender, and I was immediately hooked. I use them on myself, I use them on my daughter; I really believe in the power of scent. So, this is a really natural partnership.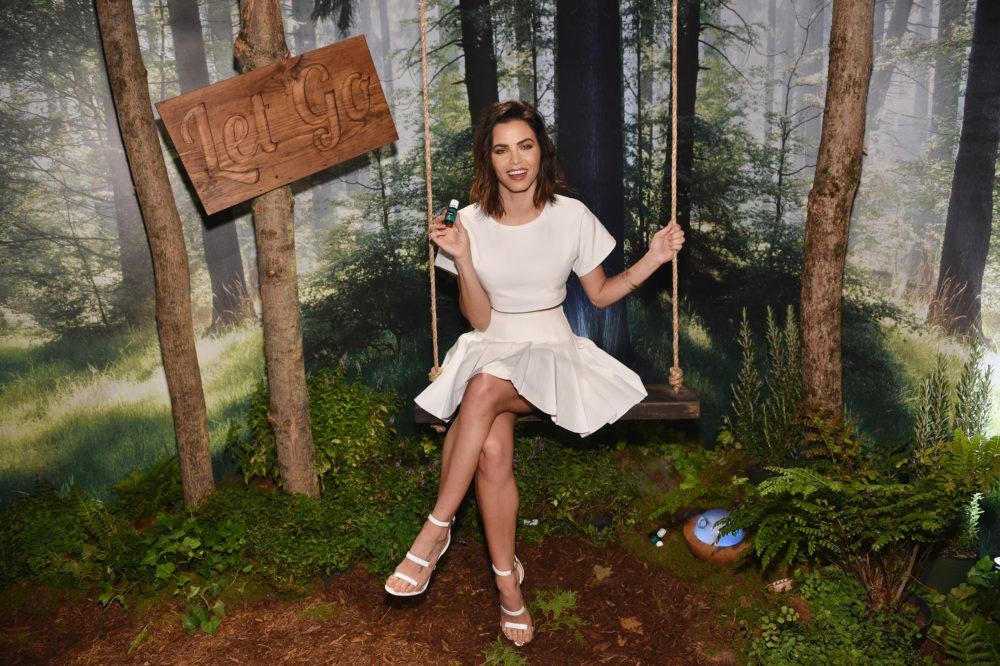 HG: Do you have any favorite scents? Does Everly like to use them?
JDT: Everly loves them! There's rollers that are great to use on kids, and there's this Tranquil one that I like to use on her. We do a fun little game where we make a smiley face with the roller on her stomach and neck. I have a very high-energy toddler, so calming her down for bedtime is a very important ritual in our house. My favorites are Lavender for bath, and this one called Hope which is an incredible blend. I use the RC oil a lot; it's great for respiratory. My other favorite is called White Angelica, I love the smell of that one — whenever I wear it people stop me and ask, "What perfume is that?!" I'm like, "It's an essential oil!"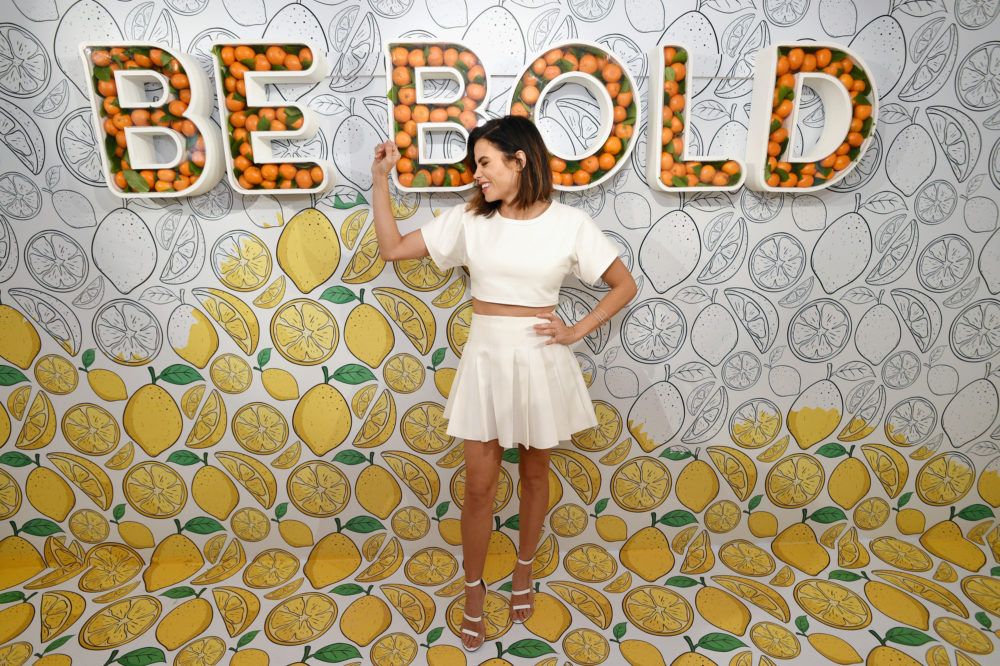 HG: What is your de-stress routine?
JDT: I'm a big believer in Epsom Salt baths. I tend to draw one every night. I pour Lavender in there sometimes, and it's very harmonizing. I jokingly call myself a witch, I use oils in baths a lot  — different ones for different times. If I'm tired, I'll use a citrus oil.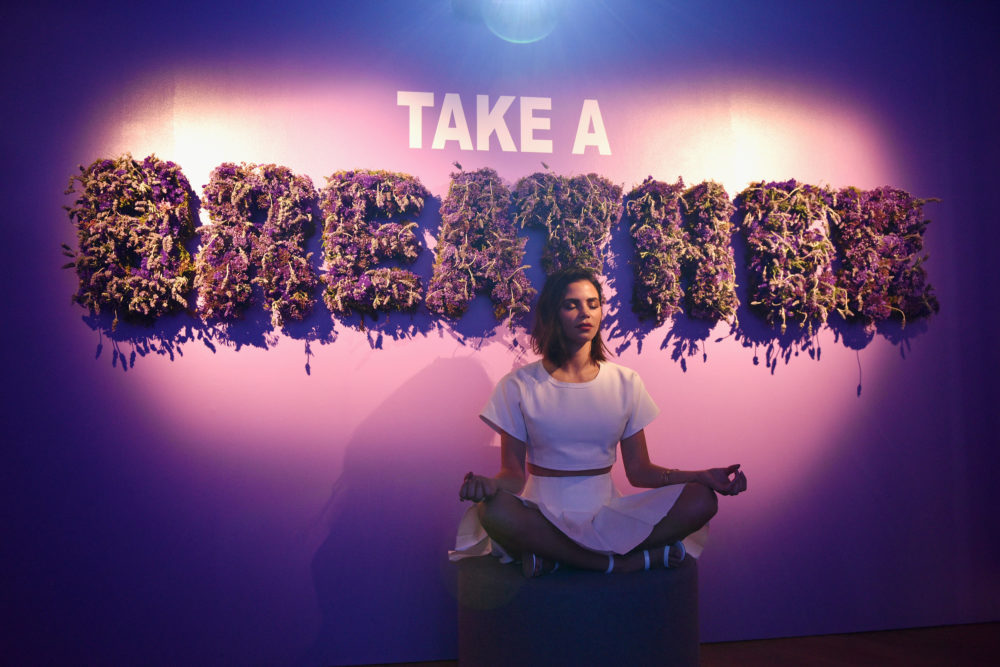 HG: Are you excited about Season 2 of World of Dance?
JDT: Yes, I am! I've heard some incredible things about how we're really stepping it up for Season 2. We're finding some crazy amazing talent. There's some format changes. It's going to be a blast.
HG: Does Everly like to dance?
JDT: You know, it's funny, we took her to a dance class and it didn't really catch her. Then just recently I took her to a storybook ballet class, which she left and said "Mommy, I want to go there every year!" She bought black ballet shoes and she is OBSESSED. We have a little drama queen on our hands. She loves plays. I told her that in one more year she can go see a Broadway play. Channing and I are such theater nerds, we figure no matter what she's going to be into the arts.
HG: Do you think dance can be a good healing tool for people who aren't professional dancers or necessarily good at it?
JDT: Absolutely! I didn't think about dance as a career until I was a teenager, but up until that point it was a form of expression and release. It was a way to process my emotions and all the angst of growing up. You know, life isn't easy, it's messy. You need to have something that centers and balances you and works as an outlet. Moving your body releases energy. You have to get out of your own way and move sometimes.
HG: If you had to describe your fashion ethos, what would it be?
JDT: I would say I'm equal parts fairy, ethereal, chic, edgy, and I have to have a wow, pop factor. I'm such a dancer, that is so ingrained. Glitter or a bold color, a punchier feel. I blame it all on the dance performances since I was five.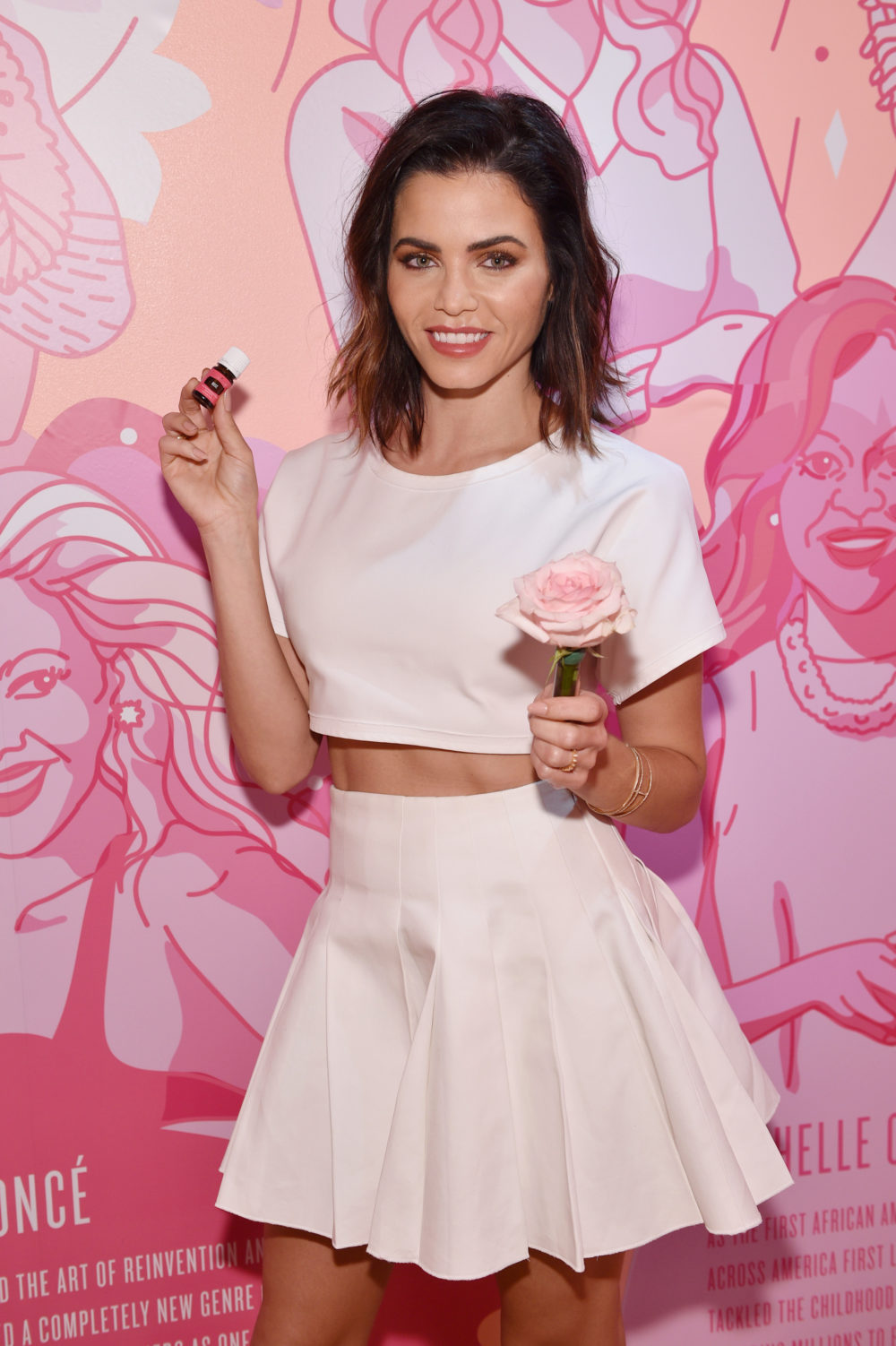 HG: Is meditation part of your routine?
JDT: I'm a total hippy. I love meditating, I love visualization. The power of scent really is very strong for me, a lot of times I use different oils before meditating. Meditating is tough though, when you have a four year-old. I love when people ask me this. It's not easy, it's just that I know I'm a better human when I spend 10 minutes to meditate or arrange my oils. I learned the hard way that you have to make that time for myself.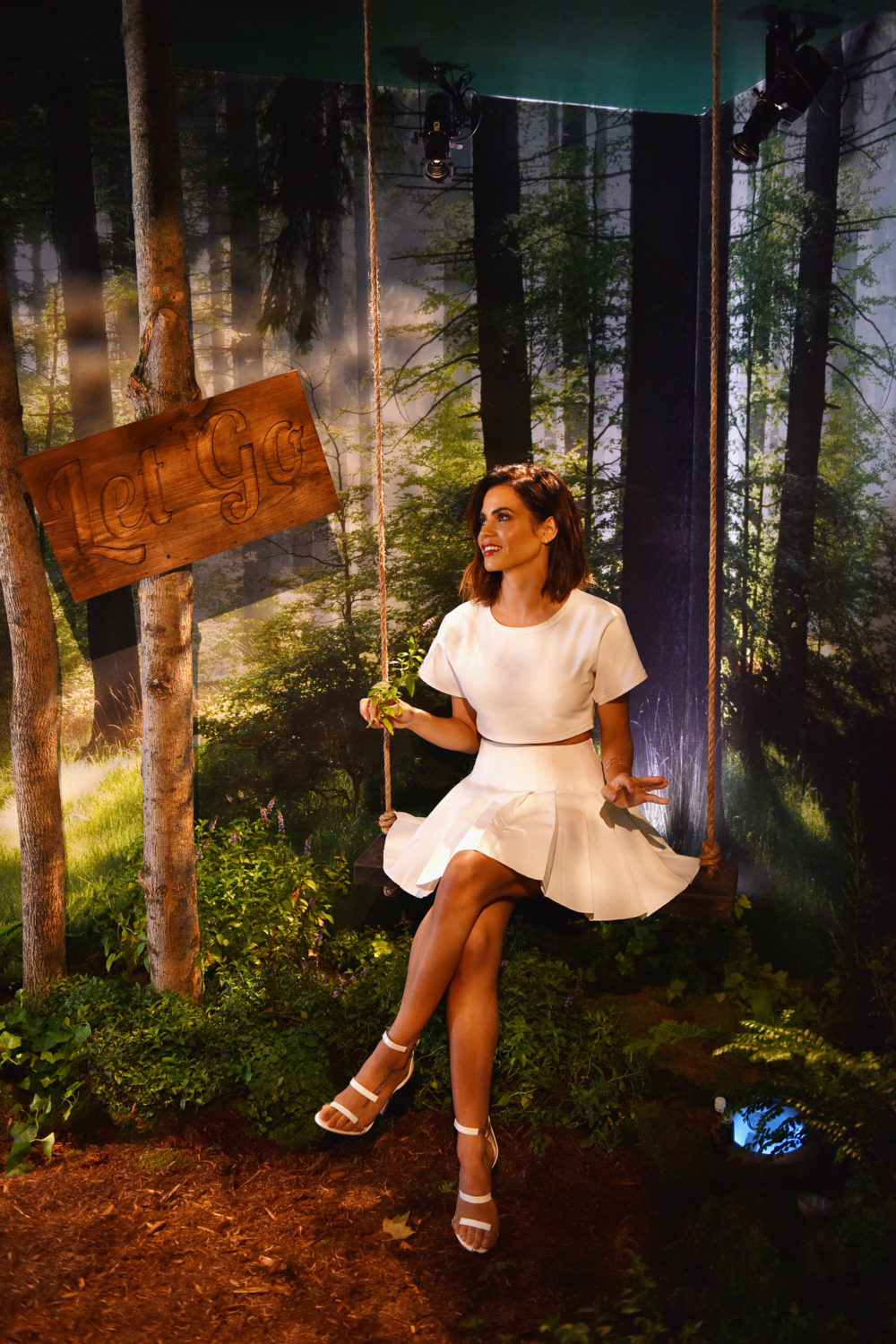 HG: Are there any current fashion trends you love, or conversely, that you think are bad?
JDT: I've done the mom jeans, and my whole house has told me to stop with the mom jeans. I can't pull those off, so I've retired that fashion trend. I'm waiting for cargo pants to come back, I feel like they're almost happening. Mark my words, maybe six months from now. I miss the big cargo pants and heels for a night out. I love a high-waisted skirt. I love day-to-night outfits, leggings and different textures that I can easily change into after I've picked up Everly at school and want to go out for the night.
Check out the Young Living website if you want to explore more of the scents.