Ed Sheeran and Chris Martin surprised Harry Styles during a radio interview
It makes sense that Harry Styles would have some surprises while promoting his new single and upcoming new album. When you hit the road and talk to a bunch of different personalities, you definitely can't prep for the questions coming your way. During a segment with Radio 1 Breakfast Show, Styles interviewed with Nick "Grimmy" Grimshaw — and he definitely wasn't prepared to come face-to-face with a few VIPs.
Grimshaw surprised Styles by having videos submitted in from talents like Chris Martin and Ed Sheeran. To add to the fun, friends like Rita Ora and Ronnie Wood from The Rolling Stones also joined in. Last but never least, Styles even answered a question from his own mom.
https://www.youtube.com/watch?v=TnW8wV9aCv0?feature=oembed
First up was Martin, also known as the lead singer of Coldplay. Martin's question was actually pretty goofy, and focused around the One Direction fan club. It seems as if Martin wants to apply to help any way he can, even if that means cleaning.
"You're the biggest face on my One Direction tattoo," Martin said.
Next up was Ora, who asked her question while outside in a bikini. Wood showed up after that, and from the looks of it, the two are somewhat close. Grimmy noted that after so many years in show business, Wood still happens to know so many people by name.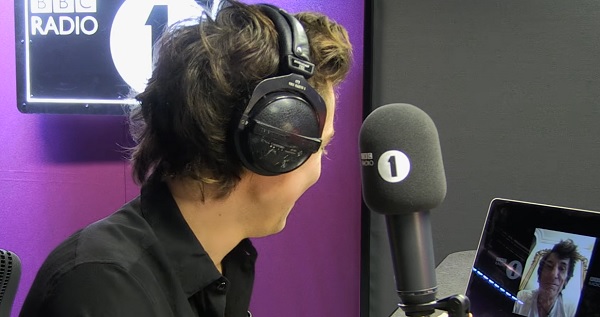 "I just think he's the nicest," Styles said.
As expected, Styles also had sweet things to say about Sheeran, who asked about the process of his next album. Sheeran wanted all the details.
"I started the album... I did like, three weeks at the end of February last year, and then stopped for five months, and came back to it in July," Styles noted. "It gave me a chance to step away from it and have a real break."
We love the fact that Styles is so friendly with all of these musicians. They seem to be incredibly supportive of each other.
Luckily, we don't have to wait too much longer for his debut solo album. It'll be out on May 12th!