You need to see this video of a David Bowie mural being painted…in a swimming pool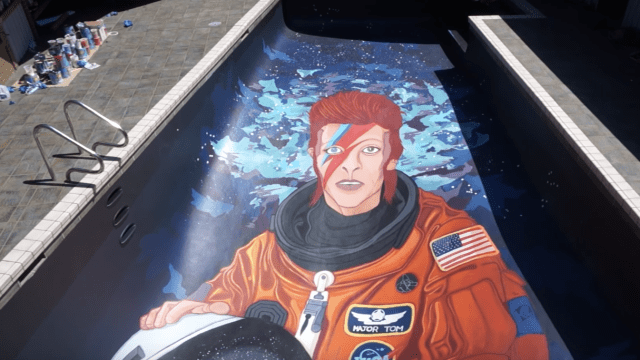 Since David Bowie died in January, countless musicians have cited him as a major influence on their own work. Tributes to the iconic musician included a live cover/mashup by Elton John, Lady Gaga getting a tattoo, and even an Honest Trailer for Labyrinth. However, none have been so large, or so mesmerizing, as the mural created by artist Ten Hundred.
Even cooler – the David Bowie mural was painted at the bottom of a swimming pool, giving an appropriately ethereal vibe to the "Space Oddity" inspired image.
Ten Hundred (real name, Peter Robinson) is an artist and designer based in Seattle who creates colorful, otherworldly work. His latest latest image is painted in a swimming pool in Vashon Island, which is southwest of Seattle. Robinson also made a time-lapse video of himself creating the work, and even though it's only a couple minutes long, we could probably stare at it for hours.
https://www.youtube.com/watch?v=rFDtUJbuvBI?feature=oembed
Robinson starts by putting down a giant stencil of the work and outlining his Bowie, which is a "Space Oddity" tribute with the singer dressed as Major Tom. There's also some Ziggy Stardust face paint, because of course.
Robinson then filled in and shaded the work with painstaking detail, creating a celestial background for the figure of Bowie. He took the occasional break to play pinball (we don't blame him), but clearly, spent hours creating this masterpiece. Finally, Robinson finished the piece with his Ten Hundred insignia, and a flourish.
If we thought the work was amazing when Robinson finished painting, it's even more impressive filled with water.
It may be early autumn, but we're already dreaming of summer parties in this pool. This David Bowie mural is definitely one of our favorite tributes to the artist yet.