12 perfect and cringeworthy throwback photos of our favorite celebrities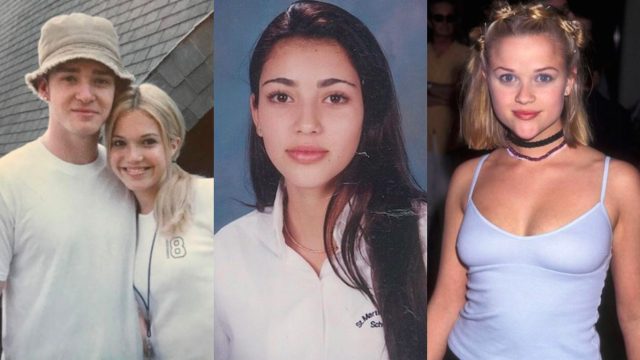 We always joke about celebrities being just like us, but once upon a time, they really were just like us—and they have the pictures to prove it. Thanks to social media and the popularity of #ThrowbackThursday and #FlashbackFriday, celebrities have been sharing their awkward pictures from way before they got famous. From cheesy yearbook snaps to cold-hard evidence of old fashion disasters, listed below are just some of our all-time favorite celebrity throwback photos.
1Mandy Moore and Justin Timberlake
Both Mandy and Justin now dominate their chosen career paths. But once upon a time, both stars were on the top of the tweenybopper scene, with Mandy serving as an opening act for *NSYNC. How cute are they?
2Armie Hammer
https://www.instagram.com/p/Bk4PHWZBEtc
Remember when you wanted to hide inside your room forever because you tried dyeing your hair pink and it turned out to be a complete disaster? Well, Armie Hammer went through the same phase. Back before he was on the big screen, the Call Me By Your Name star dyed his hair blue. And you know what? He rocked it. He may think it looked ridiculous, but we think otherwise.
3 Jenna Dewan
In a very on-brand throwback photo, Jenna looked back on her cheerleading days at Grapevine High School in Texas. Little did tiny Jenna know that she would soon become one of the most talented dancers ever to hit Hollywood.
4Gigi Hadid
Who knew Gigi Hadid was such a massive basketball fan? When legendary Laker Kobe Bryant retired back in 2016, the supermodel shared this cute photo of her Laker-themed 11th birthday party, complete with a Laker cake, jersey, and jacket. She even once revealed that Kobe was her childhood crush. Aww.
5Pete Wentz and Bruno Mars
Of course, a #TBT list wouldn't be complete without this iconic photo of Bruno Mars and Pete Wentz. In fact, the whole of the Internet loved it so much that they made April 28th the official "Happy Bruno Mars Surprised To See Pete Wentz Day." To celebrate its 10th anniversary, Pete paid homage to the photo by printing it out and displaying it inside his hotel room.
6 Chelsea Peretti and Andy Samberg
Before they were BFFs as Gina and Jake on Brooklyn Nine-Nine, they were just plain ol' Chelsea and Andy. In a surprise throwback photo, Chelsea revealed that she and Andy go way back and that their friendship actually began in middle school. In the snap, both were en route to their 6th-grade graduation, with Andy chilling in the back of a pickup car. Even the characters they play on the show were childhood buddies. How can we get in on this BFF-ship?
7Reese Witherspoon
https://www.instagram.com/p/Bd07LdGB95W
We're so used to seeing Reese now with perfect outfits and perfect hair à la Elle Woods, but way back when, she had her fair share of fashion mishaps. Back in the '90s, she used to sport tiny space buns, multiple chokers, and baby camis. She blames Gwen Stefani for her skewed sense of fashion then, but we still think she's adorable.
8Ryan Reynolds
Teenage Ryan Reynolds or a member of the Backstreet Boys? We really can't tell. In the caption for what seems to be like an old headshot, the Deadpool star quipped that he used to "style [his] hair with a blowtorch." It clearly worked, though, because he grew up to be one of the most bankable stars in the industry.
9Jennifer Garner
Your eyes are not fooling you. This photo features Jennifer Garner in the flesh, complete with facial hair. In an Instagram post, she revealed that she rocked a beard and a mustache for a project that never happened because, well, she got pregnant. And according to the star, babies are better than movies. We totally agree with her, but we can't help but wonder what it was for. Could it be a 13 Going On 30 sequel but instead of flash-forwarding to a different age, she switches bodies with Mark Ruffalo, Freaky Friday-style? I guess now we'll never know.
10Kim Kardashian
Most of us cringe so hard when we look at our middle school yearbook photos, but maybe not Kim Kardashian. In this throwback image, she's wearing her Catholic school uniform and looking beautiful as ever, proving once again that she's never had an awkward phase. How is that even possible?
11Cardi B
Almost everything Cardi posts on the Internet becomes viral, and this childhood photo is no exception. Now making rounds on Twitter, this image of young Cardi with a hilarious facial expression and one hand on her hip has been transformed into a meme, each one funnier than the next. Our favorites include "my mommy say I can bite people that be mean to me" and "my momma said y'all gotta help me clean my room since y'all were playing in here too." LOL.
12Amanda Seyfried
If Amanda didn't flat out say that this was her, we would have gone ahead and assumed that it was young Dakota Fanning. In this old snap, the Mamma Mia! star sports a short bob haircut for her yearbook photo. Look how cute!