This is the exact Marc Jacobs lipstick Cardi B wore on SNL
Two days later and we're all still talking about Cardi B's awesome performance on Saturday Night Live. Not only did she sound amazing, but she looked like an angel. Both looks were ethereal, unique, and a little bit weird, just like Cardi herself. Her styling was impeccable, and if you're dying to know the nitty details about her makeup look, we've got the full scoop.
Just like her song, Cardi B is definitely living her best life, and she looks it too. Luckily for us, makeup artist Erika La'Pearl for Marc Jacobs Beauty gave us the low down on how she created the rapper's luminous makeup look.
She got that fresh glow courtesy of Marc Jacobs Beauty's gorgeous foundation: Shameless Youthful Look 24 Hour Foundation SPF 25 — it gave her that Photoshop finish without making her look too shiny. After that, a dusting of Marc Jacobs Beauty O! Mega Bronzer Perfect Tan in Tantric 102 and Air Blush Soft Glow Duo in 508 Night Fever & Hot Stuff gave her a cherry-plum contour.
La'Pearl used Marc Jacobs Beauty Eye-Conic Multi-Finish Eyeshadow Palette in Edgitorial for a dramatic yet fairly neutral eye look. But what we're all dying to know is how she got that gorgeous lip color — we need it for all our summer outfits.
Cardi B's SNL lips come courtesy of Marc Jacobs Beauty New Nudes Sheer Gel Lipstick in May Day 158.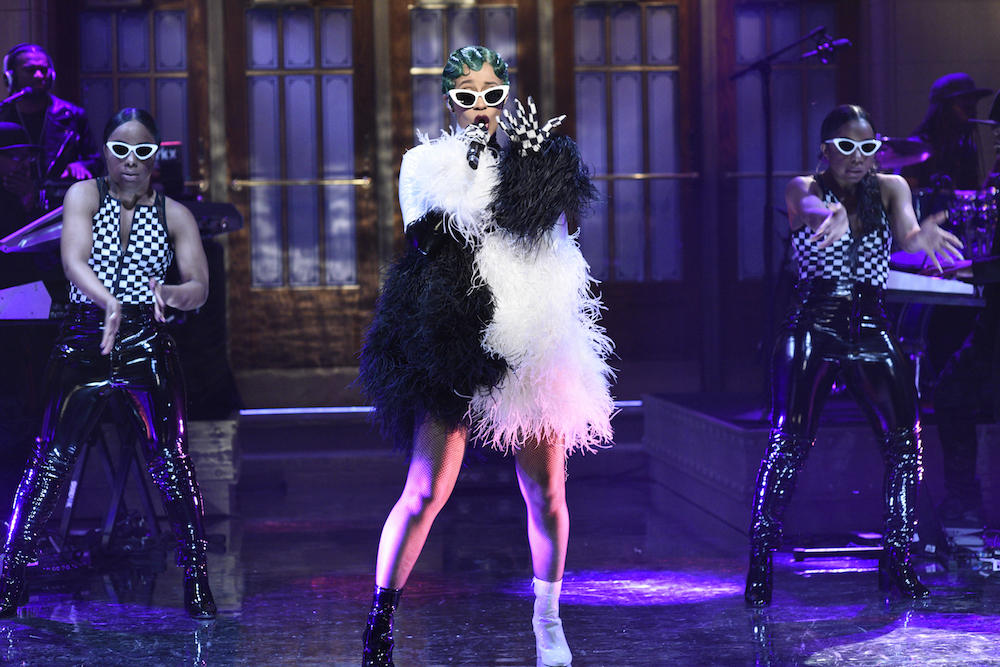 Isn't it the perfect brownish-berry shade? It's giving us major late '90s vibes in the berry best way.
If you have to have it for yourself, you'll be happy to know that your friendly neighborhood Sephora carries this lipstick, though you'll want to jump on it ASAP, since it seems to be in high demand right now.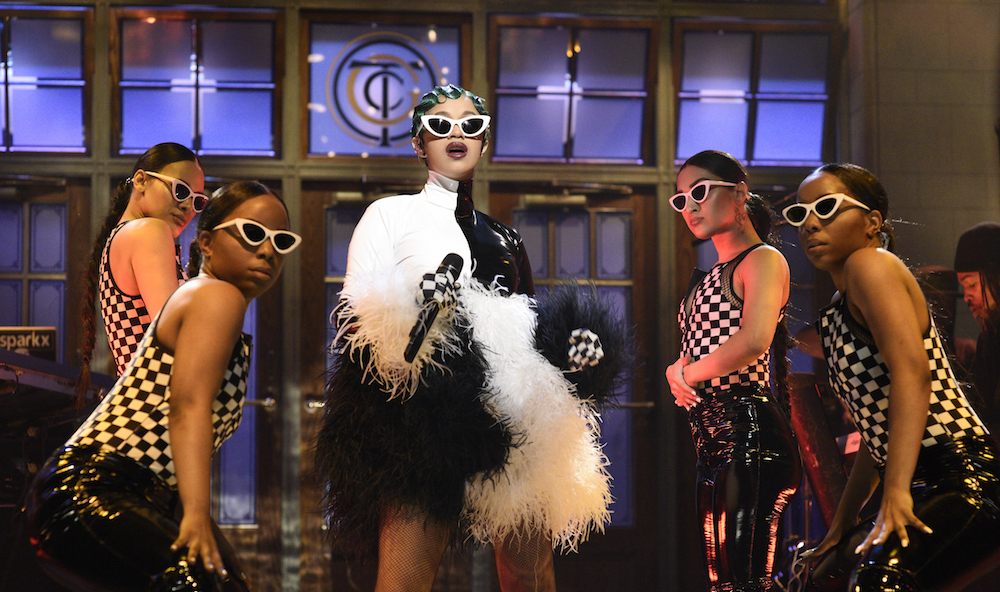 You can get the Marc Jacobs Beauty New Nudes Sheer Gel Lipstick in May Day 158 just like Cardi B for $30.
Isn't it gorgeous? Get it here.
This sheer lipstick gives you fresh, hydrating coverage thanks to its innovative formula and satin finish.
Sure, none of us can really be as fabulous as Cardi B, but we can sure try.