Alicia Keys revealed the secret power she'd most want, and us too, girl
Not only does she appear on the March cover of Glamour Magazine, but she's using her time in the spotlight for good. After releasing her new album Here, Alicia Keys answered fan questions about secret powers and greatest fears. Her audience? A group of (incredibly charming) young women from the Lower East Side Girls Club. If that's not the best way to return after a prior four-year hiatus, we don't know what is.
While we were still belting out "Girl On Fire," we were so happy when Keys announced brand new music. After all, that hit single was back from 2012. It still remains strong, but we didn't want it to get stale. Here was released last November, and during its release, we realized how much we missed Keys.
And when Keys returned, she did it in a big way. Aside from her new album, she started up the no-makeup movement, which is a revolution we hold dear. And of course, she also became a judge on The Voice.
That said, she's got a solid fan base that spans all ages. And, having her get real with those fans is pretty heartwarming.
https://www.youtube.com/watch?v=hsHYLUqfP8g?feature=oembed
As part of Glamour's big feature on the singer, our hearts are melting over the honest nature of her answers.
(And, uh — did we mention how cute those kids were yet? It can't be said enough.)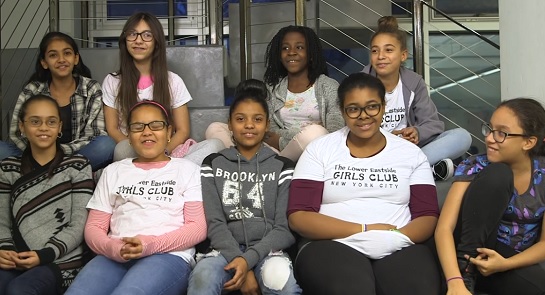 But, cuteness aside, we especially love the answer that Keys gave regarding the secret power she'd love to have.
"At times I'd want to make people vanish," Keys said with a laugh. "So I just don't even have to deal with them."
Solid answer. We definitely agree!
We also love her answer about why there are so many love songs out there today — a question so intriguing, that we can't believe it's not asked more often.
"I guess people write love songs because it's the most beautiful thing to feel," Keys said, noting that even anger often stems off of the true emotion of pure love. "It all boils down to love."
Keys noted that she spent all day with the girls, and looked so enthusiastic over their time together. We definitely wish we could have been there, since it must have been a total blast! https://www.youtube.com/watch?v=fkrF5a67p3Y
While she's gearing up for the next season of The Voice, which premieres in late February, she's still occasionally playing a show or two. Fans should be on the lookout for additional dates, since seeing her live is truly an experience you don't want to miss.