Here are 11 celebrity TikTok dance challenges to bring some light to your day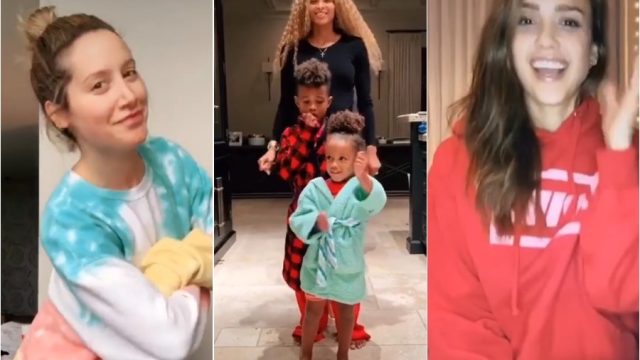 TikTok videos will save us all. Actually, practicing social distancing, practicing proper hygiene, and staying home will save us, but seeing some of our favorite celebrities dancing with their families at home sure doesn't hurt. With the stress of the daily news and the restrictions on social gatherings keeping us apart right now, we need things to keep our spirits high. Celebrity TikTok dance challenges are everything we didn't know we needed. From J.Lo and A-Rod to Jessica Alba and her daughters, a long list of stars have taken an affinity to great choreo in only 15 seconds.
It makes sense, too. If you've ever tried to learn a TikTok dance (or tried to teach one to a family member), you know it's no quick and easy feat, making it essentially the perfect quarantine activity. And even if you've avoided getting on TikTok for fear of crossing generational lines, know that it's here, it's happening, and the celebs are all over it.
Take a deep dive into all of our favorite celebrity TikTok dance challenges below. Or play the compilation video above to see the greatest hits in one glorious video.
Ciara, Russell Wilson, and their children
Ciara brought out the whole family (including her baby on the way!) to give their best rendition of the "Something New" TikTok challenge. She captioned the post "1st Family Tik Tok," so of course, we are waiting for more to follow.
And she delivered with this adorable TikTok of her and her son in matching sunglasses and flannels doing the #HitYoGrooveChallenge.
Husband Russell Wilson left an approving comment writing, "The best!!! Love you two so much." The power couple have also been doing their part to offer aid amid the coronavirus pandemic by donating a million meals to the Seattle Food Bank. Good stuff all around.
Chrissy Metz
This Is Us' Chrissy Metz took to social media to teach us all how to do quarantine time right. "Pro-tip to be #happyathome: a cappella karaoke with your best fran," she wrote. She spanned various genres (and octaves) in her karaoke montage, jumping from Celine Dion's "It's All Coming Back To Me Now" to Stevie Wonder's "Happy Birthday" to Nicki Minaj's "My Chick Bad."
Metz and her best friend, Donnie Berry, make a great TikTok team, and you can see lots more content gold on @chrissymetz' page, including a hand-washing demonstration and their very own "Something New" dance.
J.Lo, A-Rod, and their children
Like Ciara, Jennifer Lopez was also joined by her all-star husband and team of kiddos to take on this popular TikTok challenge. A-Rod started the dancing train, each of their four collective kids went next, and J.Lo finished it off. "Worst to best," Rodriquez joked in his caption.
We're grateful there's a TikTok dance challenge out there that we could realistically recreate. Now if we could just get the scoop on that cozy oatmeal-colored loungewear J.Lo is wearing, we'd be all set.
Meghan Trainor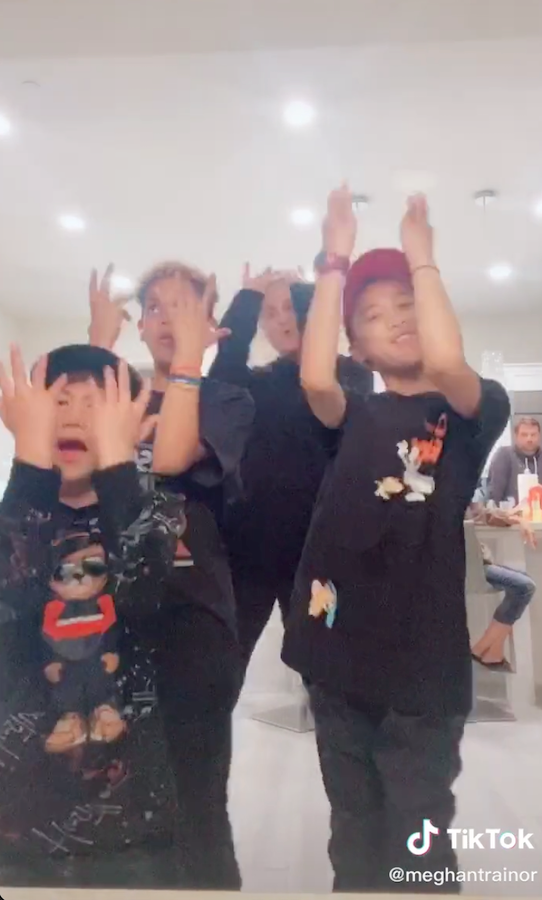 Next up with some adorable dancing-with-kids content is Meghan Trainor. The "Evil Twin" singer gathered her cousin and some of his friends for the #EvilTwinChallenge. She gave them all a sweet shoutout, calling them "SUPER TALENTED," tagging their accounts, and telling fans to give them a follow. Looks like these kids might just be the next TikTok stars on the rise.
tWitch and Allison Holker
Okay, so this dance is a bit more complicated, but we love to see it just the same. Allison Holker and Stephen "tWitch" Boss met as contestants on a season of So You Think You Can Dance, so they have a bit of an advantage in the TikTok dance game.
The couple is also offering live stream dance classes, in case you want to pick up a few moves while you're stuck at home.
Usher and his kids
https://www.instagram.com/p/B9xLQr5jHM8
We don't know if anyone can top Elizabeth Warren and Kate McKinnon's #FlipTheSwitchChallenge, but Usher and his kids put up some quality competition. In the TikTok, Usher walks into the bathroom where his kids are grooving out in their PJs. Then, post-switch-flip, everyone swaps positions and clothes. Usher is suddenly on his knees in a child-size graphic tee.
And it seems like we can expect a lot more from the group. "Comment below some of the other challenges we should try," Usher wrote in his caption. So go on: Post your recs and enjoy the entertainment to come.
Derek Hough
Professional dancers Derek Hough and Hayley Erbert are no strangers to TikTok. The couple often gets creative with different challenges, also posting dances and workout routines to the platform. So it's no surprise that they've continued to put out upbeat content during all this time at home. To make it even better, their "Quarantine Dance Party" even included a couple of cameos from their cat and dog.
Jessica Alba and her daughters
Jessica Alba's TikTok is truly a blessing during these stressful times. She and her daughters have been throwing social-distancing dance parties, and it's been giving us life. They even take turns coming up with moves. "Honorcita creative director on this one," Alba captioned the post, referencing her daughter Honor. In another one, she threw the credit to her daughter "Havie," aka Haven.
Lizzo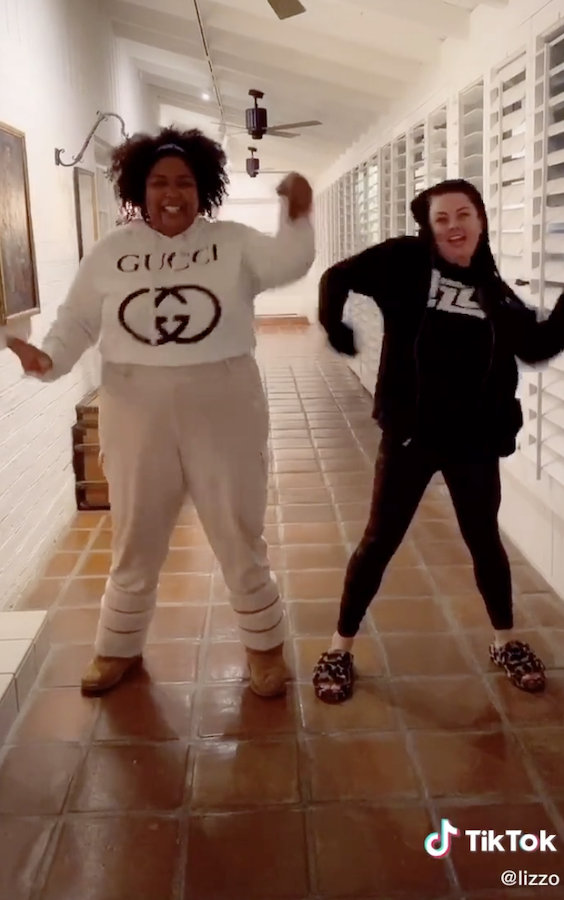 Here's another TikTok queen who brought out all the moves for a quarantine dance. Looking cozy-cool in a Gucci sweatshirt, Lizzo and a friend showed off their choreography and seemed to be in high spirits despite all the chaos outside.
Lizzo has also been trying to offer some peace and stress relief by doing guided meditations on her Instagram. And whether she's twerking or serving up some positive mantras, we love her just the same.
Mark Wahlberg and his family
Mark Wahlberg and wife Rhea Durham learned a TikTok dance with their daughter—or, at least, they tried. The trio demonstrated the behind-the-scenes action that goes into learning a multi-step TikTok dance and, honestly, we feel seen.
Ashley Tisdale
We're all in this together. It's the phrase we've been saying throughout this pandemic and it's also, of course, a smash hit from High School Musical. Thank you to Ashley Tisdale for doing the honors and showing off that throwback choreography.
As information about the coronavirus pandemic rapidly changes, HelloGiggles is committed to providing accurate and helpful coverage to our readers. As such, some of the information in this story may have changed after publication. For the latest on COVID-19, we encourage you to use online resources from CDC, WHO, and local public health departments, and visit our coronavirus hub.