9 celeb quarantine styles you can copy right now, starting at just $6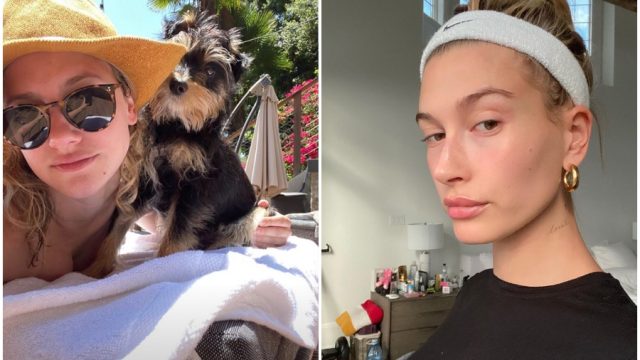 While self-isolating, many celebrities are swapping their power suits for sweatsuits and their heels for slippers. But that doesn't mean we're not taking style notes anymore: Even during quarantine, stars are offering us fashion inspo left and right. But instead of cool street style looks, they're showing off comfier outfits at home, and, honestly, they've never seemed more relatable.
Recently, many stars have taken to Instagram to show off their quarantine styles from their backyards and bedrooms. The queen of street style, Hailey Bieber, seems to be channeling a sportier vibe during quarantine, while Miley Cyrus is turning back to the basics and Mindy Kaling is trying the biggest quarantine trend on for size: tie-dye. Some stars are still rocking their signature looks—like Busy Philipps with her plethora of sundresses—but even the fancier outfits prioritize comfort. Below, we rounded up our favorite celebrity quarantine looks and found affordable lookalikes for you to shop.
Lili Reinhart's straw hat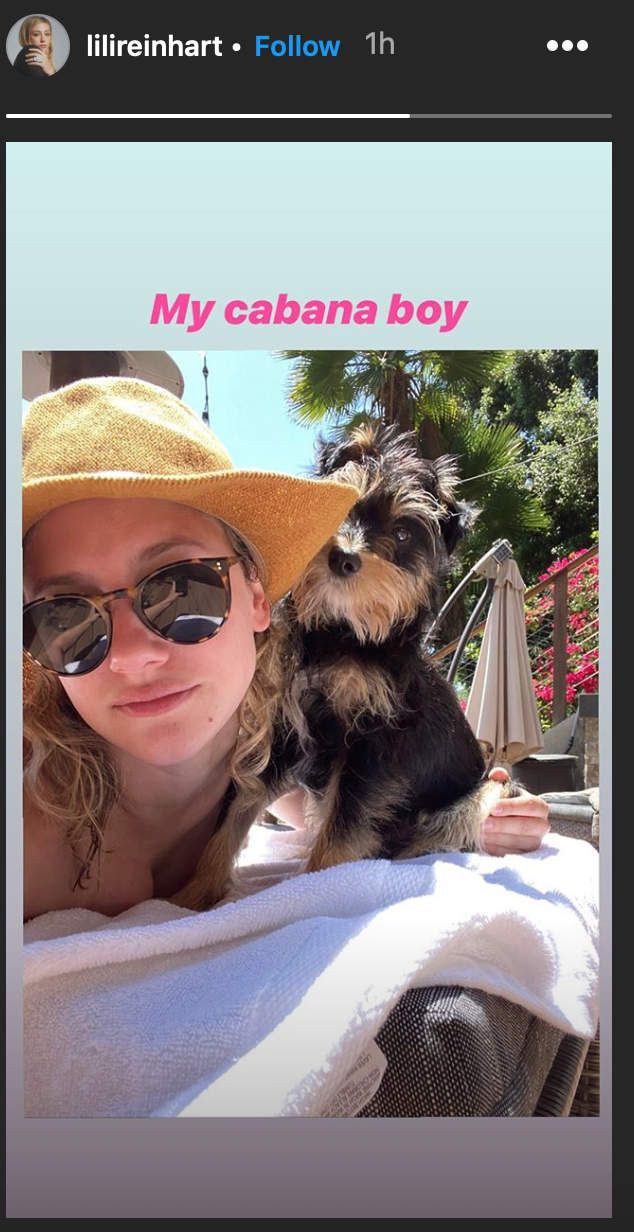 So many things about this photo are quarantine goals: Lili Reinhart's natural curls; her adorable dog, Milo, posing perfectly for their selfie; and the actress's casual straw hat. Although it appears that the Riverdale star is relaxing at her home, this straw hat is perfectly suited for post-quarantine life, too. Catch us wearing a similar fedora at home while protecting our faces but also post-quarantine, when we can venture further than our porch.
WYETH Straw Bailey Fedora
We plan on wearing this baby all spring and summer long, whether we're still stuck in our backyards or able to dash to the beach.
Bella Hadid's flannel shirt
There's something super comforting about an oversized button-down shirt. Maybe it's because we've stolen a few from our dads' closets, and wearing them always reminds us of home. However, from the looks of Bella Hadid's casual button-down shirt, it might be time we invest in our own. The model's blue, red, and grey flannel shirt loosely buttoned over a white tee is the perfect blend of put-together and relaxed. We might not be able to have deep conversations with horses during quarantine like Hadid, but we can cop her laid-back farm style.
BDG Remi Oversized Button-Down Shirt
Urban Outfitters has tons of oversized button-downs that pair perfectly with jeans, sweats, or just underwear, if you're feeling especially lazy. Quarantine is a no-judgment zone.
Miley Cyrus's Nike sweatshirt
Miley Cyrus isn't exactly known for simple style. The singer tends to lean toward bolder fashion statements, but during quarantine, she's been sticking to the basics. In an episode of her Instagram Live talk show Bright Minded, Cyrus wore a black crewneck Nike sweatshirt and admitted, "I have not gotten out of these sweats in about five days, and I have no plans on doing it anytime soon." Same, Miley, same.
Nike Women's Fleece Crew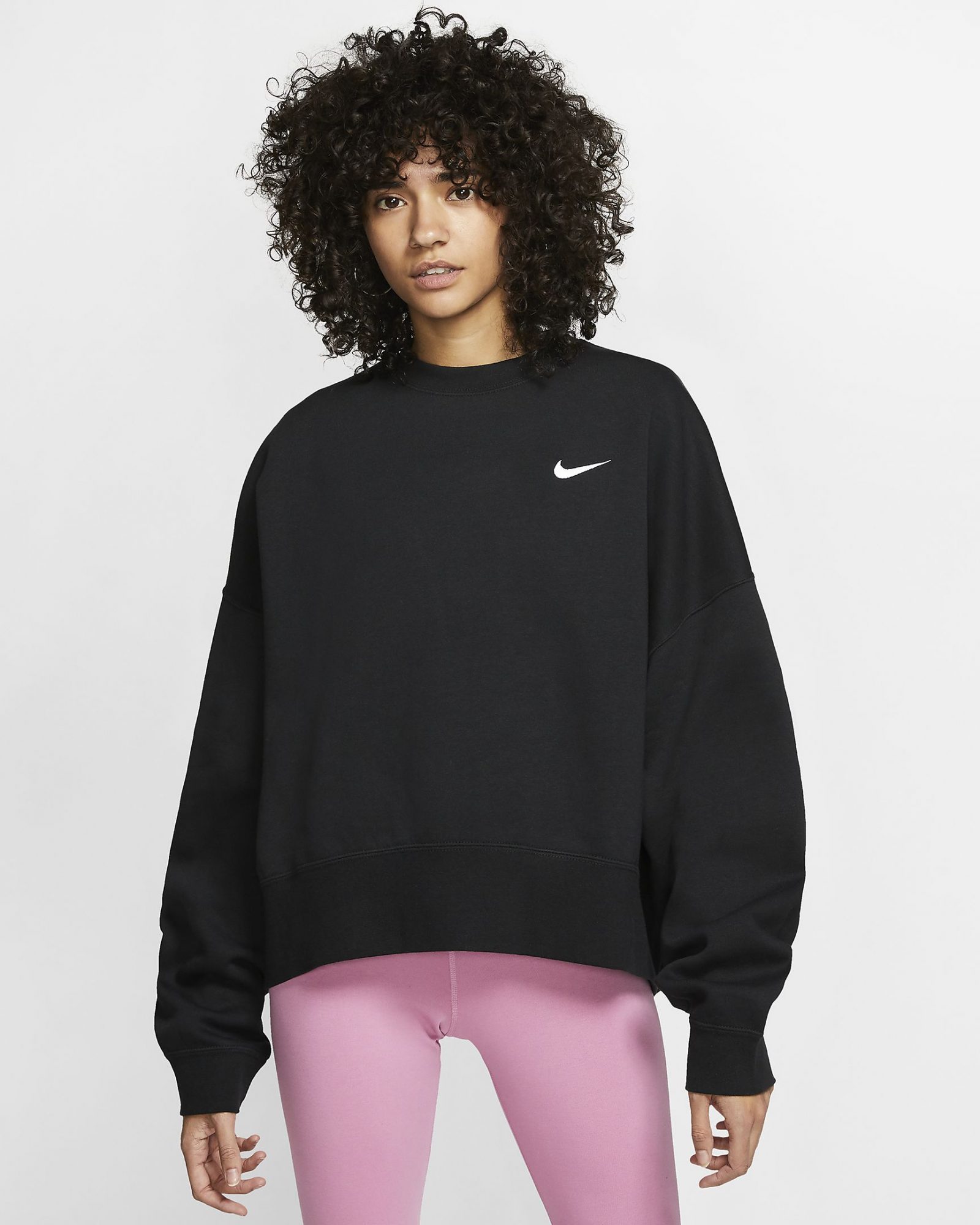 This classic Nike sweatshirt also comes in grey, orange, blue, green, and pink if you're looking to add some color to your quarantine wardrobe.
Busy Philipps
https://www.instagram.com/p/B_oKI0_AsL4
Busy Philipps' quarantine style involves one thing: dresses. Rather than snuggling up in sweats like most of us are, the actress is wearing tons of patterned sundresses while self-isolating, and we'd love to get our hands on all of them. This apple green floral number screams "spring," and, although we couldn't find the exact style, we did find another midi dress from the brand in the same eye-catching print.
Faithfull the Brand Emili Sun Dress in Le Bon Floral & Apple Green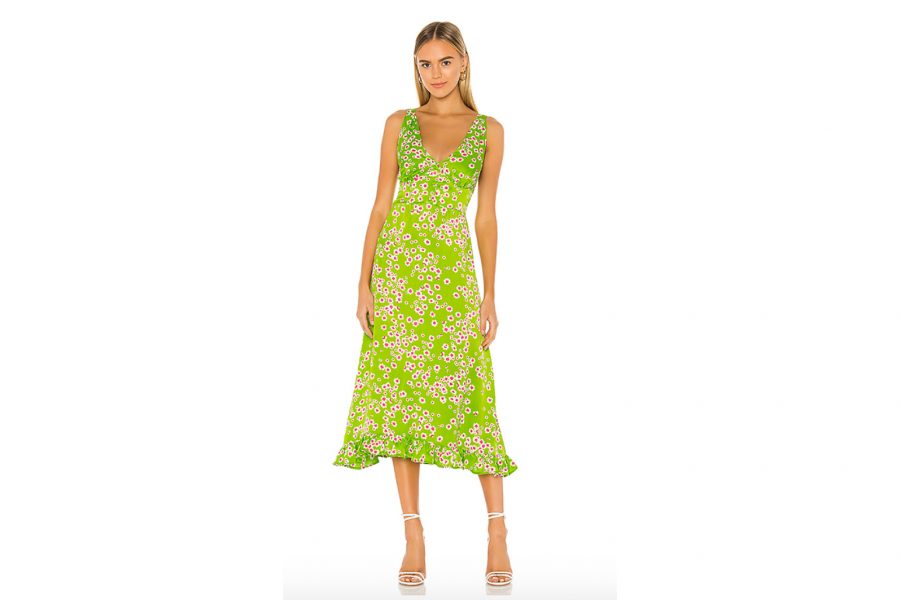 The ruffled hem and V-neck on this baby add a feminine touch that we're loving.
Hailey Bieber's headband
We wouldn't necessarily call Hailey Bieber's style sporty, but anything can change during quarantine. The model recently posted three photos to Instagram where she wore a Nike swoosh headband over a messy high bun. The post mentioned her skincare routine, so we're assuming she's wearing the headband to keep her hair away from her face while she uses products. However, the headband would work well to keep your hair out of the way while doing an at-home workout, too, or even as a bedhead tamer during Zoom meetings. At just $6, this versatile piece is well worth it.
This machine-washable, one-size-fits-all headband comes in 14 colors, so you might want to snag a few.
Madelaine Petsch's white button shirt
Along with matching her hair to flowers, Madelaine Petsch knows how to pick a staple spring shirt. The Riverdale star posted a photo in this ribbed button shirt, and we want to wear it on repeat this spring. Comfy and flattering, this white top is well-suited for lounging but can be dressed up when the occasion calls for it (aka when we're throwing a house party for ourselves).
Splendid Thermal Henley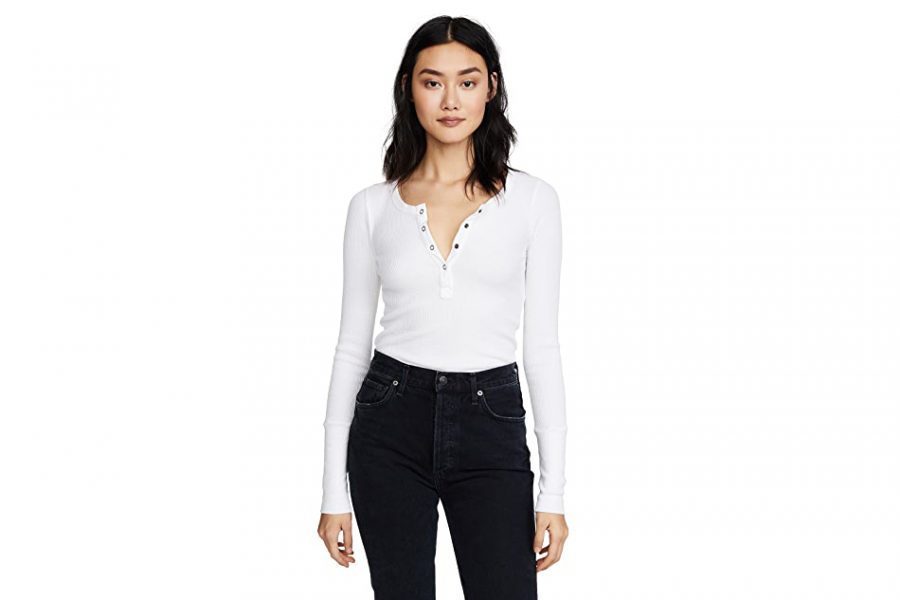 Pair this staple shirt with jeans, skirts, or sweats if you're lounging around.
Kristin Bell's pink sweater
If you follow Kristin Bell on Instagram, you've seen her pink sweater. The actress has been wearing the same lightweight, bubblegum-pink sweater throughout quarantine, and it's the perfect combination of comfortable and cute. Need a presentable top to wear with your baggy sweatpants during Zoom meetings? This sweater is calling your name.
Caslon Cozy Crew Neck Sweater
If you're not a huge pink fan, this sweater also comes in a cozy cobalt blue or bold bright red.
Mindy Kaling's tie-dye sweatshirt
Are you even self-isolating if you don't buy something tie-dye? Tie-dye sweatshirts and sweatpants are all the rage during quarantine, and Mindy Kaling recently hopped on the tie-dye train, too. This orange and red drawstring hoodie will brighten any gloomy quarantine day, and it's perfect for everything from lounging around to cleaning your bathroom, like Kaling chose to do.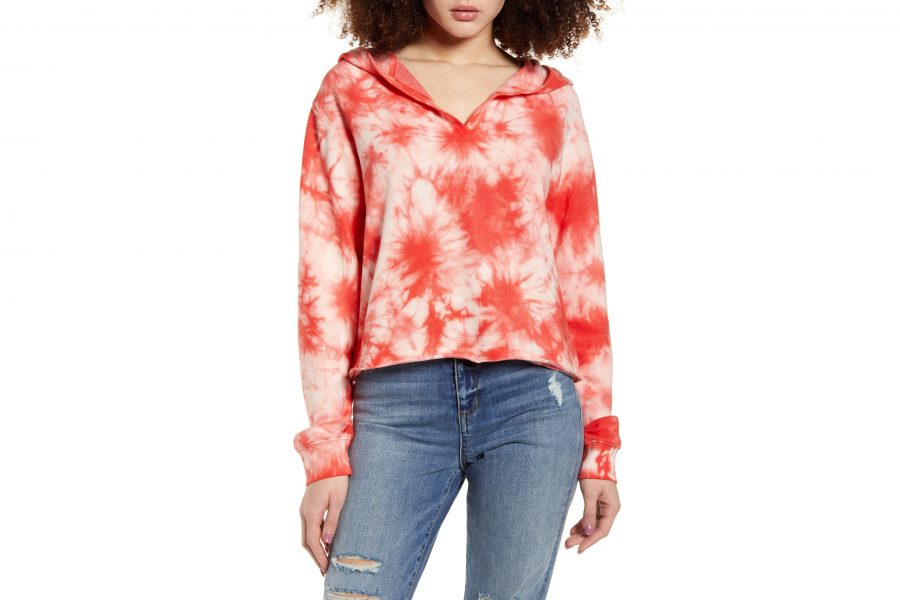 This V-neck sweatshirt is lighter-weight than Kaling's, making it ideal for spring nights outdoors.
Reese Witherspoon's gingham shirt
https://www.instagram.com/p/B_aVeHDAG0g
Reese Witherspoon hanging with her dog while drinking coffee and reading is a major quarantine mood. We're also taking notes on the actress's cheery sweatshirt, which is from her lifestyle brand, Draper James. Gingham is one of our favorite spring and summer patterns, and this crewneck is the perfect option for comfortable and cute quarantine clothes.
Draper James Gingham Sweatshirt
Unfortunately, the yellow sweatshirt is sold out, but this piece also comes in navy and light blue.