Celebrity makeup artist Lori Hamlin told us tips and tricks for making your lipstick last longer
Lipstick can be one of the most fun makeup products in the game but also the most intimidating to apply. One minute, we're feeling ourselves in a bright purple lipstick, and the next, our faces looks like they survived a popsicle-themed food fight.
So, in honor of International Kissing Day (which is today, sweet babies), we chatted with celebrity makeup artist Lori Hamlin, who has worked with huge stars like the ridiculously glamorous Mariah Carey and Top Chef's Padma Lakshmi.
In celebration of International Kissing Day, Hamlin gave us some pointers on how to baby your lips and a few of her go-to products.
https://www.instagram.com/p/BJBJdm4B2cd
First off, Hamlin told HelloGiggles over email how important it is to keep our lips hydrated. ESPECIALLY if we're regularly applying color.
She said,
"The lips are the only part of the body that don't contain oil glands and tend to show the signs of aging first. Most women choose lip products based on the color. Smart women choose lip products with benefits — those formulated without toxic chemicals and have added moisturizers, vitamins, and antioxidants that play up the shape of your mouth while keeping the skin plump and smooth."
https://www.instagram.com/p/n6RFH_EzEV
Beyond keeping your lips healthy and youthful, Hamlin also shared that thoroughly moisturizing your lips is a good way to make lip color last longer. So it's a win-win all around.
"The most frequently asked questions from my clients are in regard to keeping lip color from fading and feathering.  To keep your color longer, I apply Inika Certified Organic Rosehip Oil to the face first and am sure my lip line is saturated. This will smooth, plump, and hydrate the skin so that color doesn't bleed into fine lines around the mouth. Next, I apply Inika Certified Organic Lip Balm to the lips. This smooths and hydrates the skin so that lip color goes on evenly and adheres to the lip better."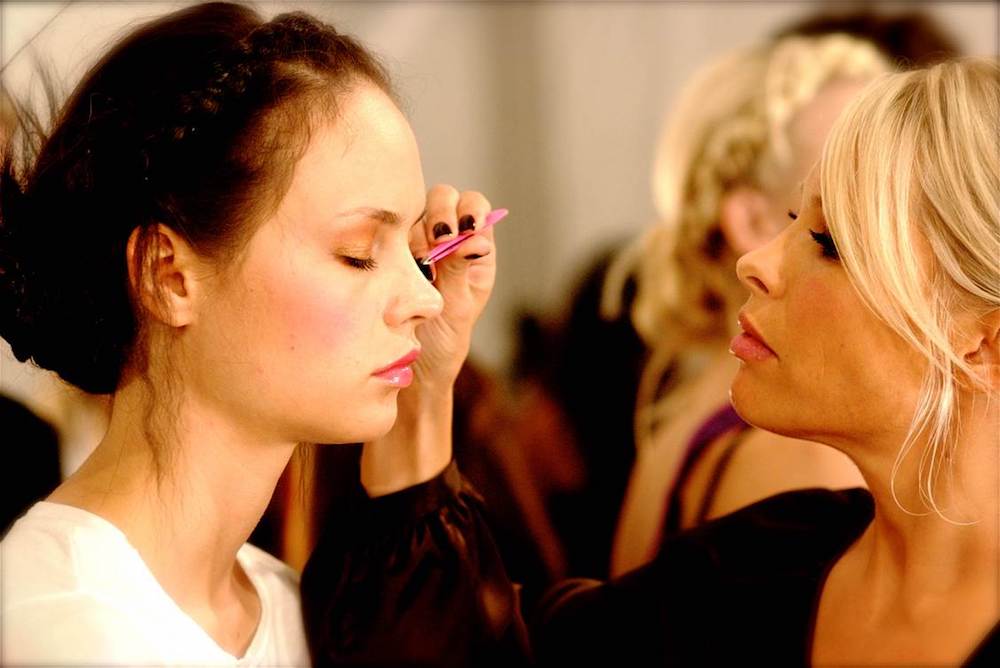 According to Hamlin, another one of the crucial pieces of maintaining long-lasting lip color is coating the outside of your lips with powder or foundation. That way, you don't have to worry about the color potentially bleeding.
She says,
"Once the lip treatments have soaked in, I lightly apply Inika Mineral Mattifying Powder around the lip line with my finger. This keeps lip liner and lipstick in place for hours. Not only does it keep the color from fading, it prevents lip color from bleeding into the fine lines around the mouth. Because the texture of the Inika lip pencil glides on so smoothly, not only do I line the lips with it, I lightly fill in the entire lip with color to keep lipstick and glosses on longer. Finish with the lip color of your choice."
While Hamlin obviously has her go-to products for optimal lip techniques, the same principles of moisturizing, applying powder outside the lip, and layering your colors can also be applied to whatever makeup you have at home!