Kim Kardashian's hairstylist Chris Appleton talks to us about that one time he said "no" to long extensions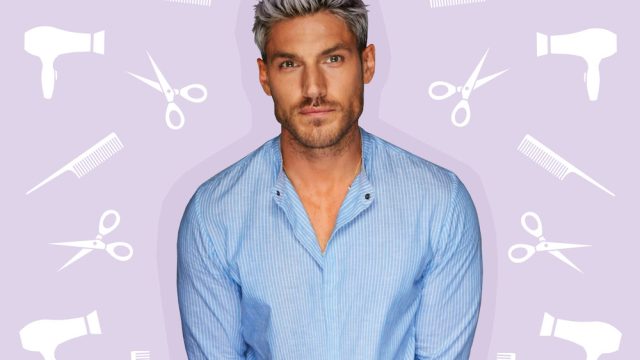 You can't scroll through Instagram without seeing celebrities and influencers rock long straight hair á la Kim Kardashian. While most people wear wigs or extensions to get the luxe look (not all of us are blessed with Rapunzel-esque hair), there's only one celebrity hairstylist who can make this length look au naturel and oh-so-covetable.
British hairstylist Chris Appleton is famous for creating sleek, straight hair on some of the most in-demand celebs. He's worked with Kim Kardashian, Jennifer Lopez, Katy Perry, and Rita Ora, to name a few.
https://www.instagram.com/p/BVswrPFhqrx
His statement-making, long extension hairstyle was all the rage during Paris Fashion Week in 2016 — when Kim rocked the Cher-inspired look — and the trend is still going strong. Chris told HelloGiggles,
"It became such a big thing and Kim wears it so well. I love the look because it looks super luxurious and expensive and it's so nice to see little girls follow through with the trend now."
Chris spoke to HelloGiggles about that one time he *actually* said he didn't like the long extensions trend, his favorite drugstore product, and his new hairstyle no-no.
HelloGiggles: What is your number one tip for keeping your hair flawless during a long day? How do you keep it tamed and in place?
Chris Appleton: I think a good way to keep your hair tamed and in place would probably be to use an anti-humidity spray. The Dream Coat from Color Wow is great, because it prevents your hair from absorbing moisture and frizz, and keeps it smooth. That's my go-to product, just spray your hair with Dream Coat and dry it.
HG: What are your favorite drugstore brands that you think work just as well or better than high-end ones?
CA: I use Gorilla Snot, which is a gel. I love that! If you've got a ponytail and you want it snatched, just put it all over the edges and it makes it really solid. Makes it old-school.
https://www.instagram.com/p/BYwBZdwhEbc
HG: Back in 2015 you told InStyle U.K. "no" to long hair extensions. What made you change your mind about the hairstyle?
CA: Did I? No, I didn't. I guess, the long extensions that were in back then tended to be bad ones. Maybe I should've rephrased it and said no to long, past-the-butt extensions. I still stand by that. Good length hair extensions and the quality of hair that's accessible now is better. You know I love extensions. We live in the world of extensions. Where would any of us be without extensions and wigs? I love all of that, but I just think I'd like to see it well done. There's nothing worse than seeing that line or those short bits stick out.
https://www.instagram.com/p/z0s7CjGhBo
HG: What's your new "no" then?
CA: Overstyled, overheated, damaged hair. I just think it's really sad to see. We live in an environment now where there is a demand for us to change our hair all the time. We push our hair further than it's ever been pushed with styles and extensions. We can go from different looks daily, weekly, because we live in a celebrity culture where that's what we're used to seeing and that's what we want.
I think my "no" now is also bad conditioned hair. Try and condition your hair as much as you can. If you're going to get extensions, invest in what is the least damaging to your hair. If you're going to get your hair colored, don't push your hair further than it wants to go, because that's when you start getting into trouble. I think the beauty of hair is all in the condition. Once you lose the condition, the beauty goes away.
https://www.instagram.com/p/BZARWQyBXJA
HG: Back to extensions, for someone who has short hair and wants long extensions but doesn't want their short hair to show, what's the best way to hide them or blend it in naturally?
CA: There are different techniques. You can have a weave, and that would get rid of the bulk of your hair and make the line you were worried about blend in. If you wanted to have bonds in your hair or tapes, which is another form, your own hair would be in between it. If you've got thick hair, that can be difficult because you're always going to see that hair in-between. If you do have really thick hair and it's short and you want it long, you'd probably be better off braiding some of your hair away.
https://www.instagram.com/p/BVdMdkEhzJi
HG: I have to ask about your frosted tips. What inspired your personal hair look?
CA: I haven't gotten it done. I'm dying, because everyone keeps saying, "Oh, I like your frosted tips." For me, frosted tips are something the Backstreet Boys had. I had it when I was about 10. This right here, I had it bleached. It was blond and it grew out and I liked the root, but I've been so busy with work, I've not had a chance to get it done. It wasn't an intentional thing. It just kind of happened. Now, the rooted cool blond look is a frosted tip look.
I keep asking everyone if I should stay blond or go dark. Everyone says, "Go blond," but being blond is hard work. It's a lot of maintenance. I like it ashy and it's hard to get that ashy color, but I'm going to do it.
If you're digging the sleek straight hair look that Chris is famous for, then check out the video he did for The Pretty.
Chris also worked with The Pretty to give us a simple breakdown on how to get luxe, sleek hair like his celeb clients. It's as easy as one, two, three.
Chris breaks his simple routine down in the video above, using only a handful of products that we can easily use (heck, you might even own some of the products already, like a brush, blow dryer, and flat iron).
Chris kept the luxe look minimal by using two main products — Color Wow's Pop & Lock Gloss Shellac and Color Wow's Coconut Cocktail Bionic Tonic. This will keep the straight hairstyle frizz-free and sleek AF. And if you have short hair, fret not, because you can follow the same routine and still look chic and stylish.
https://www.instagram.com/p/BS4HsCrFjsN
Thanks to Chris, we can easily channel our fave celeb.