Here's How Mindy Kaling, Billy Porter, and Other Celebs Marked the Fourth of July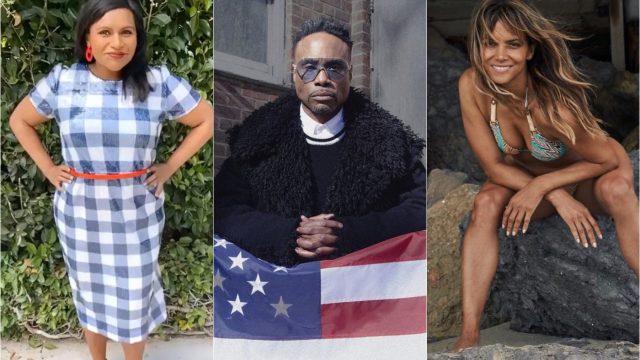 Amid the ongoing Black Lives Matter protests, as well as the continuing coronavirus (COVID-19) pandemic, the Fourth of July this year was much different. Many people skipped memorializing the holiday altogether or took the day as an opportunity to raise awareness for victims of police brutality and call out systemic racism in the United States. And that included celebrities like Demi Lovato, Kristen Bell, and Gabrielle Union.
Meanwhile, as the country sets new records for coronavirus cases after several states reopened from quarantine, celebs also called out partiers for celebrating the Fourth of July in large gatherings—and reminded people to continue to wear masks.
Here's how celebrities marked the Fourth of July 2020.
Billy Porter
Pose star Billy Porter marked the holiday with a photo of himself with the American flag draped across his lap. He captioned his Instagram post with the powerful Langston Hughes poem "I, Too."
Eva Longoria
Though not specifically shouting out the Fourth of July, Eva Longoria posted about the oft-forgotten Spanish-language "Star-Spangled Banner" on July 5th. She educated her followers about Clotilde Arias, the Peruvian-American composer behind the song, which you can listen to on YouTube here.
Demi Lovato
https://www.instagram.com/p/CCPPdXUBRjC/
To mark the holiday, Demi Lovato re-posted @intoactionus to call out America's complicated history, showing that not only does racism, misogyny, and xenophobia exist in the country, but also how they are "foundational to our systems."
"The 4th of July is complicated, our democracy imperfect and our promise of independence yet unfulfilled for so many," reads the caption. "The bounty of this land stolen by the wealthy and the privilege of living in this beautiful country overshadowed by the neglect and greed that leaves the lives of so many too difficult to see any reason to celebrate.
Gabrielle Union
Gabrielle Union opted out of celebrating July 4th, instead posting a poolside picture the next day, noting July 5th with peace sign and black heart emojis. For her location, she tagged, "Peace of Mind," and honestly, we love it for her.
Kristen Bell
Kristen Bell used the holiday to call for justice for Breonna Taylor, who was killed by police while she was sleeping in her home. Join the call to action by signing this petition and this one, too, donating to her family's GoFundMe, and contacting the Louisville mayor here.
Mindy Kaling
Mindy Kaling posted a picture of herself in a celebratory summer outfit, but her message was far from celebratory. She alluded to the ongoing fight for racial justice in America, as well as the pandemic, in her caption, questioning how the history books would look back on July 4th, 2020. She ended her caption with a simple message: "Stay safe, everyone."
Halle Berry
Halle Berry used her Independence Day post not only to wish "a safe and restful time" to her followers, but also to talk about the meaning of the word "patriotic." "Let's continue to fight for true independence for all this #IndependenceDay," she wrote.
Hilary Duff
In her Instagram post, Hilary Duff called out party-goers who weren't wearing masks at a July 4th party in California, amid the spike in coronavirus cases in the state: "It really seems like Americans just don't care about each other."