"Celebrity Family Feud" to pit Team West against Team Kardashian-Jenner, and this is not a drill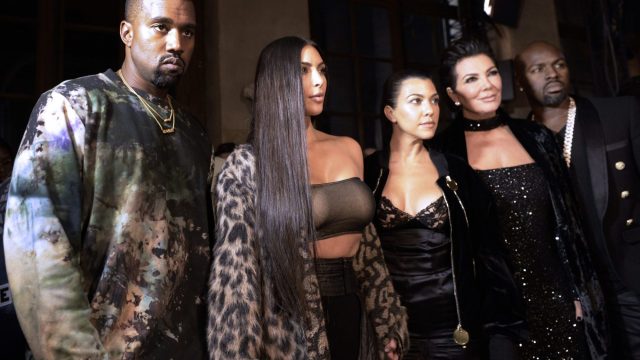 If there's one thing we can count on when it comes to the Kardashian clan, it's this: family drama. But just when you thought you'd seen everything from the reality TV star family, they leveled up. Again. And this time, everyone — the Kardashians, the Jenners, and the Wests — are fair game. Because an upcoming episode of Celebrity Family Feud will pit Team West against Team Kardashian-Jenner. And no, we are not playing around.
Thanks to Keeping Up with the Kardashians, we probably know more about the Kardashians than we do our own families. Khloé had a pregnancy scare? We heard. Kim started watching This Is Us? We're aware. But we must admit, the Kardashians' recent taping of Celebrity Family Feud took us by surprise.
And so did the team breakdowns. Kris Jenner, grandmother Mary Jo Campbell, sisters Khloé Kardashian and Kendall Jenner, and cousin Cici Bussey make up Team Kardashian-Jenner. Kim, Kanye, and possibly Kim's bestie (Jonathan Cheban) play on Team West. So, who fills the two remaining spots on the West side of the family? Right now, we don't know for sure. But we hear Jay-Z and Beyoncé are all about their own "Family Feud." (Just saying.)
And the survey says…GAME ON!
Kim teased the family's Celebrity Family Feud appearance on Twitter on Saturday.
But like us, Twitter had some questions.
false
And some predictions.
false
While on set, Kim took Snapchat users (yep, she still uses it) behind the scenes at the game show's live taping. And though the family that wins this particular feud still remains to be seen, Kim had no qualms about choosing sides.
"Kanye and I are the biggest fans of Family Feud," Kim posted in a Snapchat video. "Kanye said he's waited his whole life for this moment to be on Family Feud. I have a really good feeling about this."
We agree with Kim. The Kardashians plus Celebrity Family Feud? Everybody #wins.