See How Your Favorite Celebrities Celebrated Thanksgiving 2022
From Reese Witherspoon's signature holiday cocktail recipe to Oprah's Thanksgiving Day song.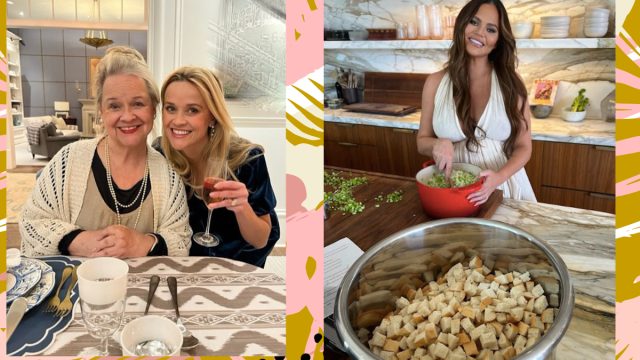 From festive Thanksgiving tablescapes to Thanksgiving dinner spreads, our favorite celebrities showed up and showed out this turkey day. Similar to their fans at home, movie stars and singers alike cuddled up with their loved ones early Thanksgiving morning with fall-themed breakfast treats and tuned into the annual Macy's Thanksgiving Day Parade in New York City. Some kiddos like Lea Michele's son, Ever, and Mariah Carey's twins, Moroccan and Monroe, even got to watch their mamas perform on a parade float.
Celebrities also gave fans an inside peek into their post-feast dance parties and signature holiday cocktails. One reality TV star in particular shocked fans by reuniting with a controversial old friend for a meaningful Friendsgiving dinner.
Above all, we loved seeing how our favorite celebrities celebrated Thanksgiving this year — food fails and all! Check out our celebrity Thanksgiving highlight reel below. 
RELATED: The Most Divisive Condiment Could Be a Big Part of Your Thanksgiving Meal
1. Lea Michele
The show must go on! Michele took to the Macy's Thanksgiving Day Parade stage for a special Funny Girl performance with her Broadway castmates.
2. Jennifer Lopez
Take a peek at J.Lo and Ben Affleck's first Thanksgiving together as a married couple! It was also a big weekend for the singer for another reason – she announced her first new album in eight years.
3. Oprah
Instead of giving grace before Thanksgiving dinner, Oprah led her guests in a song. In a video shared to Instagram, she wrote that her "daughter-girl" Thando Dlomo, who wasn't able to make it for Thanksgiving, sent her the song in her absence.
4. Mariah Carey
After ringing in the holiday season with a festive rendition of "All I Want For Christmas is You" at the Macy's Thanksgiving Day Parade, Carey joined her family for a big turkey feast. The only thing missing? Her Anointed Greens dish.
5. Reese Witherspoon
Miss Hello Sunshine was our Thanksgiving fairy godmother, sharing her signature cocktail, funny memes, and thoughtful questions for grandparents. The beloved actress also posted a gallery of family photos.
6. Kim Kardashian…and Tristan Thompson
Is Kim Kardashian letting bygones be bygones? The reality star shared a photo on Instagram of she and Tristan Thompson, Khloe Kardashian's ex whom she shares two kids with, hosting a Friendsgiving dinner for the "young men incarcerated at Camp Kilpatrick" in Malibu, California. Her favorite part of the night was "hearing what their dreams and aspirations are."
7. Ciara
The Wilson family wished their fans a happy Thanksgiving in a video shared to the singer's Instagram. Ciara also gave people a peak at her gorgeous Thanksgiving dinner spread and the dance party that followed.
8. Chrissy Teigen and John Legend
The power couple documented their homemade Thanksgiving spread on Instagram. It looks like John Legend was in charge of the turkey while Chrissy Teigen manned the stuffing, and their daughter Luna won the wishing bone contest!
9. Al Roker
Look up Macy's Thanksgiving Day Parade in the dictionary and you'll see a photo of Al Roker. Unfortunately, the Today co-host wasn't able to make it this year. A week prior, Roker was admitted to the hospital with blood clots.
Thankfully, he is on the mend and was released from the hospital just in time to catch his good friends and fellow co-hosts Savannah Guthrie and Hoda Kotb host the parade.
Emily is a NYC-based freelance entertainment and lifestyle writer — though, she'll never pass up the opportunity to talk about women's health and sports (she thrives during the Olympics).
Read more