A list of celebrities who will be on the ground at March For Our Lives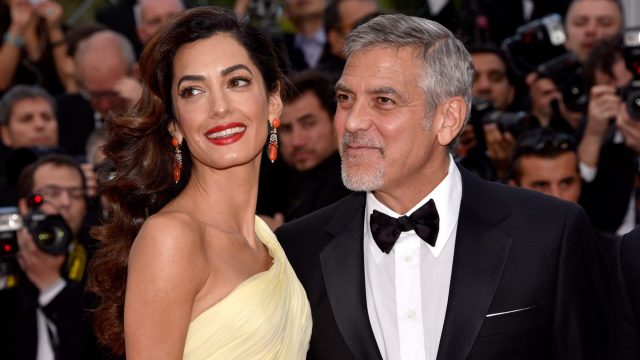 Today, Saturday, March 24th, marks the day of March For Our Lives, a nationwide protest on gun violence launched by the Parkland, Florida students who endured a mass shooting on February 14th at Marjory Stoneman Douglas High School. March For Our Lives will feature students, survivors, allies, and gun reform advocates, in addition to many A-list celebs who are using their platforms to help draw attention to the issue of gun control in America.
Here's a partial list of celebrities supporting today's March For Our Lives:
George and Amal Clooney
These two are no strangers to activism and humanitarian efforts, have advocated for issues such as same-sex marriage and conflict resolution in Darfur. They've already donated $500,000 to March For Our Lives and are expected to march in Washington, D.C.
In a letter to the Parkland students, George Clooney wrote:
"Amal and I are 100% behind you and will be marching in D.C. on the 24th, but we both feel very strongly that this is your march. Your moment. Young people are taking it to the adults and that has been your most effective tool. ... Amal and I stand behind you, in support of you, in gratitude to you. You make me proud of my country again."
Lin-Manuel Miranda and Ben Platt
The Hamilton creator teamed up with Ben Platt, star of Broadway's Dear Evan Hansen, to release a song in support of today's march. The song is a mashup of tunes from their respective musicals, and a portion of the song's proceeds will go to March For Our Lives. Both actors will participate in the D.C. march and will also perform the song live.
Ariana Grande
March For Our Lives is likely to be an emotional event for Grande, who lost a number of fans in the 2017 Manchester arena bombing. Grande is one of several singers slated to perform at the main march in D.C.
The singer is yet another music superstar who will take to the stage at the D.C. march. Earlier this month, Lovato told MTV how important it is for celebrities to speak out on important issues:
"There are certain pop stars who don't speak out politically, and they have more fans," Lovato said. "But I'd rather speak up for the things I believe in than just be dismissive of the issues going on in our country."
Amy Schumer
Schumer has been very outspoken about gun reform, even addressing the topic in her stand-up comedy. After a shooting took place at a screening of her movie Trainwreck in 2015, Schumer teamed up with her cousin, Sen. Chuck Schumer, to propose gun control measures. The actress is scheduled to speak at the march in Los Angeles.
Jimmy Fallon
On the first episode of The Tonight Show Starring Jimmy Fallon following the Parkland shooting, the late-night host paid tribute to victims and survivors and vowed to appear at March For Our Lives in D.C. 
https://www.youtube.com/watch?v=DWruw22fR4g?feature=oembed
Yara Shahidi
Like Schumer, Shahidi will deliver remarks at the L.A. March For Our Lives. The Black-ish star took to Twitter on the day of the Parkland shooting, writing, "This is not about politicizing a tragedy, it's about ending it."
https://twitter.com/udfredirect/status/977568402171547651
HelloGiggles commends the students and other participants who are standing up for their rights across the nation today. We stand with you.