9 celebrities who have starred together in multiple movies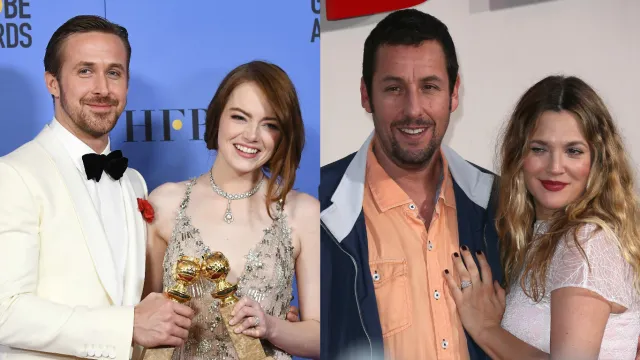 Some onscreen couples, like Meg Ryan and Tom Hanks, ring eternal. Others, like Julia Roberts and Richard Gere, remain iconic, no matter how mismatched they seemed at the time. And then there are the celebrities who have been in multiple movies together that just might blow your mind — especially when you consider the films they were in. Literally any genre can star the same celebrities over and over again: from stoner comedies, to tearjerkers, to total Oscar bait. TBH, it's a testament to their strengths as actors that we keep going back to watch them.
1Sandra Bullock & Keanu Reeves
Yes, Oscar winner Sandy Bullock and ageless wonder Keanu Reeves have costarred twice  — and both times, in notable films. You'll definitely remember 1994's one-of-a-kind drama Speed, but did you recall they also costarred in time traveling romantic dramedy The Lake House more than a decade later? Because that very much happened.
2Ryan Gosling & Emma Stone
Obviously, Ryan Gosling and Emma Stone were our *everything* in 2011's Crazy, Stupid, Love, so you'd think Hollywood would find a way to put them together again. It first happened inn the under-appreciated Gangster Squad and then the love-or-hate-it La La Land.
3Jesse Eisenberg & Kristen Stewart
It's way too easy to forget that these two "I'm just uncomfortable to be here" icons have been in more than one indie-esque flick together. First and most iconic, of course, was the unusual rom-com dram-com coming-of-age-story Adventureland. But years later, Eisenberg and Stewart teamed up again to play a super stoned couple in action comedy American Ultra.
4Jake Gyllenhaal & Anne Hathaway
First of all, Anne Hathaway is great, and she's always been great. Also, her role in Love & Other Drugs was not her first time starring opposite Jakey G. — the two appeared together in a 'lil movie called Brokeback Mountain in 2005.
5Drew Barrymore & Adam Sandler
Why aren't these two Meg Ryan and Tom Hanks already? …or are they? They've been in The Wedding Singer, 50 First Dates, and Blended together, and TBH, it's hard *not* to 'ship them. They've got chemistry, heart, and madcap energy for days; Barrymore brings out a gentler, more likable side of Sandler than any of his other costars. No offense meant to Rob Schneider, of course.
6Jennifer Lawrence & Bradley Cooper
Okay, this pairing keeps happening mostly because director David O. Russell really loves working with both of them. (Think The Silver Linings Playbook and American Hustle.) But also, they costarred in famously weird bomb Serena, which you can totally watch on Netflix now.
7Shailene Woodley & Ansel Elgort
Shailene Woodley and Ansel Elgort both have great names, and both end up in a lot of the same movies together. Sometimes they're dating (The Fault in Our Stars) and sometimes they're feuding siblings (Divergent), but you live them either way no matter what.
8Shailene Woodley & Miles Teller
If you like your movies with as much Shailene and Ansel as possibly, why not throw some Miles Teller into the mix? He also had appearances in the Divergent series, but this time as a nemesis of sorts for Shailene's character. He also played her boyfriend in The Spectacular Now, and a bunch of those movies even came out in the same year just to mess with us.
9Jason Sudeikis & Charlie Day
Sorry, not sorry — I had to. Two of my comedy boyfriends were in Going the Distance together, and it was not talked about enough because the movie already starred Drew Barrymore and Justin Long. They were also, and perhaps more famously, in the Horrible Bosses movies together. But Going the Distance should get some love, people.