Zoë Kravitz, J.Lo, Amber Riley, and so many other celebs are participating in the George Floyd protests
This post is being continually updated to include other celebrities who have joined the protests.
In the past week since George Floyd was killed by a now arrested ex-police officer, many people have filled the streets in cities across the country to protest and demand justice. In many cities, protesters have been met with teargas, rubber bullets, and arrests. In Minnesota, where the murder happened, 481 arrests have been made since Friday, Minnesota's Department of Public Safety tweeted on Monday morning. So, protesters are putting their lives and livelihood on the line to fight for justice for Floyd and the many other Black lives taken by the police.
Live on CNN on Saturday, Don Lemon asked a valid question: "What about Hollywood?" He called out celebrities for staying "strangely quiet" during these times and had a strong message for them:
"Yes, I'm calling you out, and you can be mad at me all you want. And what they're doing, you're sitting there and watching TV and you're bitching about it," he said, Complex reports. "Get on television or do something and help these young people instead of sitting in your mansions and doing nothing. And have some moral courage and stop worrying about your reputation and your brand."
Fortunately, some celebrities have been taking to the streets, joining protesters, and using their platforms to push for racial justice. Check them out below.
Keke Palmer
Keke Palmer made headlines on Tuesday when a video circulated of her delivering a powerful message directly to the National Guard on the frontlines at a Los Angeles protest. She urged the guards to march with the protesters, show solidarity, and protect them by being walking with them.
"March beside us," she said. "Let the revolution be televised and show us that you're here for us. Make history with us, please." When another protester asked the guard to kneel with the crowd, Palmer said, "That ain't enough for me. March with us."
Palmer has since gone on Good Morning America virtually to reflect on the video, restating that the kneeling is not enough. "Though the kneeling—it can be seen as a walk in the same direction—we all can also see that just moments after in some of these cities where we've seen the kneeling, we've seen the teargassing and everything, the chaos afterwards," she said.
Zoë Kravitz
https://www.instagram.com/p/CA_JJZHpMlv
On Thursday, June 4th, Zoë Kravitz posted a photo of herself protesting in London, holding a sign with a James Baldwin quote addressed "Dear America": "I can't believe what you say because I see what you do." Her father, Lenny Kravitz, commented on the photo praising his daughter, writing, "That's my girl!" This weekend, she also posted resources for how to seek justice for Breonna Taylor's death.
Sophie Turner and Joe Jonas
Game of Thrones star Sophie Turner and her husband Joe Jonas joined a Black Lives Matter protest in Los Angeles, posting photos and videos from the event. Turner held a sign that said, "White silence is violence," and captioned her post with "no justice, no peace." The couple joined many others in lying down and kneeling in protest.
Rachel Lindsay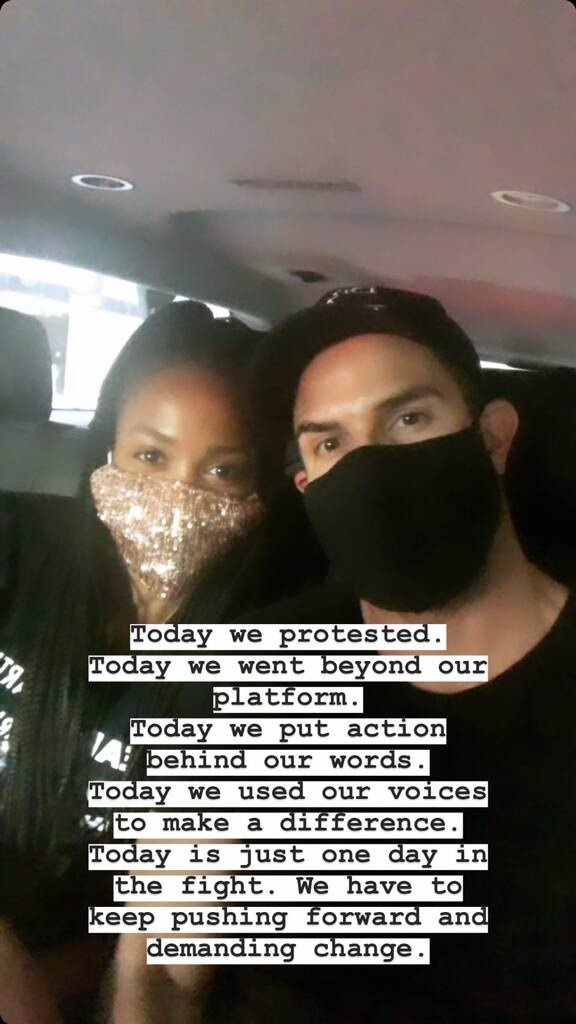 Bachelorette star Rachel Lindsay, who has been vocal about racial discrimination and injustice in the past, shared about her and husband Bryan Abasolo's experience protesting on her Instagram Story and in a recent episode of her podcast Higher Learning.
"I heard beautiful speeches," she said on the podcast, E News! reports. "It was beautiful to see so many people in unity marching and protesting for what they believed in and the injustices they're facing in this country."
She also explained how being a part of The Bachelorette franchise has given her a platform to speak openly about race issues to a wider audience, explaining that the majority of her social media audience is white women. "One of my purposes for being part of this franchise that I never knew anything about before is for a time like this—to speak to an audience that I never really would have had that opportunity to before," she said.
Amber Riley
Glee star Amber Riley has been documenting her time protesting across Instagram and other platforms. Most recently, she shared a photo to raise awareness for #SayHerName and demand justice for Breonna Taylor and other Black women—including Sandra Bland, Pamela Turner, Korryn Gaines, Atatiana Jefferson, and Shantel Davis—who died at the hands of police. In other posts, Riley has shown a video of herself singing Beyoncé's "Freedom" via megaphone and pictures of her protesting.
https://www.instagram.com/p/CA9mXInBeRa
Laura Dern
On Tuesday, Laura Dern shared photos and videos of a peaceful protest she attended. In the video, protesters can be heard chanting, "George Floyd. Say his name." Another photo shows protesters kneeling with their fists and signs in the air.
Ariana Grande
https://twitter.com/udfredirect/status/1267161027042402304
Ariana Grande shared photos from a Beverly Hills protest, criticizing the media for not giving coverage to the many peaceful protests happening across the country. "All throughout beverly hills and west hollywood we chanted, people beeped and cheered along. we were passionate, we were loud, we were loving. cover this too please," she wrote.
Tinashe
Singer Tinashe replied to Grande's tweet agreeing, "THE MEDIA DONT WANT YOU TO SEE THE PEACEFUL PROTESTS."
Tinashe also posted photos from the protest she attended. One photo shows her in a mask, standing in the middle of the street with cars behind her, holding up a Black Lives Matter sign. Her caption was a simple call to action: "Show up."
She also shared another post with more photos of the peaceful protests writing, "PLEASE DONT LIVE IN FEAR ♥️"
Timothée Chalamet
Timothée Chalamet shared videos at protests on Sunday with chants of "Black Lives Matter" and "George Floyd" audible in the background. He also shared a warning to others in one video writing, "THEY ARE STARTING TO TEAR GAS STAY SAFE."
Tessa Thompson
Tessa Thompson shared a powerful 16-second video from a peaceful protest, showing protesters kneeling with their fists in the air shouting, "This is our America."
She also called out the media for failing to show what really happened at the protest.
Jamie Foxx
Jamie Foxx joined protesters in Minneapolis over the weekend and delivered a message, saying that he was speaking not as a celebrity, but as a man from Terrell, Texas, showing his support.
"At the end of the day, when we see you guys out here on the frontlines, we wanna let you know you got support," he said. "We wanna let you know that anytime you need, you call us, we'll come. We're not afraid of this moment." He finished by thanking the crowd for what they're doing, "That's all I wanna say. We love you."
Nick Cannon
https://www.instagram.com/p/CAypn1-Bzgu
Nick Cannon has been actively out protesting for the past few days, wearing an all-black sweatshirt that reads, "PLEASE I CAN'T BREATHE." He also shared an IGTV video of a powerful spoken word message condemning police brutality and the historical violence against Black lives.
https://www.instagram.com/p/CA2l6jrhJfJ
Halsey
Like many others, Halsey called out the police for inciting violence at the protests. She posted videos of the armed forces facing protesters and wrote the questions, "Who are you protecting?" and "Who came for a war?" She also live streamed part of the protest on Instagram and at one point yells out at the cops, "A true patriot is a person who is unafraid of rebelling against the government for the greater good of their fellow citizens. We are patriots. You are cowards."
Kehlani
https://twitter.com/udfredirect/status/1266851077506215937
Kehlani shared a video to her Instagram story from a protest this weekend with the words, "NO JUSTICE NO PEACE."
Kendrick Samson
Insecure star Kendrick Samson shared an IGTV video of himself speaking at a rally on Sunday. He led the crowd with a call and response asking, "What's the first reason we're here?" The crowd responded, "Prosecute killer cops."
Emily Ratajowski
Emily Ratajowski shared photos from a protest on Sunday along with the message, "DISMANTLE POWER STRUCTURES OF OPPRESSION."
Harry Styles
Other protesters have spotted Harry Styles at protests in Los Angeles, with a sign that reads, "Black Lives Matter."
Ben Affleck and Ana de Armas
Ben Affleck and Ana de Armas were seen protesting in Los Angeles on Tuesday. Affleck is holding a "Black Lives Matter" sign as well as one that reads "Save First Baptist Church of Venice," a landmark that holds historical significance for the Black community in Venice and is at risk of being destroyed to create a private home for a multi-millionaire family. You can help protect the church by signing a petition here.
Cara Delevigne
Cara Delevigne shared videos and photos to her Instagram Story from the protest she attended in Los Angeles on Tuesday. One photo gave a peek at her sign, and she wrote, "Silence is consent."
Phoebe Robinson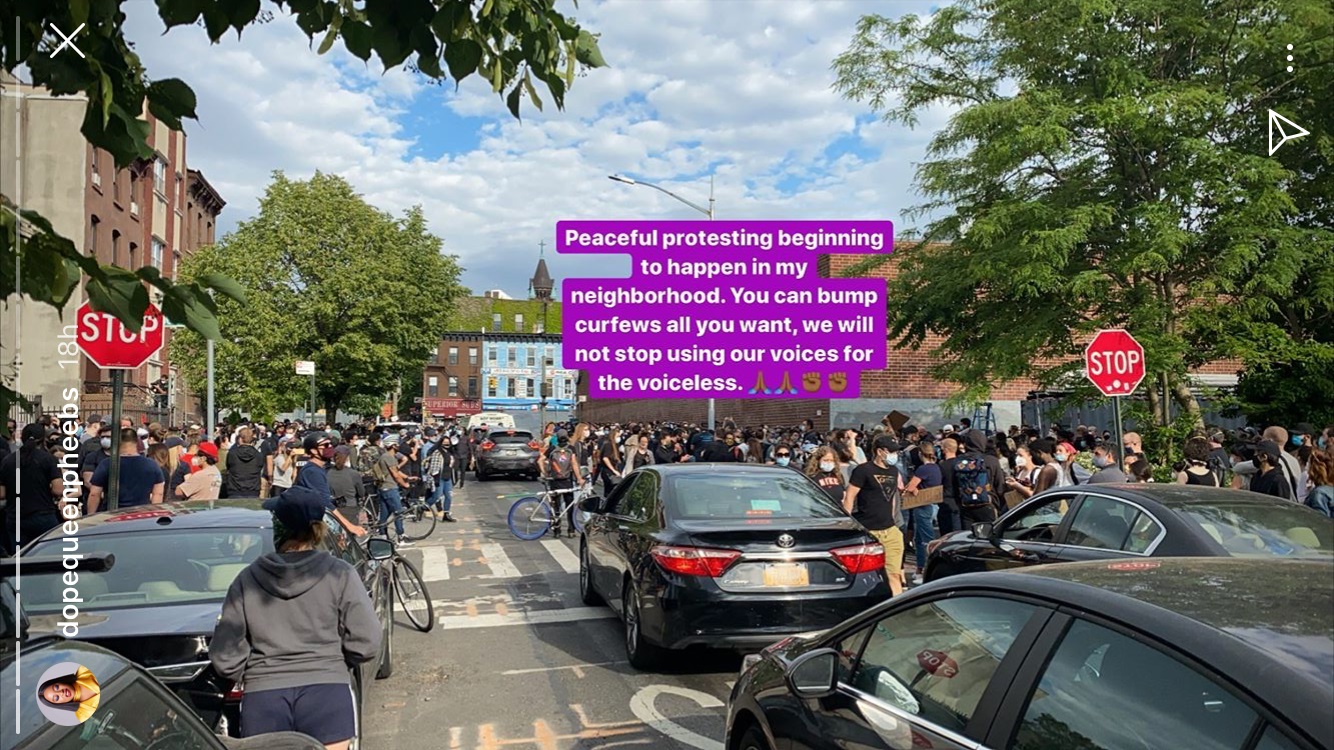 Comedian and actress Phoebe Robinson shared photos and videos of her joining the protests in Brooklyn on Tuesday. In one photo she wrote, "Peaceful protesting beginning to happen in my neighborhood. You can bump curfews all you want, we will not stop using our voices for the voiceless."
FKA Twigs
FKA Twigs shared a photo to her Instagram Story, reminding Black people that it's okay to take a break and prioritize personal mental health to recharge: "what is going on is extremely traumatic and distressing and it's also ok to look after your mental health by taking a moment to gather yourself and returning when you feel charged again. strength and love."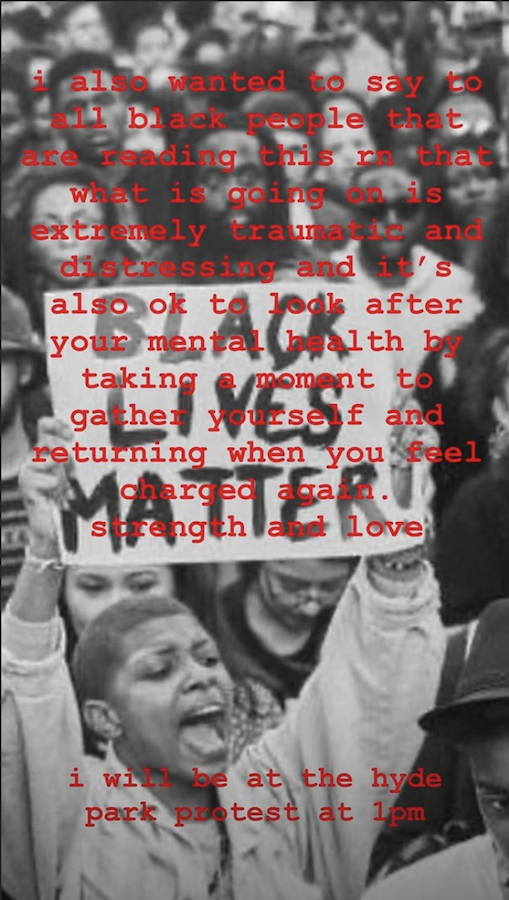 She also shared a photo from the protest she attended Wednesday, showing two signs that read, "Black Lives Matter."
Michael B. Jordan
Michael B. Jordan used his platform at the protests to speak directly to Hollywood insiders to fight for Black hiring, particularly via inclusion riders, in a powerful speech in front of talent agencies.
"You committed to a 50/50 gender parity in 2020. Where is the challenge to commit to Black hiring?" Jordan asked. "Black content led by Black executives, Black consultants. Are you policing our storytelling as well? Let us bring our darkness to the light."
Jennifer Lopez and Alex Rodriguez
Yesterday, June 7th, Jennifer Lopez shared several photos of her and Alex Rodriguez marching in Black Lives Matter protests to her Instagram Story. In a post, she explained that it was her children, specifically her son Max, who encouraged her to protest, and both Max and Emme created the signs she held. You can see those signs in some of her photos below.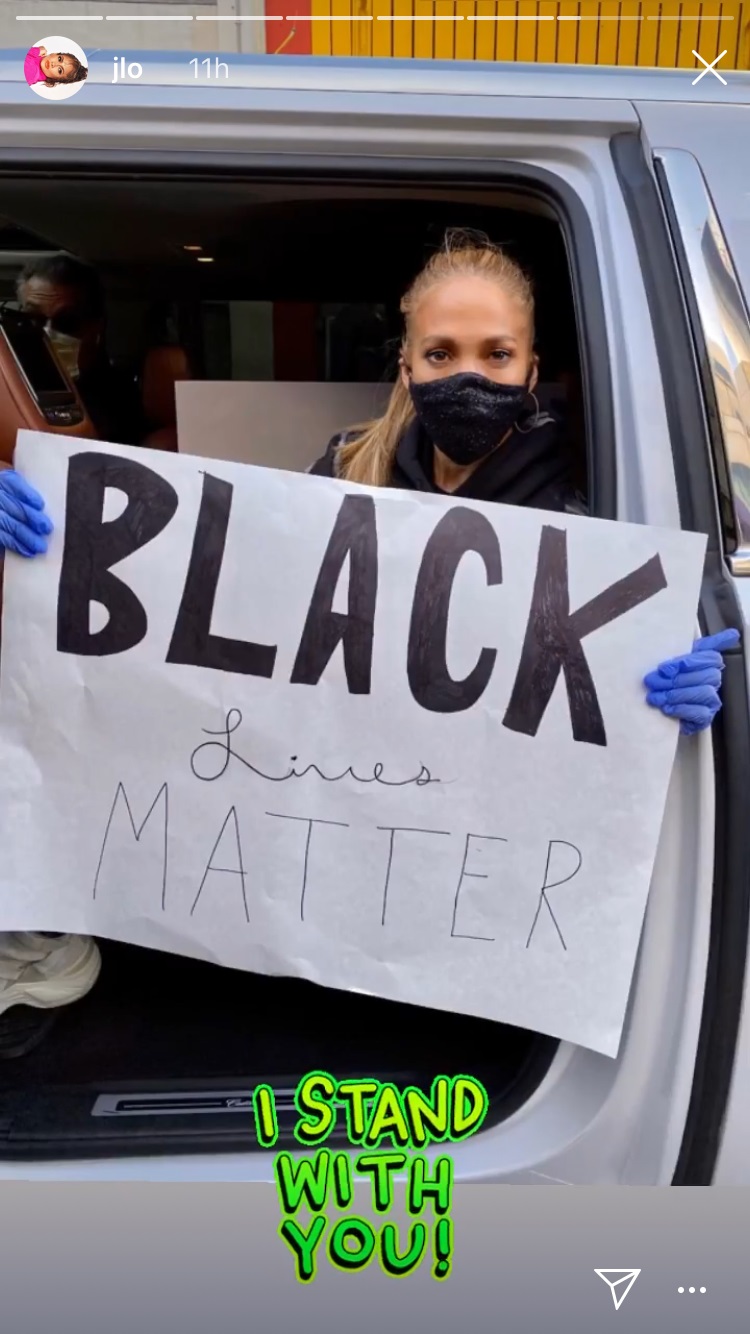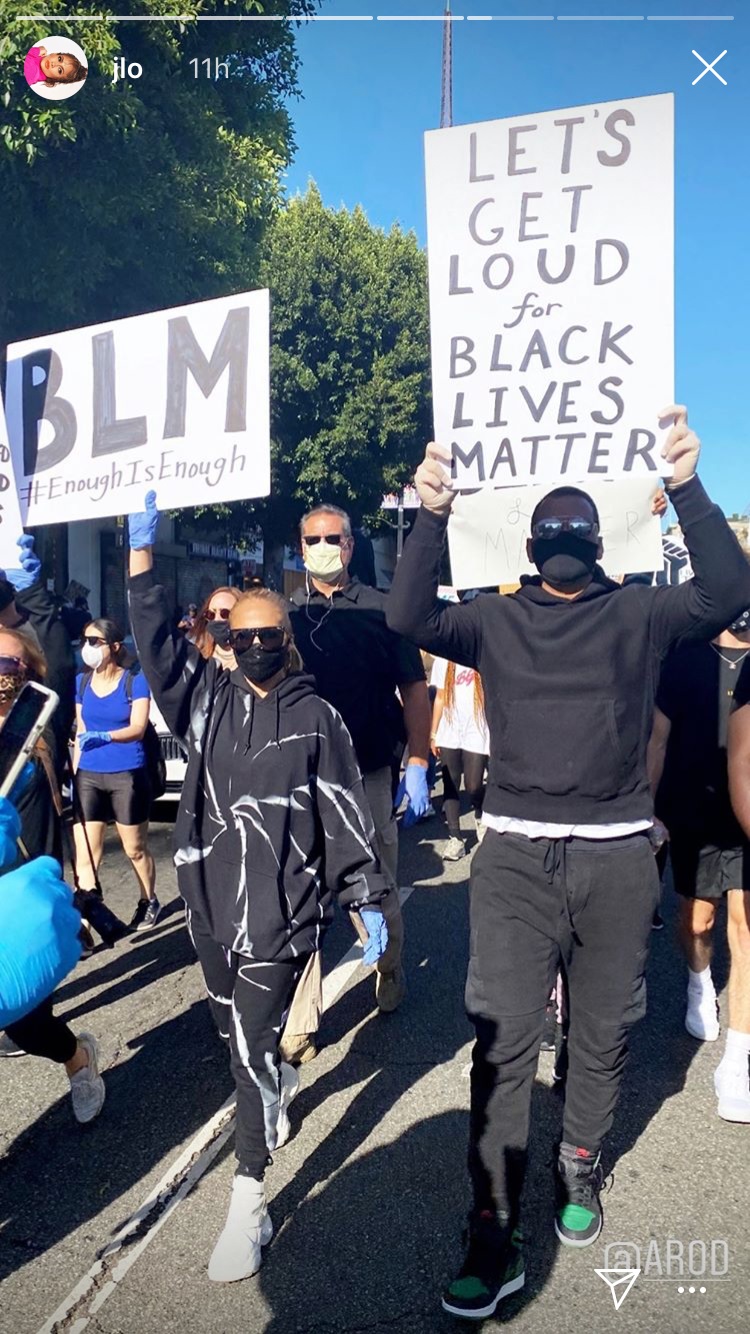 Though it is nice to see celebrities using their platforms and privilege to stand up against, remember that this fight isn't about them—it's about fighting for institutional change and getting the country and world to see that Black lives matter today and every day. Check here for more ways to demand justice for George Floyd and aid those fighting on the frontlines.
Originally posted June 1st, 2020.