AOC Joined The Ranks Defending Harry Styles for Wearing a Gown on the Cover of 'Vogue'
"What's the point of creating things if they don't make people think?"
Update, November 23rd, 2020: Though the fire lit by Harry Styles wearing a gown on the cover of Vogue has died down since conservative pundits stoked the blaze last week, New York Congresswoman Alexandria Ocasio-Cortez wanted to throw in her two cents before the topic becomes null and void (which, it should, btw—gender norms are tired and obtuse). During an Instagram Story Q&A session with her followers on Saturday, November 21st, AOC said Styles looks "bomb" in his couture Gucci gown.
"It looks wonderful," she wrote in response to a follower who asked her what she thought of the controversial cover, adding that the "masculine and feminine elements are balanced beautifully." She also got a James Dean vibe from Styles' hair and jacket styling.
Some people are mad at it bc some folks are very sensitive to examining and exploring gender roles in society, AOC said. Perhaps for some people it provokes some anger or insecurity around masculinity/femininity/etc. If it does, then maybe that's part of the point. Sit with that reaction and think about it, examine it, explore it, engage with it, and grow with it.
She continued, "What's the point of creating things if they don't make people think? Or feel or reflect? Especially as an artist or creative? Who wants to see the same things all the time? And never explore their assumptions? Anyways it looks bomb so *shrugging emoji*."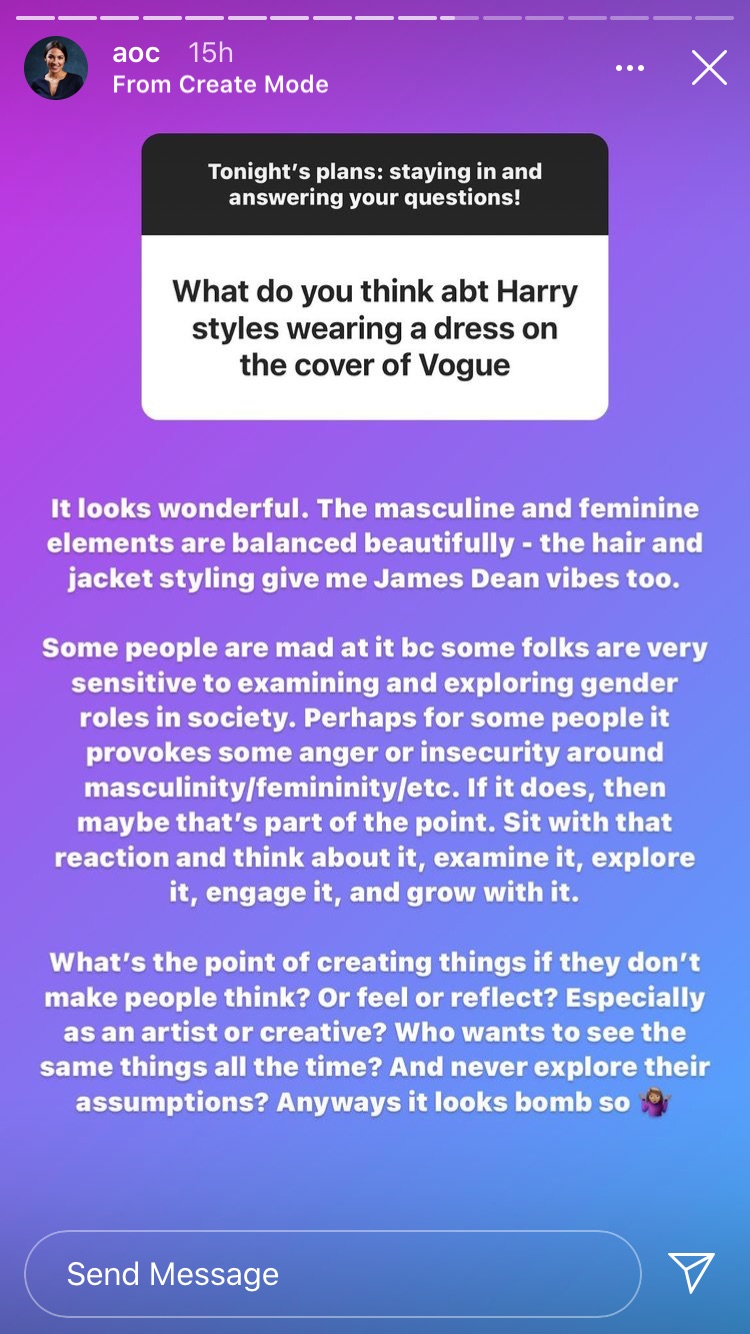 And it seems as though Ocasio-Cortez picked up on what Styles was trying to put down by dressing more feminine in his Vogue shoot. As he stated in his coinciding Vogue interview, "Clothes are there to have fun with and experiment with and play with."
He continued, What's really exciting is that all of these lines are just kind of crumbling away. When you take away 'There's clothes for men and there's clothes for women,' once you remove any barriers, obviously you open up the arena in which you can play.
We're not expecting a collaborative photoshoot with Styles and Ocasio-Cortez to explore this idea further, but it would be more iconic than Styles posing for Vogue in a Gucci gown.
Original Post, November 17th, 2020: Last week, Harry Styles made history by becoming the first solo man to appear on the cover of Vogue—and that he did so in a dress angered some conservative pundits and Twitter trolls clinging desperately onto their toxic, reductive, and archaic gender norms. But stars and Styles stans swiftly came to the singer/fashion icon's defense, because, guys, it's just a dress.
In the feature, photographed by 25-year-old Tyler Mitchell, Styles models a few womenswear pieces: a pink crinoline skirt by Harris Reed, a Maison Margiela trench configured into an off-the-shoulder gown, and a pale-blue lace gown by Gucci that he rocks on the cover. (Styles also wears two kilts—one by Comme des Garcons, the other by Wales Bonner—though kilts, obviously, are traditionally masculine.)
Not that a single soul asked for her opinion, but according to Candace Owens, the right-wing author and pro-Trump activist, Styles' gender fluidity is a sign of weakness and/or a harbinger of the complete and utter destruction of Western society.
"There is no society that can survive without strong men," Owens wrote in a November 14th tweet, in which she quote-tweeted Vogue. "The East knows this. In the west, the steady feminization of our men at the same time that Marxism is being taught to our children is not a coincidence. It is an outright attack. Bring back manly men."
While we screamed into a pillow, celebrities including Olivia Wilde, Elijah Wood, Jameela Jamil, and Zach Braff called Owens out on her homophobia and misogyny.
Elsewhere on Twitter, Styles supporters were quick to point out that the "Watermelon Sugar" singer joins a long tradition of cisgendered men who've crossed sartorial gender lines. Think: Iggy Pop, Kurt Cobain, Prince, Billy Porter, David Bowie, all men in the 18th century, Jesus of Nazareth…do you really want us to go on?
"Hell, even the metal scene brought kilts to center stage and is constantly saying fuck the normative," Twitter user @lucha_lipe tweeted in response to Owens.
"If you think the clothing you wear completely defines you as weak or strong you need to check your premises," Twitter user @lifeofmoe93 wrote, providing some art of French aristocracy circa 1700.
Hey, Candace? Stop trying to make #BringBackManlyMen happen. It's not going to happen—not as long as Harry Styles can pull off a Gucci gown better than literally anyone on planet Earth, that is.