Here's how Meghan Markle, Taylor Swift, and more celebs are celebrating Pride Month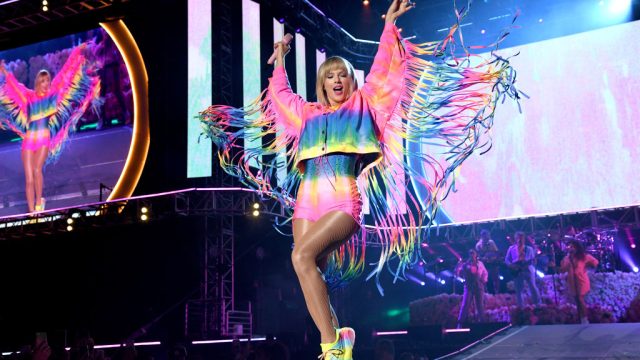 June is here, which means Pride Month is officially in full swing. This year's celebration also commemorates a major milestone: 2019 marks 50 years since the Stonewall Riots, during which members of the New York City LGBTQ community took to the streets after a raid by police at the Stonewall Inn. During the month of June, members of the LGBTQ community and allies celebrate the right to love whomever you want through parades, Pride events, and donations to LGBTQ organizations. Here's how celebrities are celebrating the start of Pride Month:
The Queer Eye Fab Five kicked off the month with a very charming celebratory video.
https://www.instagram.com/p/ByLefIFgtV9
This is the sweetest video you'll see all day.
Taylor Swift posted a lengthy open letter to her senator, encouraging him to support the Equality Act.
https://www.instagram.com/p/ByJzCNZDMgG
The singer also launched a petition in support of the bill, which has been signed by nearly 100,000 people.
Indya Moore called on brands to support the LGBTQ community every month—not just during Pride.
https://twitter.com/udfredirect/status/1134640785016664070
The Pose star emphasized the importance of hiring LGBTQ people, and examining biased hiring practices.
Lin-Manuel Miranda posted a clip of his son, Sebastian, wishing Twitter a happy Pride.
The Hamilton creator wrote that despite being away from Twitter during the beginning of Pride, he wanted to show his support.
The Duke and Duchess of Sussex listed some of their favorite LGBTQ organizations.
https://www.instagram.com/p/ByJ6k3LlSfE
Highlighting American and British organizations, Harry and Meghan ended their post with this message to the LGBTQ community: "We stand with you and support you ? Because it's very simple: love is love."
Jesse Tyler Ferguson issued a firm rebuke of President Trump's attempt to celebrate Pride, pointing out many anti-LGBTQ policies his administration has implemented.
The actor and activist has long been outspoken against Trump's harmful policies targeting the LGBTQ community.
Dan Levy took to Twitter to ring in Pride.
Levy, who has been outspoken about his decision to make the titular town in Schitt's Creek a homophobia-free place, also expressed his love for being part of the LGBTQ community.
Mariah Carey pulled out all the stops (and the merch) with her celebratory photos.
https://www.instagram.com/p/ByLD6H6gZNB
The elusive chanteuse also updated her Instagram bio and profile photo to reflect Pride month.
Cher teased a video she made for NYC Pride, reminiscing about a past Pride performance.
The icon has also been vocal about Trump's anti-LGBTQ policies on the social media platform.
Katy Perry took to Instagram to wish followers a happy Pride.
https://www.instagram.com/p/ByLXldoHAs8
Captioning the post with an emoji rainbow, Perry wrote, "Happy Pride Month, my angels! Let us never stop lifting each other up. I see you, and I love you."
Happy Pride, everyone!