In celebration of my teenage Friday nights spent watching TGIF on ABC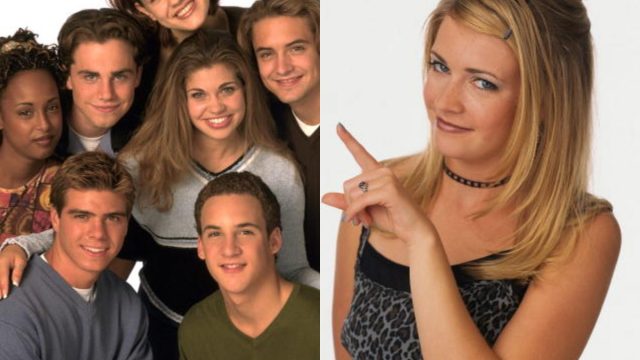 TGIF. Thank goodness it's Friday, right? Twenty-plus years ago, TGIF stood for Thank Goodness It's Funny—the name of the Friday-night sitcom block loved by every teen and pre-teen in America.
TGIF first aired in 1989, and the lineup included shows like Full House and Family Matters. It exploded in the '90s when viewers fell in love with Steve Urkel, Sabrina Spellman, and Cory Matthews. Soon, the beloved shows had become a Friday night ritual. A family-friendly way to end the week at home.
Twenty-five years ago this month, Boy Meets World aired for the first time. In September 1996, Sabrina the Teenage Witch debuted (…and I feel old). After a long week of school and work, families got to wind down with TGIF while getting to know Salem the Cat and rooting for Cory and Topanga's love story.
That included my family. My Friday nights as a kid were pretty tame. I wasn't one for big parties or loud gatherings, instead opting to paint my nails with my sister or have a sleepover with my best friend down the street.
I was introverted, shy, and happy to stay in on the weekends—and you could find me watching TGIF most Friday nights.
https://www.youtube.com/watch?v=tRcYVyf7U5g?feature=oembed
I can still hear the theme song playing as my brother, sister, and I piled on the couch with bowls of popcorn: "It's Friday night/And the mood is right/Gonna have some fun/Show you how it's done/ TGIF!" We didn't have to worry about going to school in the morning, the house was calm and quiet, and we had a whole weekend ahead of us. That after-school-on-a-Friday feeling was always one of joy and relief.
But for a long time, I felt self-conscious about not going out or having wild and crazy weekends. I couldn't join in on the stories shared by my peers around the lunch table or during Monday morning gym class. I wasn't drinking in backyards or talking about who was hooking up with who. I thought of myself as less than, or not as grown up. I'd already felt like an outsider as a teenager, and knowing that I stayed home on Friday nights to watch TV just added to that discomfort. What a bore, right?
But now that I'm in my 30s, I'm so grateful that I spent my Friday nights at home with my siblings. TGIF was special.
https://www.youtube.com/watch?v=t9qbrHcHaak?feature=oembed
I could sing every word of the Step By Step theme song and pined for Topanga's perfectly-styled hair on Boy Meets World. I was so happy when Sabrina fell in love with Harvey Kinkle on Sabrina the Teenage Witch, and I wished that I could have been part of the Winslow family on Family Matters. I became invested in these characters' lives and watched their stories up to the finales, when we were all devastated because we had to say goodbye. (I totally cried when Cory and Topanga got married.)
When TGIF was on during the late '90s, ABC and Disney even followed it up with One Saturday Morning, a block of Saturday cartoons with shows like Doug and Recess that my siblings and I loved, too. Even though I felt too old to be watching Saturday morning cartoons, I still enjoyed zoning out over bowls of cereal with my brother and sister—and somehow, we can all still sing the Pepper Ann theme song.
Sadly, in May of 2000, Boy Meets World ended after seven seasons, and that same year, Sabrina the Teenage Witch moved to the WB—virtually ending TGIF after a successful eleven-year run.
ABC first tried to revive it in 2003, airing shows like 8 Simple Rules and Hope & Faith—but without the classics, it didn't last long, and the network officially stopped using the name TGIF in 2005. But get excited, because ABC is bringing back the TGIF block this fall with Fresh Off The Boat and Speechless—and a not-yet-aired TGIF reunion featuring Danielle Fishel of Boy Meets World and Reginal VelJohnson of Family Matters (and more) is ushering in the new Friday-night sitcom block.
Over 20 years later, so many millennials can wistfully recall our crushes on Shawn Hunter and those Friday nights from our '90s youths. With scrunchies on our wrists and butterfly-clipped blonde highlights in our hair, we were happy to laugh with Donald Faison in the Clueless TV series and hang with Mr. Cooper. Reruns of Boy Meets World dominated cable television for years, and its enduring popularity led to Girl Meets World, the since-ended Disney channel spinoff that followed  Cory and Topanga's teenage daughter, played by Rowan Blanchard.
And for those of us who really want to reminisce, all the seasons of Boy Meets World, Sabrina the Teenage Witch, Step by Step, Family Matters, and more are available on Hulu—so you better clear your weekend.
TGIF wasn't just a Friday night TV show lineup; it was a pillar of the '90s, and I'm so glad I got to be a part of it.