To celebrate the 45th anniversary of Title IX, here are 15 powerful women who played sports in school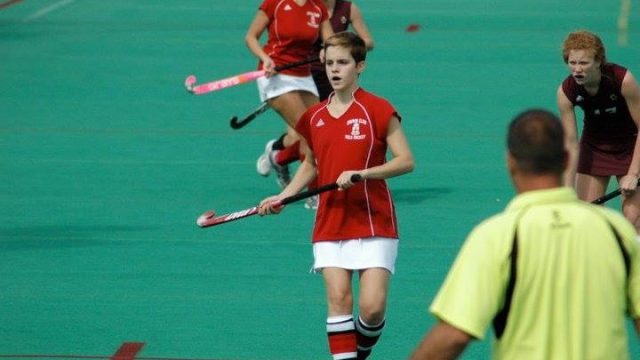 Not everyone is cut out for high school or college athletics. I was one of those people who marched four years of high school band to escape two years of regular old kickball-playing P.E. I took modern dance to escape the same requirement in college. But if I'd wanted to play sports, I could have done it just as easily as my male classmates — thanks to Title IX of the Education Amendments Act of 1972. This year, we celebrate the 45th anniversary of Title IX. The law is best known for bringing gender equality to sports, but it actually ensures gender equality in every aspect of education, from course offerings to financial aid.
Title IX doesn't mean everything is perfect. We remember the recent USA Women's Hockey strike for equal treatment, for example. And just last year, we applauded Serena Williams for responding in the most perfect way to a tennis official's sexist comments. But things are better for female student-athletes thanks to Title IX, and that means things are better for all women. A 2016 study, in fact, revealed 94% of female women in the highest level of business were student athletes.
With this in mind, here are just a few of the many powerful women who played high school or college sports.
1. Rep. Patsy Mink (basketball)
Title IX was renamed The Patsy T. Mink Equal Opportunity in Education Act after her death in 2002. Mink co-authored and sponsored Title IX, which was extremely controversial — and which has been challenged many times since its passage. Before her very active political career, Mink played basketball for Maui High School, but not full court, because back then (and until the '90s in my home state) it was considered too strenuous for women.
2. Sheryl Crow (track)
The singer not only ran track at her high school in Kennett, Mo., she was an All-State athlete and medaled in the 75-meter low hurdles. She taught school for several years after college, and she still supports teachers — including those at her old high school. She made a surprise visit to them last year on behalf of Adopt-a-Classroom.
3. Emma Watson (field hockey)
Though her Harry Potter character wanted nothing to do with Quidditch, Watson herself played club field hockey when she was a student at Brown University, much to the joy of the internet.
4. Ellen DeGeneres (tennis)
The smooth-dancing talk show host, actress, and comedian played tennis for Atlanta High School in Texas. Since then, she's hosted several tennis stars on her show, and even played tennis on air with a few of them, like Victoria Azarenka, Melanie Oudin, and Novak Djokovic.
5. Hewlitt-Packard CEO Meg Whitman (squash and lacrosse)
This high-powered businesswoman was among the first generation of student-athletes to benefit from Title IX. In high school, she played lacrosse, tennis, and basketball. She was also on both the squash and lacrosse teams while in college at Princeton.
6. Mondelez International CEO Irene Rosenfeld
Mondelez is one of the world's largest snacks companies. (They are responsible for Oreos and Toblerone, among other guilty pleasures.) Before she became responsible for Mondelez, Rosenfeld played four sports for West Tresper Clarke High School in Westbury, N.Y. She then played on the Cornell University basketball team until an injury ended her athletic career. It didn't stop her, though. She went on to get her bachelor's, master's, and doctorate from Cornell.
7. Natalie Diaz (basketball)
Poet Natalie Diaz' first book, When My Brother Was an Aztec, has won several prestigious awards. Diaz, who is Mohave and an enrolled member of the Gila River Indian community, played basketball for Old Dominion on an athletic scholarship. She went onto play professional basketball in Europe and Asia. In a 2014 interview, she said, "I feel like my poetry mirrors some of the rhythms of basketball — or maybe the way I played basketball. Sometimes it's very fast paced, and it's accumulating, and there's a lot of momentum and momentum switches."
8. Carrie Underwood (softball)
The singer (and American Idol winner) played softball for Checotah High School in Oklahoma. When she first began to get famous, the family of a guy who had once asked her on a date came backstage. They asked if she remembered him. She did: The night before their date, she had gotten a black eye and swollen nose from being hit in the face with a softball at practice. He called it off because he was too embarrassed to be seen with her. So when they offered his phone number, her response was, "Ha, I don't think so!" We don't either, Carrie.
Last year, Carrie worked with the Sports Matter Foundation to donate $500,000 to girls' sports programs across the country, including her own former softball team. She also plays on charity teams. Obviously, that black eye didn't scare her off from the game she loves.
9.Reba McEntire (basketball)
The award-winning country singer began her athletic career in rodeos as a competitive barrel racer, but later, she played basketball for Kiowa High School in her home state of Oklahoma. In a 2016 interview, she said, "When I got a little older, all I wanted to be was the best basketball player ever in the whole wide world! Even when I started singing professionally at the rodeos and the clubs, I'd spend all of my time playing basketball. It's what I really wanted to do. Can you believe it?" As a fellow Oklahoman, I can. Sports are the biggest deal in our state. But I think we're all glad she chose music instead!
10. Laura Gentile (field hockey)
Before she became the senior vice president of espnW, a division of ESPN devoted to women's sports, Gentile played several sports at Sachem High School in Ronkonkoma, N.Y., and then field hockey at Duke University. As a junior, she led the team to its first appearance in the NCAA tournament, which she describes as a highlight of her time there. In the same interview, Gentile said, "I came from suburban Long Island and I was very academic-minded, but I was also very sports-minded. Coming to Duke to study and also play field hockey at such a high level was the perfect combination for me…I think I changed just by the exposure to such talented, smart people."
11. Rachel Maddow (volleyball/basketball/swimming)
false
The stylish political commentator, talk show host, and author was active in volleyball, basketball, and swimming at Castro High School in her home state of California until a shoulder injury sidelined her. She went on to become the first openly gay person to anchor a major primetime news show in the United States.
12. Melissa Stockwell (gymnastics, triathlon)
You've seen a triathlon on the Olympics: Impossibly fit people run, swim, and cycle their way through a long-distance course that would leave most of us a whimpering puddle of woe. Stockwell is co-founder of Dare2Tri Partriathlon Club and sits on the board of USA Triathlon. Dare2Tri is a non-profit organization that provides support for triathletes with physical disabilities and visual impairments. In high school, Stockwell was an aspiring gymnast. After graduation from the University of Colorado, she joined the United States Army and was injured by an IED while serving in Iraq. After many surgeries, her left leg was amputated above the knee. Always an athlete, Stockwell began to explore the possibilities and ultimately became a triathlete. She was also the first Iraq War veteran to earn a spot on the U.S. Paralympic team, where she competed in swimming.
13. Linda Cohn (ice hockey)
Even people who don't watch sports have most likely heard of ESPN's SportsCenter, or have at least seen their funny commercials. Cohn has served as an anchor on the show since 1992. Before that, she became the first female full-time sports anchor on national radio (ABC, in 1987). Back when Title IX was new, she played as a goalie at Newfield High School — on the boys' ice hockey team. In college, she played for the women's ice hockey team at SUNY-Oswego.
14.Robin Roberts (basketball)
The Good Morning America host began her journalism career as a sportscaster, winning numerous awards before she ever started winning Emmys for GMA. In 2006, she was named one of the NCAA's Top 100 Student-Athletes for her time as a basketball player at Southeastern Louisiana University. Roberts didn't warm the bench there. She ended her basketball career as one of the school's all-time leading scorers and rebounders. The Women Leaders in College Sports Facebook page quotes her as saying, "I am a proud product of Title IX."
15. Tina Fey (tennis)
It's true. Tina Fey can do everything. Act. Write. Produce. Run her empire. And in high school, the self-described "supernerd" played tennis.
So if it's killing you to roll out of bed and go to practice for whatever sport you play, we hope this list will motivate you by reminding you that you're in good company as a student-athlete. Happy anniversary, Title IX!