The Best Celebrity Reactions to Joe Biden and Kamala Harris Winning the 2020 Election
Lady Gaga, Chrissy Teigen, Chris Evans, and more are sharing their feelings about the big win.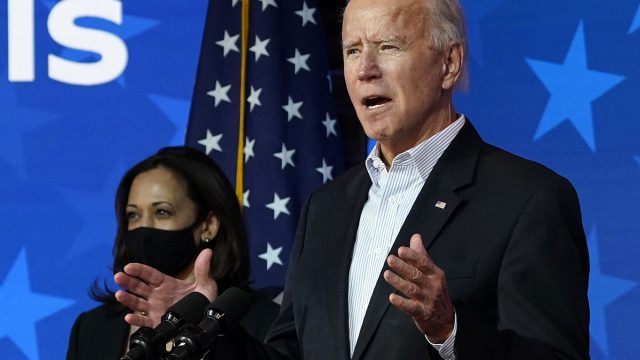 On Saturday, November 7th—after four nights of waiting for mail-in ballots to be counted—Joe Biden and Kamala Harris were announced as the projected winners of the 2020 presidential election. Having flipped the two major states of Georgia and Pennsylvania, both of which Trump won in the 2016 election, Biden won both the electoral college and the popular vote, beating President Trump by over 4 million votes.
Celebrities who backed Biden during his campaign took to social media to celebrate his win, as well as drive home the gravity of Harris becoming the first Black woman, Asian American woman, and woman period to enter into office as Vice President of the United States.
And as these celebrities will tell you, this Democratic win is a major cause for celebration.
Chrissy Teigen and John Legend joined the masses in celebrating in the streets of West Hollywood. "Everyone is so beautiful and so happy I'm crying," Teigen wrote in a November 7th retweet from the parade.
This was after Teigen perfectly expressed what a relief Biden's win truly felt like.
Spike Lee also took the the streets to celebrate the win. He popped a bottle of champagne in the middle of a crowd of New Yorkers who were more than happy to party alongside him.
Mindy Kaling tweeted about how incredible it is to have a Vice President who looks like her and her daughter.
Of course Lin Manuel Miranda expressed his joy with a Hamilton GIF, adding YES to the tweet.
Mark Ruffalo celebrated the Biden-Harris win with his own daughter. "We are sooo happy today," he tweeted on the 7th.
Miley Cyrus threw it back to 2009 and posted a hilarious video edit to Biden and Harris dancing to her hit "Party in the U.S.A."
Selena Gomez also got the "Party in the U.S.A." memo and jammed out to Cyrus's iconic tune in her Instagram Story shortly after Biden was projected to be the winner of the election.
Lizzo posted a tearful video to Instagram in which she expressed that she's hopeful now that Trump's single four-year term—"that felt like a thousand years"—is over, and we can begin to do actual work to make this country a better place to live.
Everyone's favorite fictional Vice President, Julia Louis-Dreyfus, shared that her once-fictional title Madam Vice President has come to fruition.
Those familiar with comedian John Mulaney's "horse in the hospital" joke from his Netflix special Kid Gorgeous got a kick out of his reaction to Biden's win.
Reese Witherspoon wrote that Biden and Harris's win is a "tremendous moment in our nation's history," and sent her congratulations to the president and vice president-elects.
Sophie Turner posted an image of Biden and Harris with a single heart emoji in the caption. If Turner posts about it, you know it's a big deal.
Kim Kardashian West shared the same photo Turner did, adding a string of blue hearts. Perhaps she didn't vote for her husband Kanye West after all.
Ariana Grande and Mandy Moore were reduced to tears—and they definitely weren't the only ones.
Chris Evans decided to use his platform to fact-check Donald Trump, who said he won this election "by a lot!" Uh, well, no…that's not true.
Lady Gaga, who performed at Biden's final rally in Pennsylvania, wrote that by voting for Biden and Harris, the American people "gave the world one of the greatest acts of kindness and bravery humanity has ever seen."
Gabrielle Union and Ava DuVernay gave credit where credit was due—to the voters in Philadelphia and those who turned Georgia blue.
Similarly, Kerry Washington thanked her fellow Americans for voting blue. "Thank you to everyone who used your vote and your voice to make history," she tweeted.
And leave it to Jordan Peele to sum up the win in the most perfect way.
With a new president and vice president at the helm, we can finally begin righting the wrongs done by the current administration and work toward making America a less divided and more inclusive country for all those who live here.