20 of the most unique celeb baby names from the past year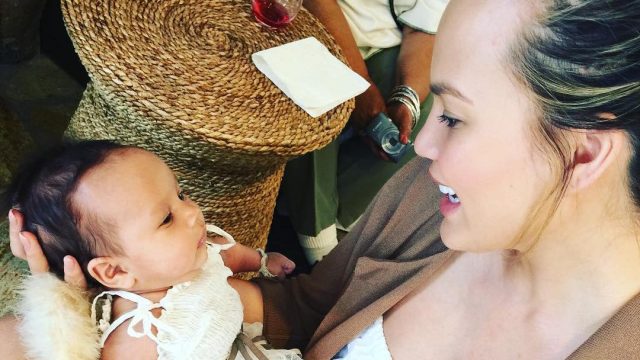 When it comes to giving a baby a unique name, our favorite celebs seem to have it all figured out. We're constantly impressed, time and time again, with all the uncommon monikers those stars are able to come up with – especially since they can provide soon-to-be parents with some helpful inspiration. To prove our point, we present you with the following celeb baby names from the past year.
1. Lula Rose
Liv Tyler and Dave Gardner welcomed daughter Lula Rose into the world on July 8th, 2016. Their first child also has an uncommon name: Sailor Gene.
2. Onyx Solace
false
On June 23rd, 2016, Alanis Morissette gave birth to Onyx Solace. She's Alanis' second child with Mario "Souleye" Treadway.
3. Violet
In mid-June of this year, Emily Blunt and John Krasinski brought daughter Violet into the world. false
4. Bowie Juniper
June 6th, 2016 is the day model Tess Holliday gave birth to her son, Bowie Juniper, with husband Nick.
5. Hugo Wilson
Once Upon A Time stars Ginnifer Goodwin and Josh Dallas had their son Hugo Wilson on June 1st, 2016.
6. Story
On May 16th, 2016, Soleil Moon Frye and husband Jason Goldberg brought their son Story (their fourth child) into the world.
7. Ode Mountain
Ode Mountain is Hunger Games actress Jena Malone and husband Ethan DeLorenzo's son. He was born during May of this year.
8. Amada Lee
Ryan Gosling and Eva Mendes welcomed their second daughter, Amada Lee, on April 29th, 2016.
9. Odin Reign
Odin Reign Carter (whose parents are Nick and Lauren Kitt Carter) was born on April 19th of this year.
10. Luna Simone
Chrissy Teigen and John Legend added Luna Simone, a baby girl, to their family on April 14th, 2016.
11. Remington Alexander
April 12th, 2016 is the day Kelly Clarkson and husband Brandon Blackstock  gave their daughter River Rose a little brother: Remington Alexander.
12. Saint
Kim Kardashian and Kanye West also gave North a little brother on December 5th, 2015.
13. Maxima
Facebook founder Mark Zuckerberg's wife Dr. Priscilla Chan gave birth to their daughter on November 30th, 2015.
14. Josey Hollis
Glee star Naya Rivera and husband Ryan Dorsey welcomed their son Josey Hollis into the world on September 17th, 2015.
15. Rockwell Lloyd
On August 27th, 2015, Elementary star Lucy Liu met her surrogate son Rockwell Lloyd.
16. Arlo Day
Leighton Meester and Adam Brody's little girl arrived on August 4th, 2015.
17. Jagger Snow
On July 30th, 2015, Evan Ross and Ashlee Simpson welcomed daughter Jagger Snow into their family.
18. August
Actress Charlize Theron adopted her second child, a little girl named August, in July 2015.
19. Elsie Otter
In July of 2015, Zooey Deschanel gave birth to her first child with Jacob Pechenik.
20. Ashe Olsen
Ashe Olsen – who was born on March 27th, 2016 – is Seth and Alexi Meyers' son.
Here's to all the unique celeb baby names out there (and prob many, many more to come)!