Whoa — Catherine Zeta-Jones' son looks uncannily like Timothée Chalamet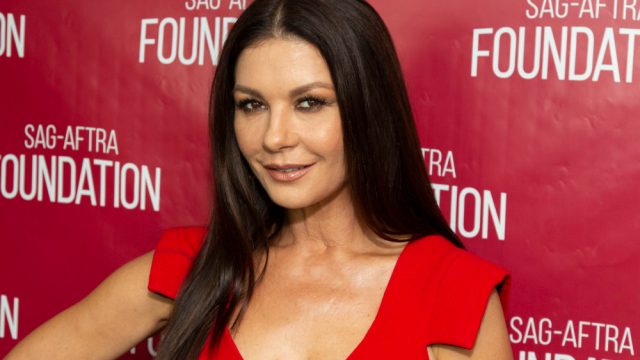 There are few things we love more in this world than discovering new celebrity doppelgängers. But even better than a non-famous celeb lookalike? When an actual famous person is an uncanny celebrity doppelgänger…because, honestly, what are the odds? Case in point: Michael Douglas and Catherine Zeta-Jones' son, Dylan Douglas, is the spitting image of Timothée Chalamet, and it's actually a little bit spooky.
Over the weekend, proud mama Catherine posted photos of Dylan looking dapper as ever as he headed off to his senior prom, and the 17-year-old looks so much like our favorite internet boyfriend Timothée that we're seeing double.
Catherine posted two photos of Dylan to Instagram, one solo shot where he's serving endless Timmy vibes, and the sweetest family selfie of Dylan with his famous parents. She wrote in her caption that she's "so proud" of her baby boy, noting that not only is graduation around the corner, but that he's also "college bound" as well.
And seriously — we're a little dizzy by how much these two young lads look alike. Here's a pic of Dylan.
And here's a few pics of Timothée, in case you need a refresher:
https://www.instagram.com/p/Baj9dWPhph-
It's a little eerie. If Dylan ever decides to pursue a career in acting like his parents, he could totally play Timothée'ss younger brother (hint, hint, Hollywood).
All jokes aside, we hope Dylan had a wonderful time at his senior prom, and we love seeing Catherine in total mom mode on social media. She even posted a video of the flower arrangements she made for the celebration.
https://www.instagram.com/p/BjSzhAkgXDz
We already know that the couple's younger daughter Carys is twinning with her mama, but now it's totally confirmed that gorgeous genes run strong in this A-list family…as if there was any doubt.