Cate Blanchett defended women's right to dress sexy, saying, "It doesn't mean we want to f**k you"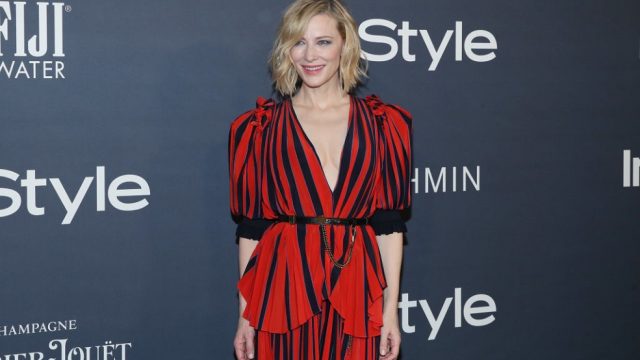 We want to extend some well-earned congratulations to actress Cate Blanchett, who scored the Style Icon Award at the 2017 InStyle Awards. Not only did she deserve the honor, but the speech that Blanchett gave about women and their personal wardrobe decisions is one that everyone should hear.
The actress made sure to give thanks to a few designers, including Nicolas Ghesquière, Clare Waight Keller, and Stella McCartney, and noted that one of the huge perks of working as an actress is, "You get to inhabit these extraordinarily, beautifully constructed gowns by geniuses."
She went on to note that she most admires women who are fearlessly themselves when it comes to their personal style.
"For me, the true icons of style [are] always those women who've been utterly themselves without apology," she said in her speech. "Whose physical presence and their aesthetic is really integrated in a non self-conscious way. Women who know how they look, it's not all of who they are but just an extension of that, and it's about women who feel free to wear what they want when they want and how they want to wear it."
Blanchett went on to comment on the ever-present stigma surrounding women who enjoy dressing sexily.
"Women like looking sexy, but it doesn't mean we want to f— you. No one says to Steve Bannon, 'You look like a bag of trash. Do you want me to throw you out?' But the comments that get said about what women wear on the red carpet — I mean. If you troll through those trolls on the internet, just don't," she said.
We couldn't agree more. A woman choosing to dress in tight or revealing clothes is not an invitation for harassment or sexual abuse, nor is it even an indication that she's interested in having sex. It's simply what she likes putting on her body — often for no one but herself.
Women are indeed under intense and constant scrutiny when it comes to what they choose to wear in a way that men generally are not (think about the last time you heard a reporter ask a man "Who are you wearing?" on the red carpet). Instead of criticizing what a woman — celebrity or not — decides to wear on any given occasion, let's support her wearing what she likes and feels confident in.
Because really, isn't that the point?