My cat was the center of my life — until I had to find her a new home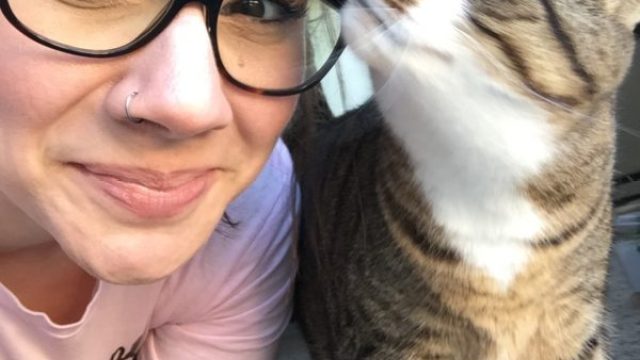 Today, April 11th, is National Pet Day.
In November 2014, I decided to adopt a cat. In February 2018, I let her move out out of my home, into the arms of another.
Adopting a cat seemingly came out of the blue for me — a person who has pretty much always identified as very much not an animal lover. But circumstances in my life had changed. I'd recently moved out of a little house that I shared with two of my closest friends. The home we shared included a slender but mighty little monster of a cat named Layla.
Layla and I had rough beginnings, but once I moved out of that place, I realized I missed her dearly. That fall, I was also clinically depressed for the first time in my adult life. I kept thinking about the whole "emotional support animal" thing, and I decided that I was ready for a cat, so my friends and I went to the shelter to meet a few cats. I only knew I wanted to adopt an older feline (I have always preferred cantankerous older animals because they match the inside of my soul).
After a couple of failed connections, my best friend said, "Let's look at Tabitha."
She hadn't caught my eye, but my friend was drawn to her. Tabitha was younger than the cat I'd imagined adopting, but once I met her, it felt right. I adopted Tabitha with a Black Friday deal and paid $25 to take her home the following weekend. My friends and I decided to name her Jolene to match the rock star vixen theme we had started with Layla. (You know, Eric Clapton's "Layla.")
But the truth is, Jolene didn't provide me with the kind of emotional support I assumed she would. It took us a very long time to build a relationship, and I think that's on both of us.
We each have the kind of personality that doesn't make anything easy at all. She's a Taurus and I'm a Leo, which is not a great combination — but it was more complex than that. I grew up with cats that were chill and independent and didn't want anything to do with their humans. After Jolene warmed to me, she became dependent and needy and loud all of the time.
https://www.instagram.com/p/BblQPmzHBwx
Some cats stay hidden, but that was not the case with Jolene. She is a cat with a huge personality — one who makes her presence known, always.
There's another thing about Jolene — or Joey, as I soon started calling her. Joey likes to feel free. I didn't let her outside for the first eight months or so because we lived in a forest-y area — eagle talons, racoon fights, cars, oh my! I was afraid of a lot of things potentially harming her, and Joey and I both tend to be anxious messes who try to be bold anyway.
After repeatedly running into the same urinary health issues, a friend suggested I let her outside. Once I did, she was an entirely different cat. She was happier with the freedom to let herself outside with a pet door, and less anxious because she could go outside and snack on fresh kale (not kidding) and come back inside whenever. She slept with me, but around 6 a.m., she would let herself out to peruse the great outdoors.
When I moved us to a bigger city in a larger apartment, I thought greater space would appease her, but it didn't.
She was unhappy until I finally caved and started opening the front door for her. Rather than the view of a fresh garden and a fenced-in yard, Jolene was now faced with the view of an industrial building, a truck rental company, loud neighbors who yell drunkenly the night, abundant gravel, and no plants. She still wanted to be outside, she still needed open doors and windows, she still needed to feel free.
But she didn't feel free.
***
Her anxiety worsened and her urinary issues came back. She spent an entire night vomiting once, waking me up every two hours like a new mom.
I couldn't stop crying on the way to work, afraid that I had ruined both of our lives.
I love Joey so much, but her quality of life was upsetting me. My life was happier in this apartment, but hers wasn't. 
I knew it had to be done. I listed out every single thing I wanted in a new home for Joey and I wouldn't settle for less. And I found it, thanks to the good vibes in the universe. A nice retired woman with no other pets who lived nearby in a home with a fireplace and a garden came over to spend time with Joey twice before we shook hands on it.
Then, on a very sad day just a few weeks ago, my best friend and I packed Joey's belongings, wrapped her in a blanket, and took her over to her new home.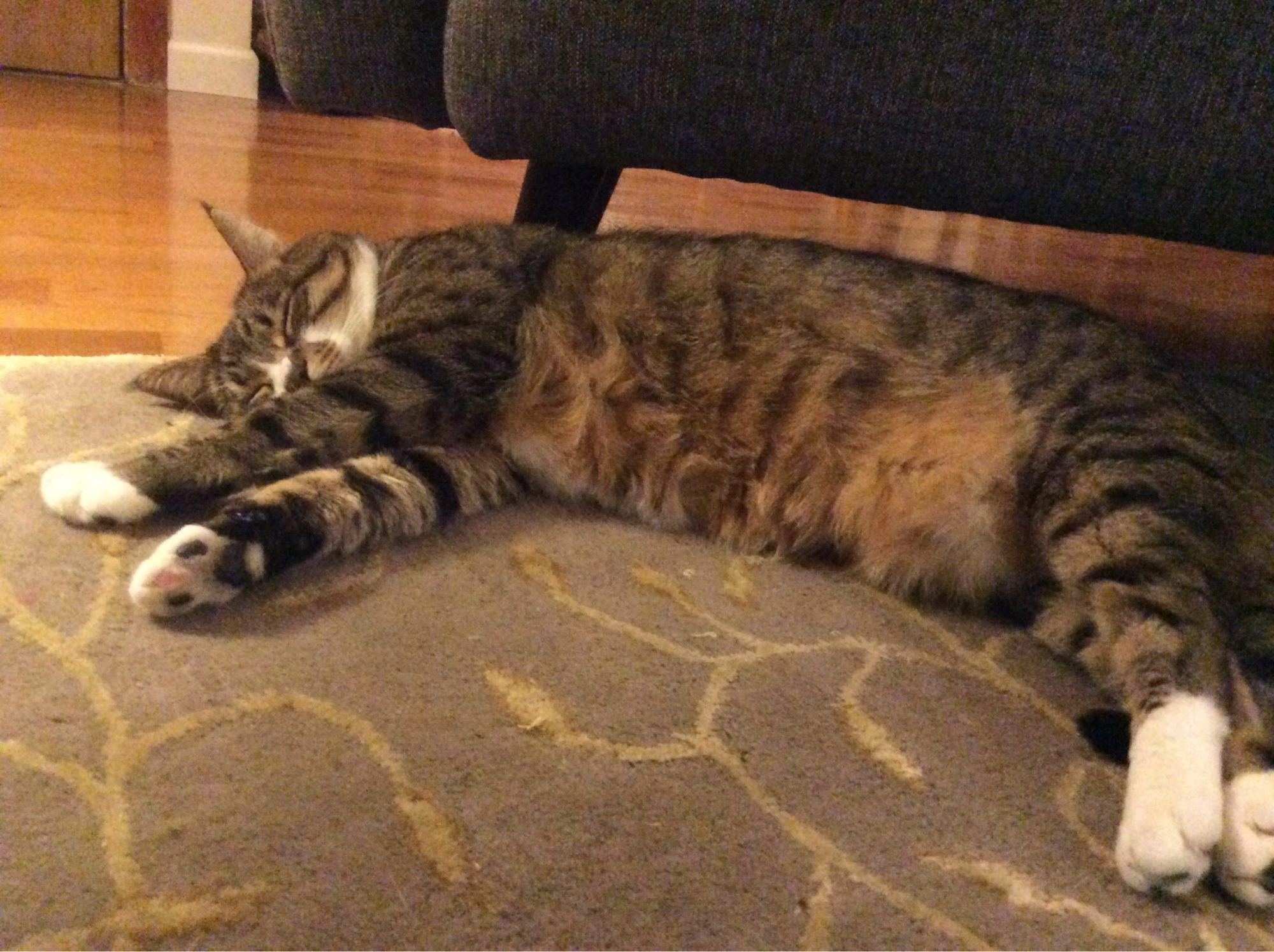 Thankfully, Joey's new mom only lives two miles from me. She sends me pictures and I can visit however often I like. When I visit Joey now, she comes right up to me, purring comfortably and happily. She rubs up against me, rubs up against her new mom, and then flops onto the floor to show off her s'mores belly in front of her new roaring fireplace, the front door open for her. It is clear that she understands she isn't going back with me, and it is also clear that she doesn't have an interest in leaving anyway.
Now that it's spring, she's started to go outside. Her new mom says she can't wait for them to garden together.
She finally has what she deserves.
***
I spent the first few days of Joey's new life — and mine — crying.
Suddenly, this cat — one I was reluctant to own, one who was reluctant to love me yet gave me such joy and comfort and support — was gone. The apartment is quiet and lonely and cold (which is funny, considering I can actually keep my door closed now).
The love that Jolene and I grew together is something that will never be replaced. I can't recreate the timing in which Jolene came into my life, or the progress we both made in loving one another, or that completely strange, wonderful, unconditional love that a needy and opinionated living thing can give another needy and opinionated living thing. (Me, if that was unclear.) 
Now, I like to think of Joey as my neighbor instead of my roommate.
I didn't get rid of her; I re-homed her. I found her a new mother who loves gardening and spending most of her time doting on Jolene. She deserves that life. She deserves to feel free and loved and comforted. Now, I like to think that she has two moms — one who is a full-time guardian, and one who comes over to hang out once a month.
Plus, she has a pet door again — something so important to her that she'll swiftly forget about me, my obsession with my iPhone, and my sneezy boyfriend.
But I won't forget about her, my sweet darling, Jolene.