Step aside, cat cafes, because cat bars are now a thing
If you thought nothing could be better than relaxing in a cafe drinking coffee with cats, hold on to your hats. Sana Hamelin, creator of Denver, Colorado's cat cafe Denver Cat Company, has something even better up her sleeve: a cat bar.
Yes, if her Kickstarter reaches its $60,000 goal by July 8th, then Denver will hopefully get the United States' first ever cat bar in 2017. And with such amazing perks, like customized shot glasses, cat wine (appropriately named Pinot Meow), and VIP launch party invites, who wouldn't donate some of their hard-earned cashola?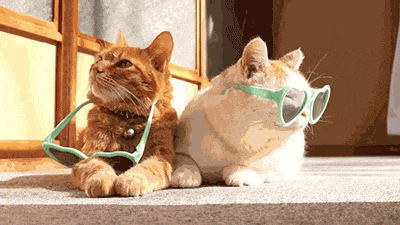 "Many of our guests want to come in at night and have a glass of wine with friends at the cafe, so it makes sense that we'll give them a cat bar," Sana told Eater Denver. "I want this to be the first one in America. We'll have evening hours, a bar-like environment, and, of course, cats and wine."
According to the Kickstarter page, she's really thought this through: There is a pie chart of expenses and Sana's full assurance that they're working around the health risks and logistics that come with mixing animals and alcohol.
Plus, just like the cat cafe, the bar would be dedicated to helping cats in need. "Given the chance, we will double the number of cats we can house in a comfy, cozy, luxurious cat-centric lounge until they find homes," the Kickstarter description reads. "With our track record of helping senior kitties, you can be sure we will continue to focus our efforts on cats who need it most."
Plus, if you go to the bar and fall in love with a special furry someone, it's okay: all the cats are totally adoptable. "Right now, we have to find a space, raise some money, and hopefully launch in full force by next March," Sana explained to Eater. We're officially marking our calendars, and booking flights. This is one bar crawl we don't want to miss.