6 Ways You Can Bring Sexy Back Into Your Relationship, According to Cat and Nat
The hilarious social media duo drops some #Momtruths about marriage, relationships, and sex.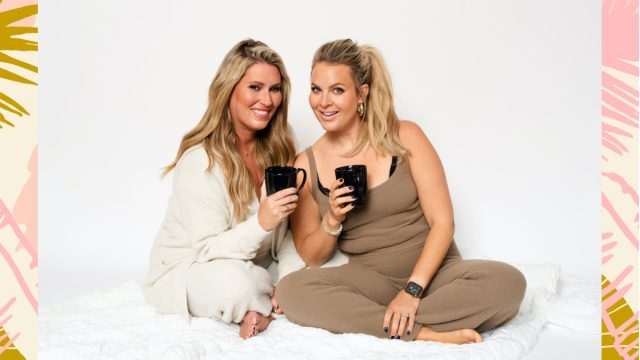 They're famous for their candid, unfiltered, and relatable #momtruth videos on social media, which has translated into success on the road as touring comedians and as bestselling authors. Canadian-duo Catherine Belknap and Natalie Telfer, best known as Cat and Nat,are a pair of moms, who are also best friends, are both married to men named "Mark" (one with a C), and happen to also both be hilarious.
We had the opportunity to chat with the pair recently, for the launch of their new subscription-based parenting advice site The Common Parent.
RELATED: 40 Questions to Ask Your BFF to Find Out How Well You Know Each Other
With seven kids between them, they're certainly qualified to be parenting experts in our book, and they have a lot to say when it comes to relationships, too. Here are Cat & Nat's four tips for bringing the sexy back into your relationship this Valentine's Day.
1. Foreplay all day
Cat & Nat say if you want to bring the spark back, flirt with your partner all day. "Foreplay is not just like OK it's time to go to bed and have sex," says Nat. "We put the pressure on ourselves like 'oh it's been a while, we better do it,' and it is not the case."
As busy working moms, it's also about seizing the moment, instead of waiting for the "right time." "My daughter will be up and walking around the house and my husband will just close the door and be like 'let's go,'" jokes Cat.
2. Lower your expectations
While women often want everything to be all candlelight and roses when it comes to sexual encounters, men are more about getting the job done.  "I think their expectations are a lot lower than we think it is. A little deodorant and you're good to go," laughs Nat. "Don't worry about putting on lingerie or even showering," she adds.
"My husband's like I don't care what you're in, what you're wearing, if I have morning breath, it's time to have sex," Nat shares with HelloGiggles. 
3. Skip the date night
"We don't hold any of the holidays high because as a mom of multiple kids, no one knows what'll happen that day. One of the kids could be barfing so who knows? Take the pressure off and just do what you can," suggests Cat.
Sometimes a quick trip through the drive-through is all it takes to keep the relationship alive. "My husband and I go to McDonald's and get ice cream sundaes with the kids for a date night, and then have sex the next night. No pressure at all on any certain day, time or holiday," says Nat.
"Or, my husband and I will walk the dog together each day and that's our time to connect," she shares. "We can have a conversation and there's no pressure to look each other in the eye or have any deep talks, it's just casual."
4. Take the pressure off
When it comes to holidays, we tend to put pressure on ourselves to have the perfect romantic encounter. "If we have a Valentine's date night, I make a point to not have sex on that day. Because that's what's expected, and then the pressure is on. I don't need that," says Nat.
And whatever you do, don't compare yourself to those seemingly 'perfect' couples. "Don't compare yourself to what you see online because we all know that's not the truth. Don't hold yourself to standards that are not reality," says Cat.
5. Eliminate distractions
While Nat can just grab a milkshake from McD's or walk the dog with her husband and feel connected, Cat says she needs a little more. "It really makes a difference for me to be outside the home with no distractions, staring across the table at one another, and having a conversation," explains Cat. "Sometimes you just need to remember that the distractions of your home can't keep you from focusing on having a conversation with your partner," says the former social worker.
"You have to find that space that works for you and your partner," advises Cat. "I could go out every night with my husband. Although I have kids' sports and don't really want to put on clothes," she jokes.
6. Hit up a local bar
But more for conversation and ambiance, than the cocktails. "I like to go to a bar and sit AT the bar. It's a great way to chat and have fun and make sure you still actually like each other," says Nat. "I think sometimes your partner becomes a stranger. You're so busy with the bustle of life and one day you realize you've both changed and you haven't changed together," says Nat.
Jené Luciani Sena is an accredited journalist and internationally-renowned bestselling author, regularly seen on national TV outlets such as Access Daily, Today and Dr Oz. Touted as one of Woman's World Magazine's "Ultimate Experts," she's a TEDTalk speaker and a busy Mom of 4.
Read more