I Wear Sundresses at Home Every Day, and It's a Huge Mood Booster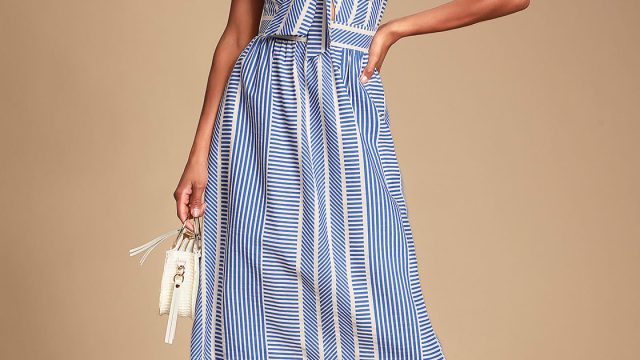 I'm a creature of habit, so when quarantine hit and derailed the daily rituals I had carefully built and nurtured for years, I was majorly shaken up. One of my cherished pre-COVID habits was getting dressed up before heading to the office each morning. Only when I was stuck in slippers and pajamas did I realize just how much rocking a pair of faux-leather pants and heeled booties motivated me to get shit done. So I gave wearing jeans while working from home a try. Denim didn't make me feel as badass as faux leather did, but I started feeling like my old self again—and my productivity skyrocketed. Now that summer is in full swing, I've ditched the denim and reached for linen, chambray, and lace—all in the form of sundresses.
Sundresses are, hands down, my favorite summer clothing items. The no-fuss look makes me feel flirty, feminine, and carefree. So why would I allow quarantine to rob me of an aspect of summertime that I look forward to each year, even though I have nowhere to go?
The clothes I put on each morning affect my mood throughout the entire day, so this summer I'm using sundresses to lighten the mental load that quarantine has laid on me.
People assume that dresses are inherently fancy, but in reality, they're the lowest-maintenance piece of clothing you can wear. Pull a sundress over your head and voilà—you're ready to go. No pants to zip, shirts to button up, or worse: pants and shirts to match.
When I wore T-shirt dresses and sandals to lectures in college, my friends always asked me why I made the effort to look cute for class. What they didn't understand was that, to me, it wasn't an appearance thing: Dresses were simply the quickest way to get dressed and feel motivated to be productive each day. The powerful effect of a bomb outfit has stuck with me post-grad, and I'm taking advantage of that this summer, now that being productive is harder than ever. Below, see the casual sundresses I'm wearing while working from home—and shop similar styles yourself.
Yellow sundress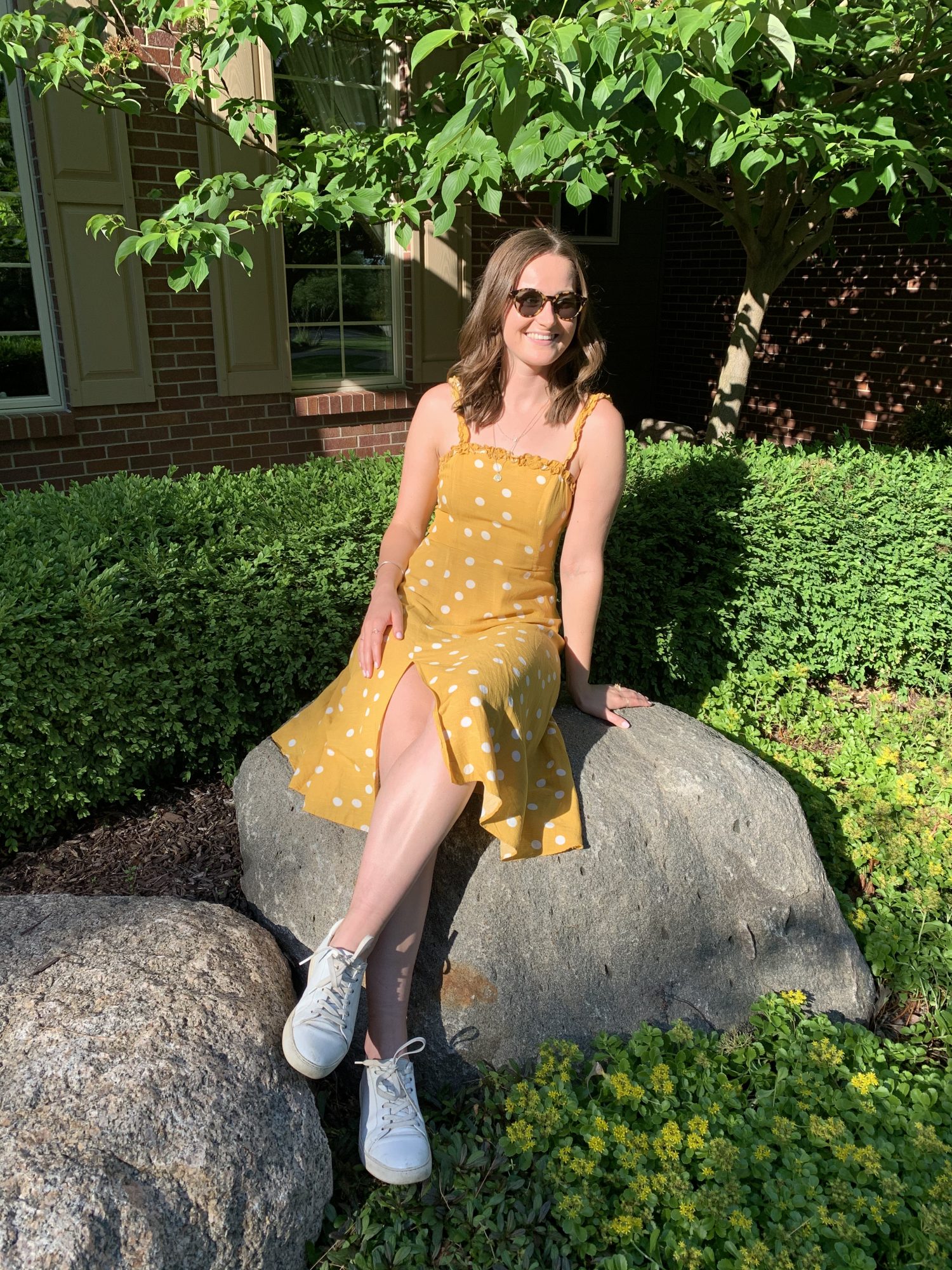 It's hard to be unhappy when you're wearing polka dots, but it's even harder when you're wearing yellow polka dots. The ruffled straps of this midi dress add a feminine touch, and the thigh slit shows just the right amount of skin. I pair this baby with my trusty white sneakers during the day, but strappy sandals and espadrille wedges will dress it up once I can leave the house.
Boden
Tess Halterneck Jersey Dress

—

Tuscan Sun, Spotty Dot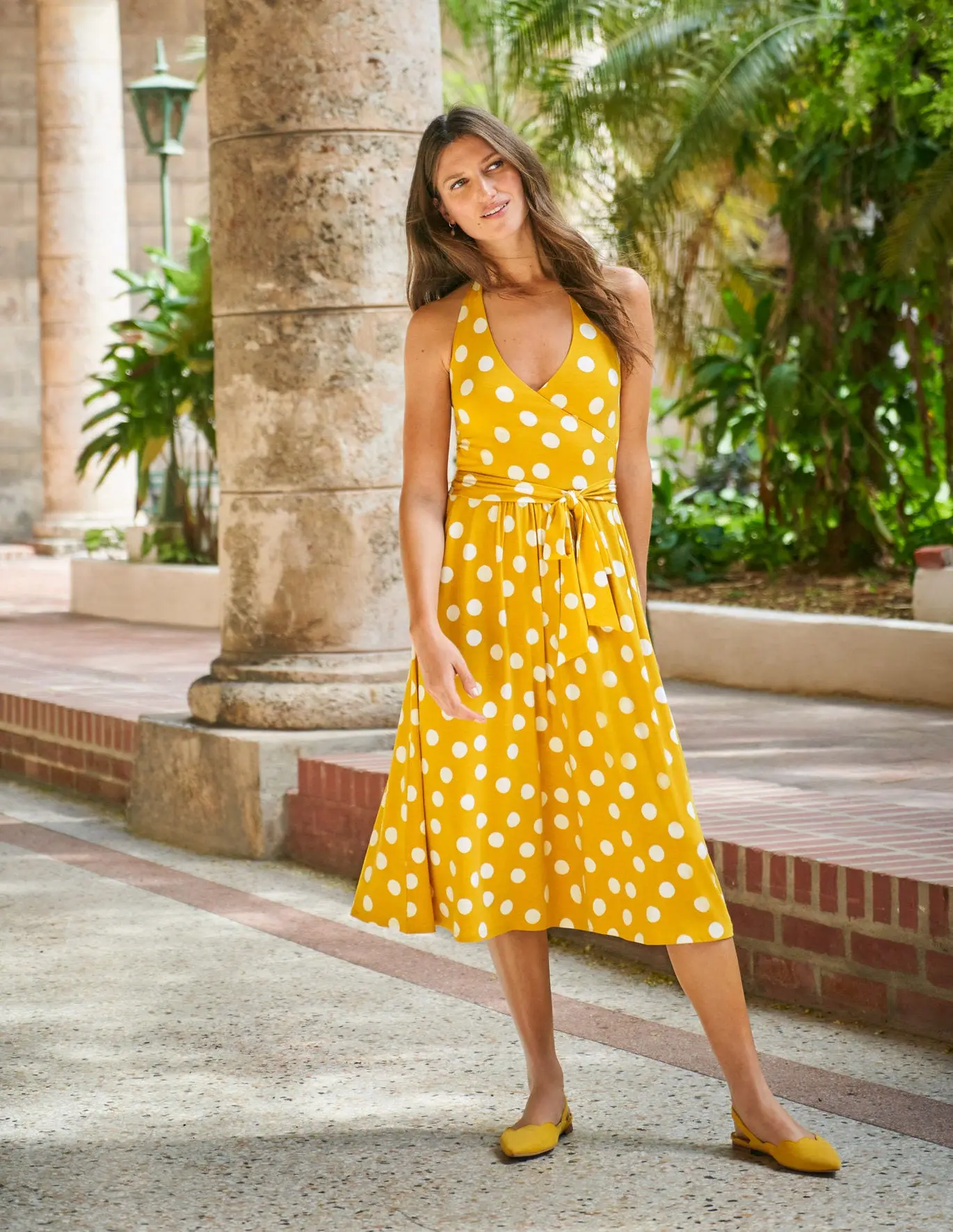 Shop it! $65 (orig. $135), Boden
A flattering halter neck and tie waist add playful elements to this cheery sundress.
Gingham sundress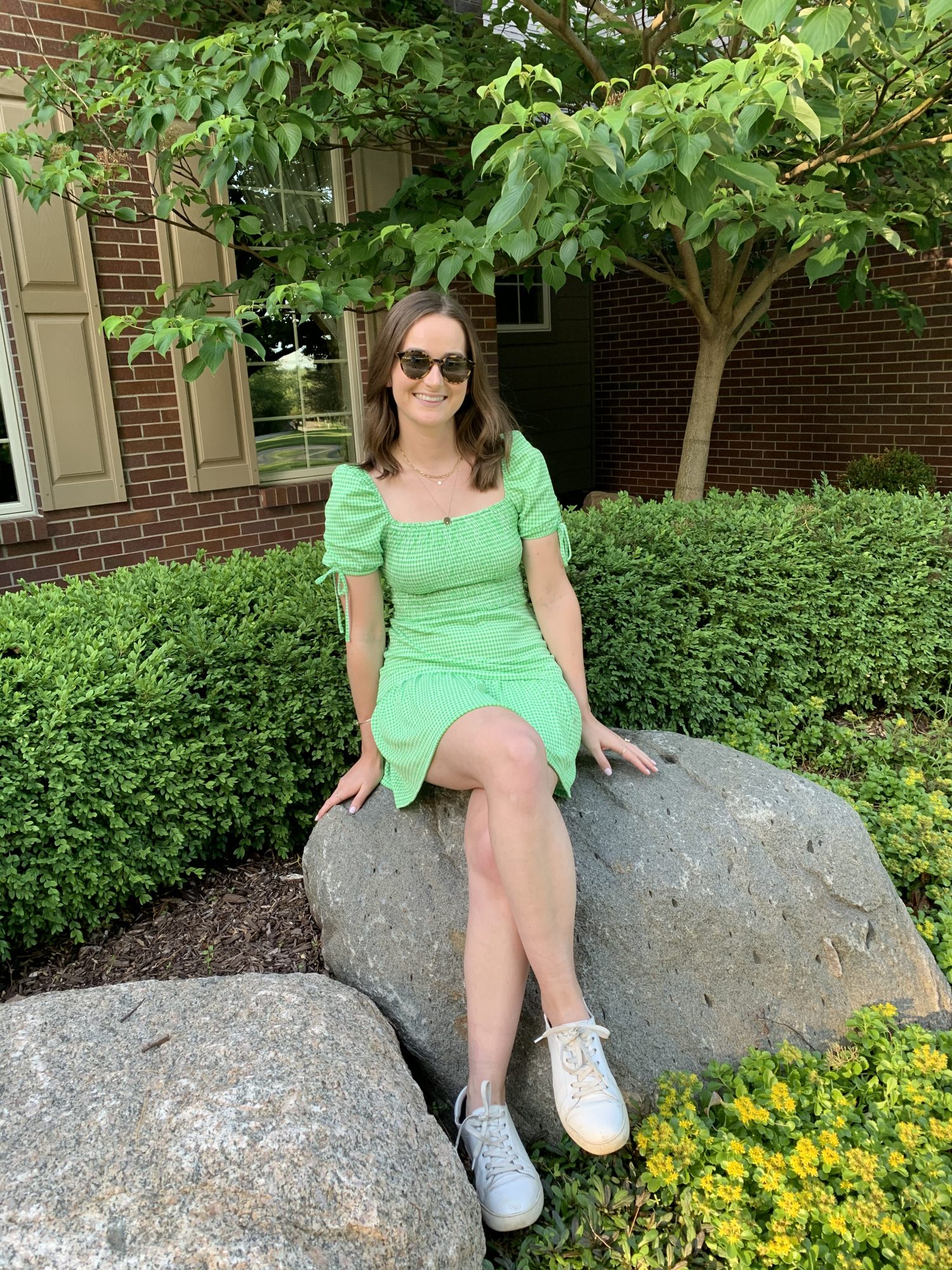 Gingham is one of my favorite patterns to whip out in the summertime, and the bright green color of this dress makes it even more appropriate for the season. To top it off, slightly puffed sleeves, drawstring bows, and a flattering smocked top make this sundress one of my favorites this summer. My exact dress from Topshop is currently sold out in most sizes, but shop a similar option from the brand below.
Topshop Gingham Midi Dress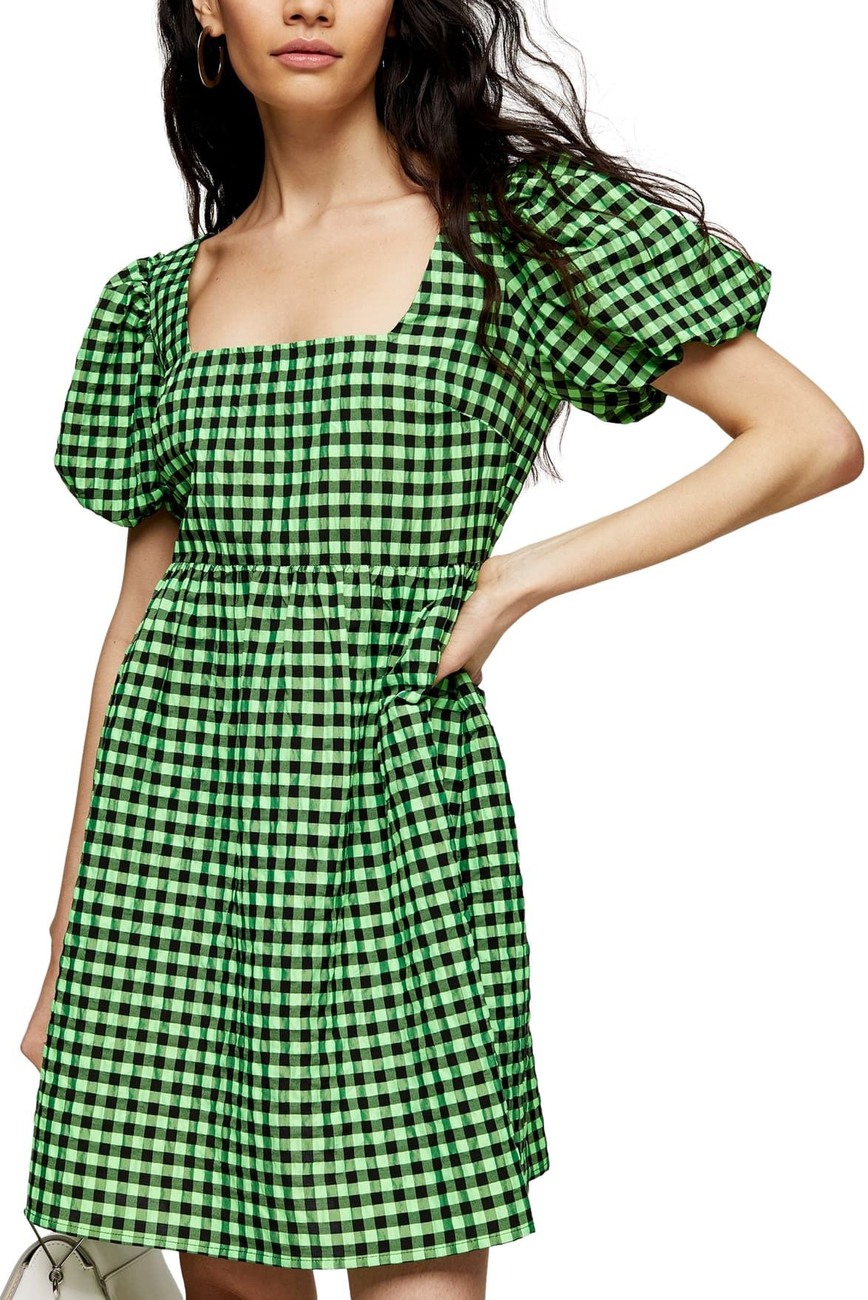 Shop it! $33.97 (orig. $68), Nordstrom Rack
This edgier version of my green gingham dress still maintains a flirty quality with puff sleeves and a flattering fit. A back slit adds some extra interest.
Midi sundress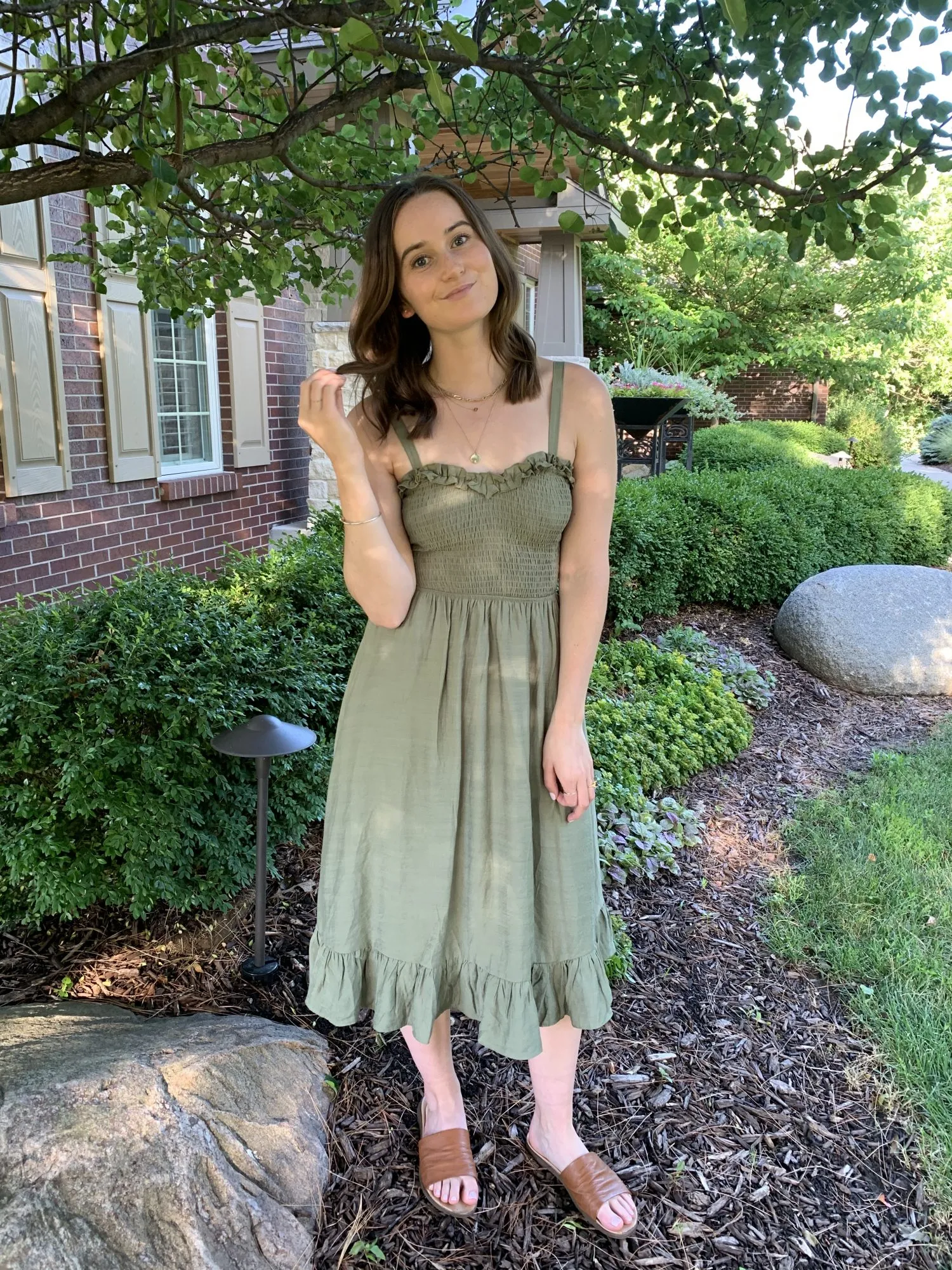 Olive green is a flattering color on many skin tones, and the earthy vibe carries through to this easygoing midi dress. The ruffled hem and sweetheart neckline add romantic touches, but this sundress is versatile for numerous occasions, from date night to a trip to the farmer's market—or, if you're like me, simply working at home.
Gap Factory Smocked Midi Dress in Olive Moss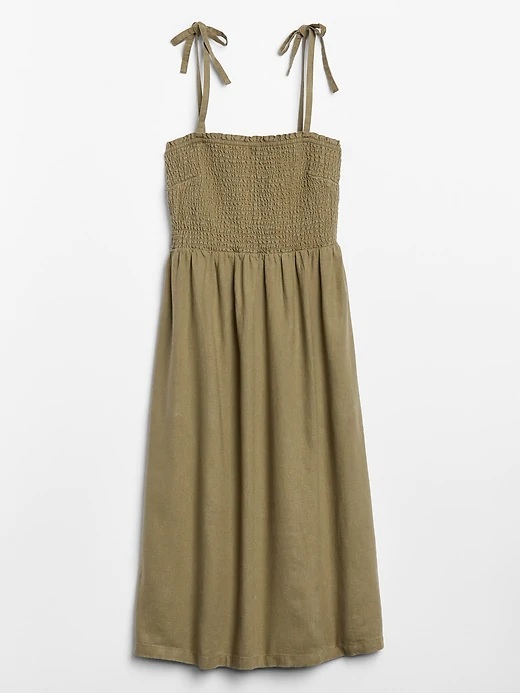 Shop it! $35.99 (orig. $59.99), [tempo-ecommerce src="https://www.gapfactory.com/browse/product.do?pid=578614001″ title="Gap Factory" context="body"]
Smocked fabric is super stretchy and comfortable, and the tie straps on this dress ooze romantic energy. This sundress is available in both petite and tall sizes.
Blue sundress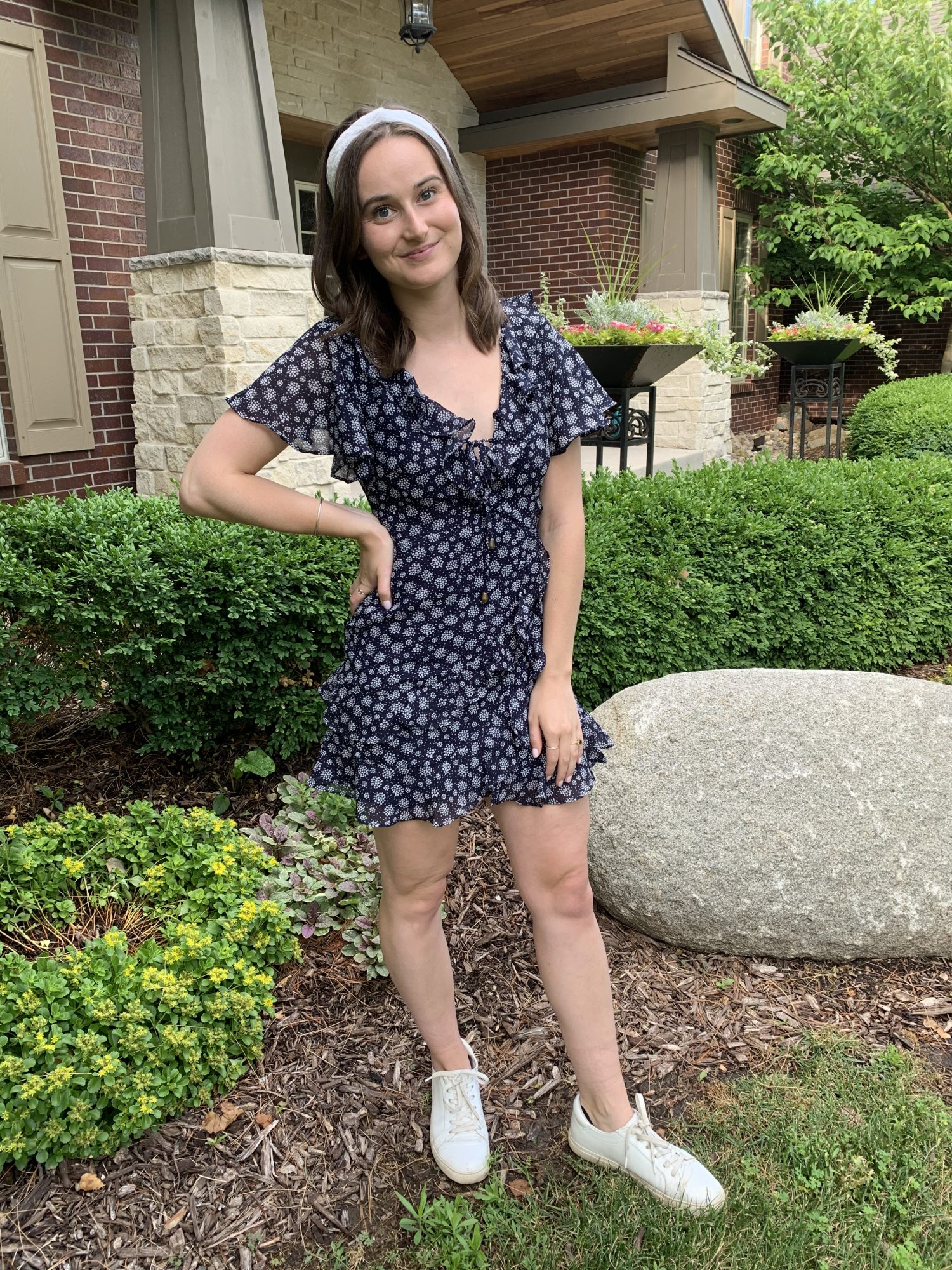 I've gotten so many compliments on this little number, and it's easy to see why. The subtly ruffled hem and sleeves are fun and flirty, and the cut—not too short or long—is super flattering. This sundress can easily be dressed up or down, and I've worn it to events on both ends of the spectrum—from a wedding rehearsal dinner to a walk in the park.
Madewell Ruffle-Wrap Dress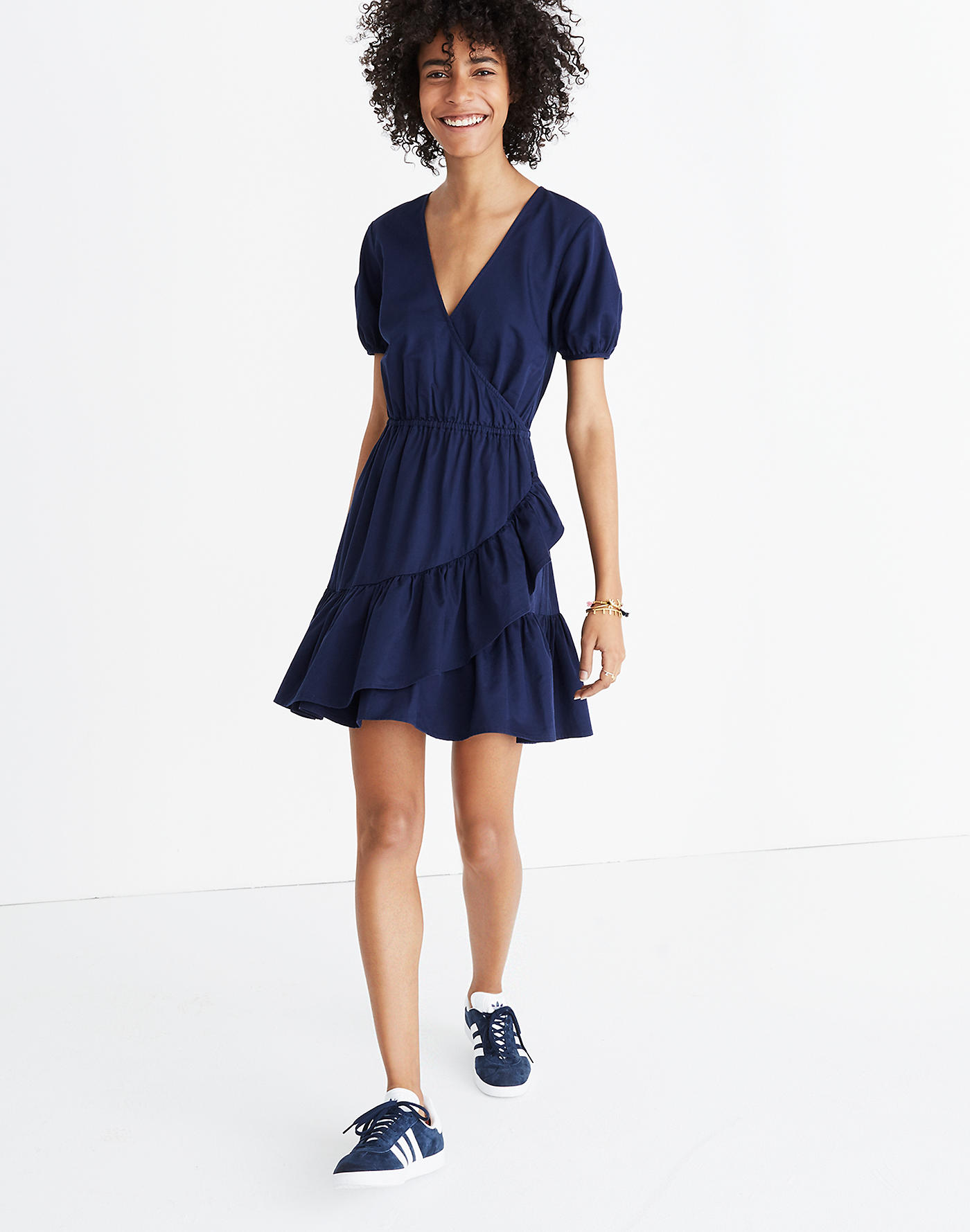 Shop it! $59.99 (orig. $118), Madewell
Although this blue sundress is solid—rather than printed like mine—the ruffled hem and wrap style keep up the flirty vibe. Plus, it's so comfy.
White sundress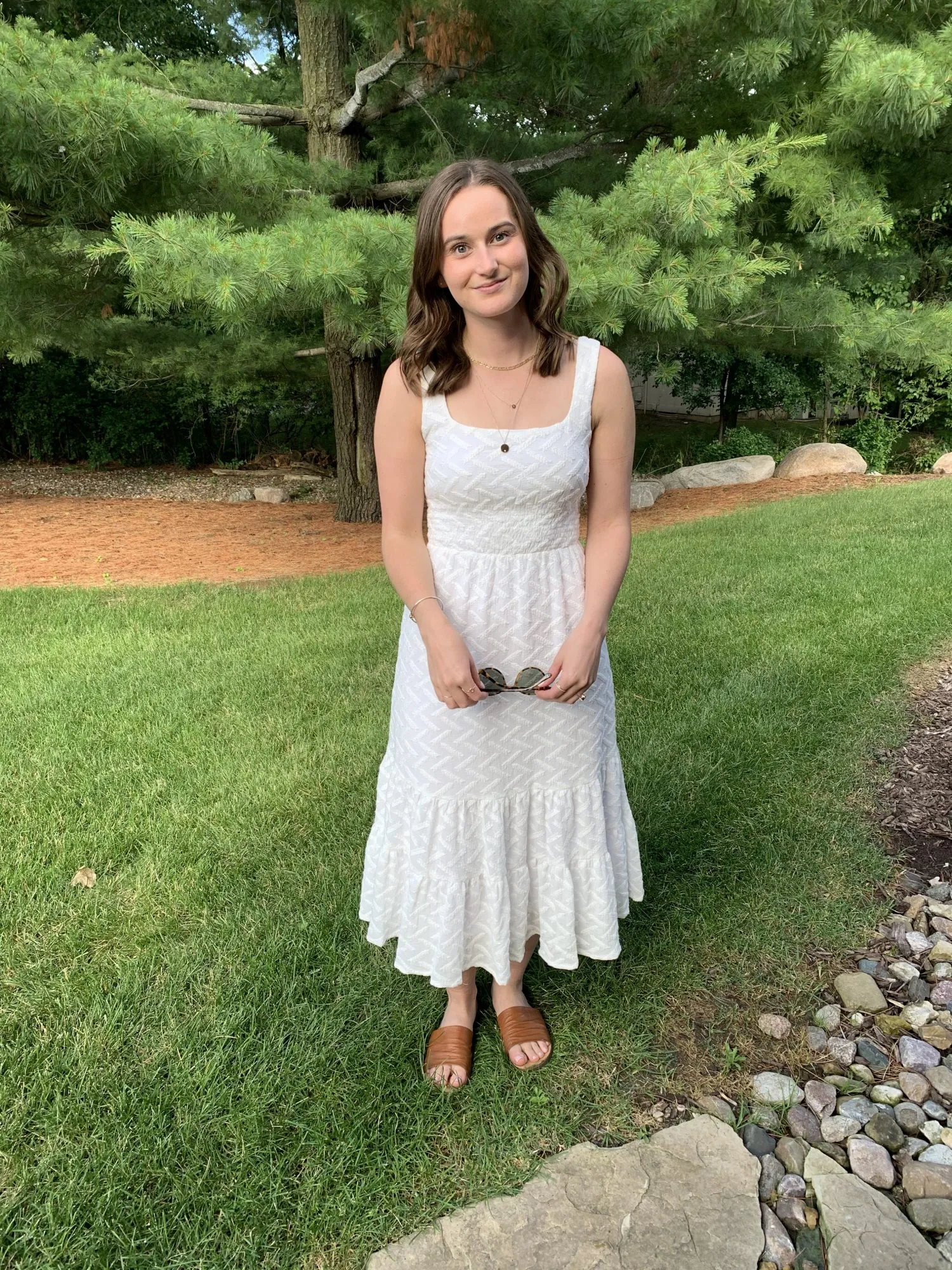 Everyone needs a white sundress in their closet during the summer, and this maxi dress from Line & Dot fits the bill. Thick straps, a flattering silhouette, and textured fabric elevate this white sundress to a whole other level. Best of all, it's super comfortable, so I can spend all day and night feeling my best in this dress.
Line & Dot Becky Summer Maxi Dress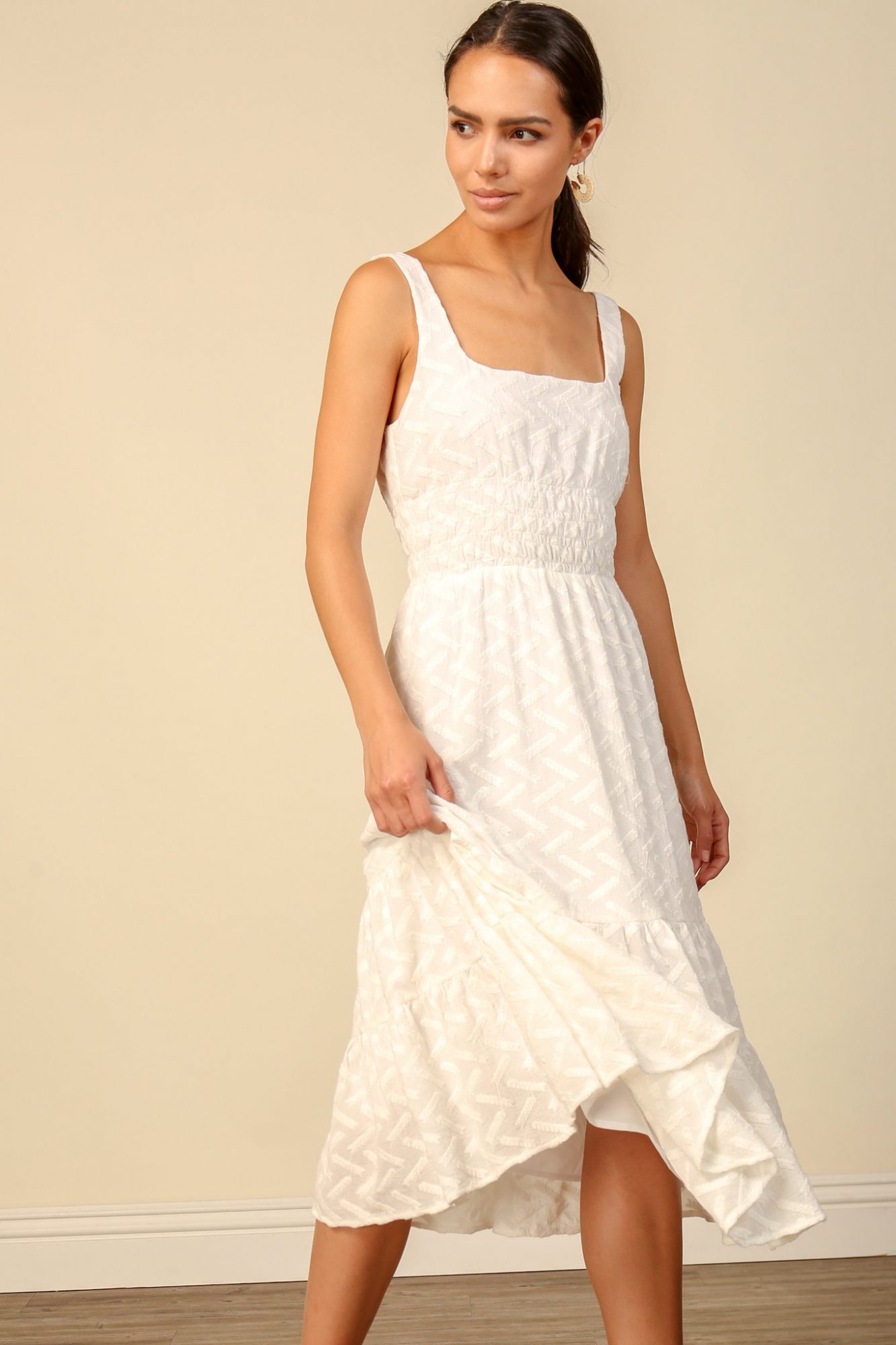 Shop it! $115, Line & Dot
Maxi dresses are perfect for various occasions, from casual to formal, and they're especially versatile when white.
Striped sundress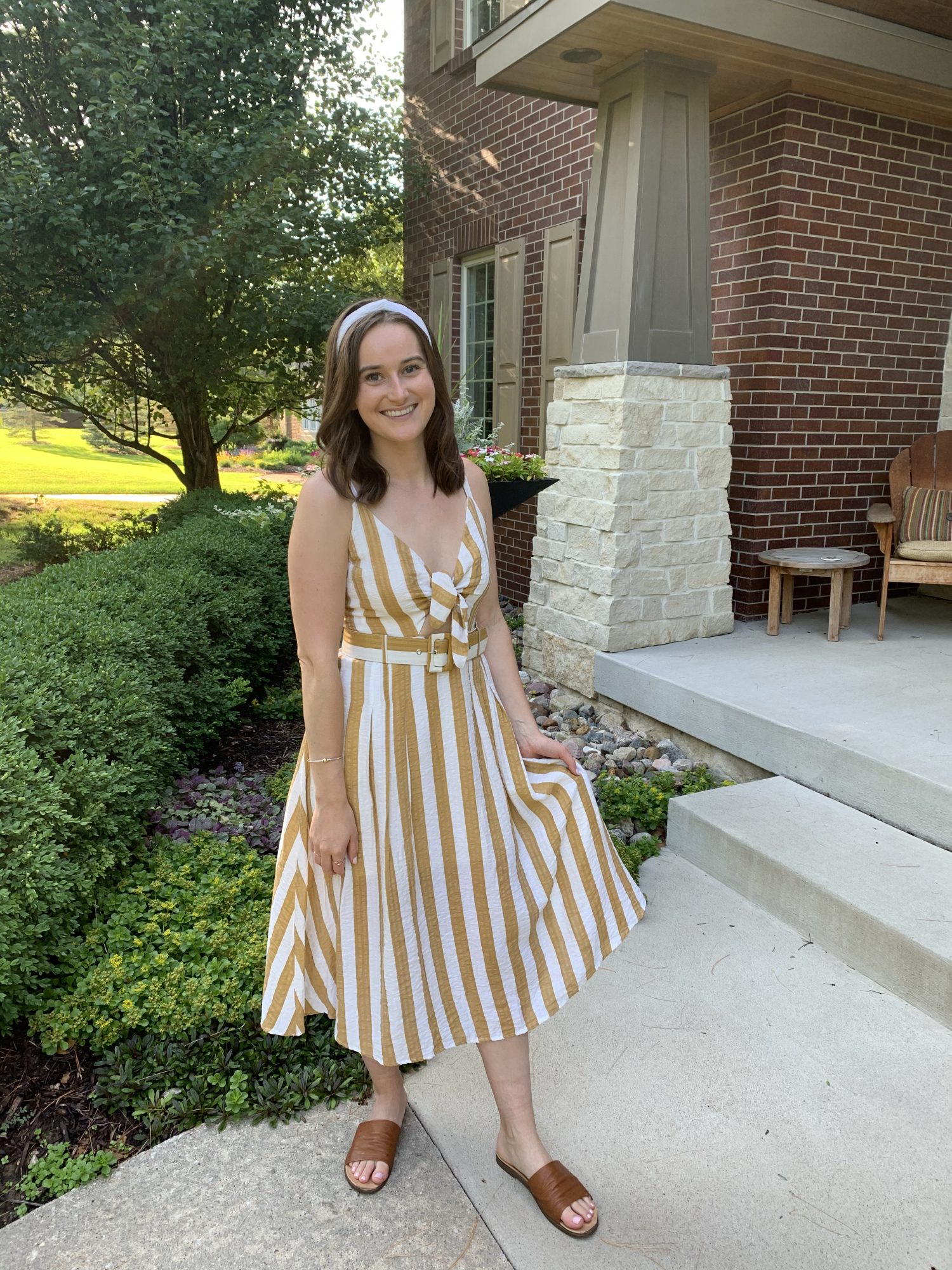 Stripes always make me feel playful, especially when I'm wearing a dress like this one, which makes me want to twirl around outside. Front cutouts and ties have been trending over the past few years, and they're not going away anytime soon. Add in the thick belt, and this dress is a knockout.
Lush World Wonder Taupe Striped Tie-Front Midi Dress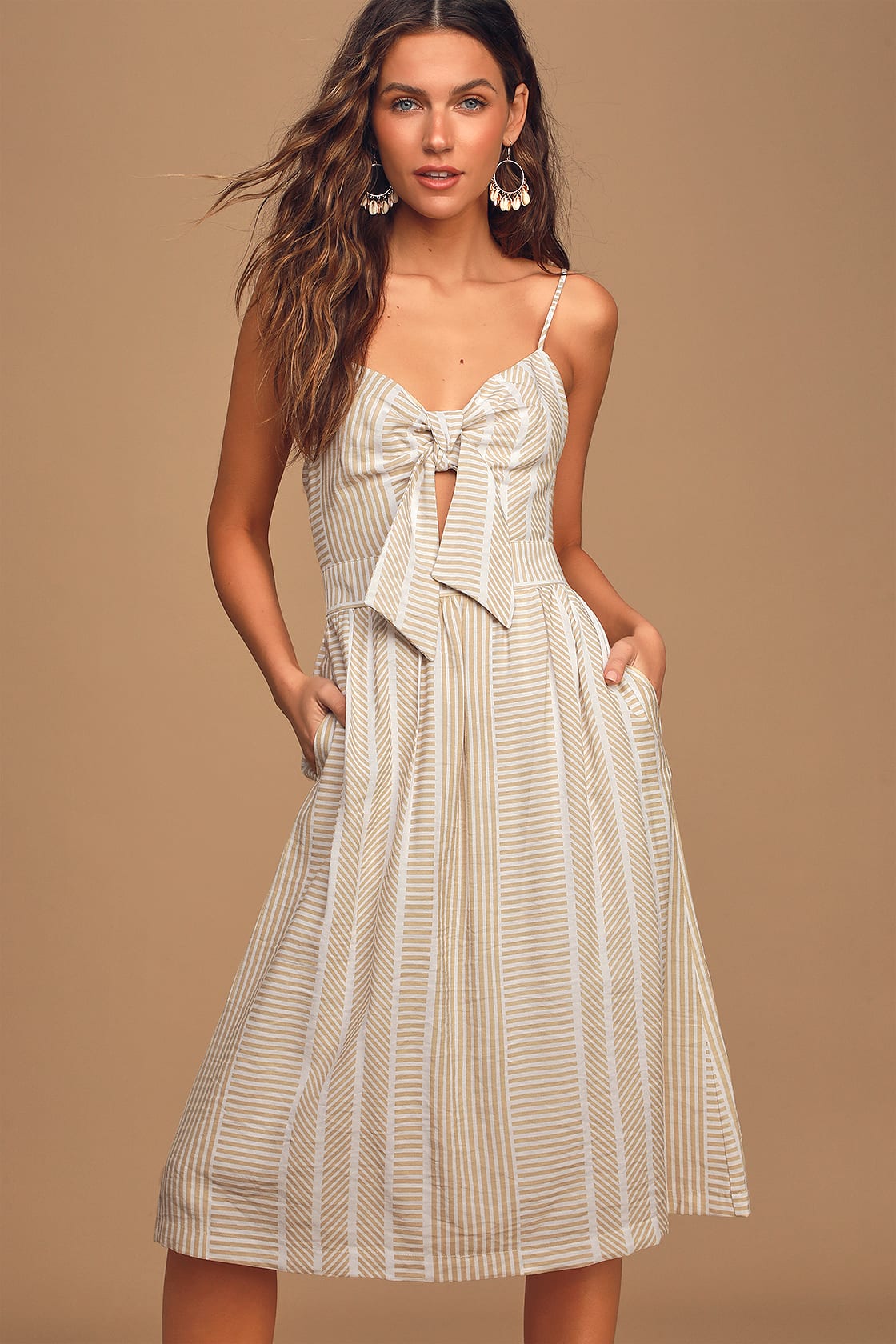 Shop it! $52, Lulus
Although this dress isn't mustard yellow like mine, the front cutout and tie offer similar interest. Plus, the intricate striped design adds an extra dimension to the look.