9 jumpsuits perfect for Zoom meetings from your couch, starting at $22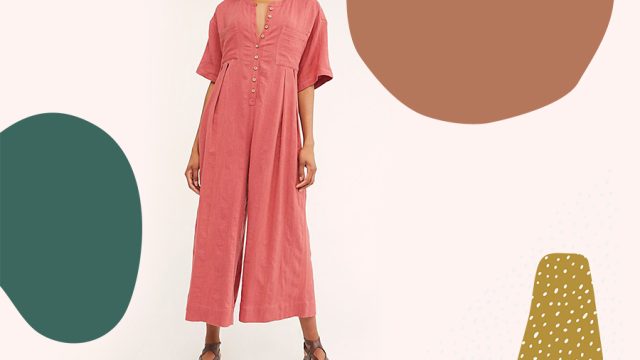 We've all pined over a trend—think straw bags, tie-dyed clothing, or bucket hats—and been crushed when sky-high prices prevented us from experimenting with the style. With Stylish Steals, we bring you affordable versions of the latest trends spotted on the runway, on Instagram, in stores, and on the street. Consider us your new, price-savvy personal shoppers.
As we go through the coronavirus (COVID-19) pandemic, just changing out of our pajamas before the workday feels like a challenge. But putting together an entire outfit—pants, bra, shirt, the whole shebang? It's just not happening. And although the idea of wearing sweats every day is tempting, we're at the point in quarantine where we're craving "real" clothes. It's tough to feel put-together while wearing the same drab sweats as the day before, but we're still seeking the comfort that said sweats provide. The perfect happy medium: jumpsuits.
Comfortable, presentable, and playful, jumpsuits make the no-fuss outfits needed to simplify our stressful lives right now.
Throwing on a jumpsuit is easier than slipping into sweats, and we're always down to simplify our morning routine. They're just as comfy as sweatpants, but jumpsuits look far more put together and will help you feel ready to take on a new day. Plus, there's something about the silhouette of a jumpsuit that makes us feel playful and motivated, which is exactly the type of energy we could all use right now. From short-sleeved and spaghetti-strapped pieces to fitted-and-flared options, we rounded up nine jumpsuits for you to wear while working from home.
1. Old Navy Linen-Blend Cami Jumpsuit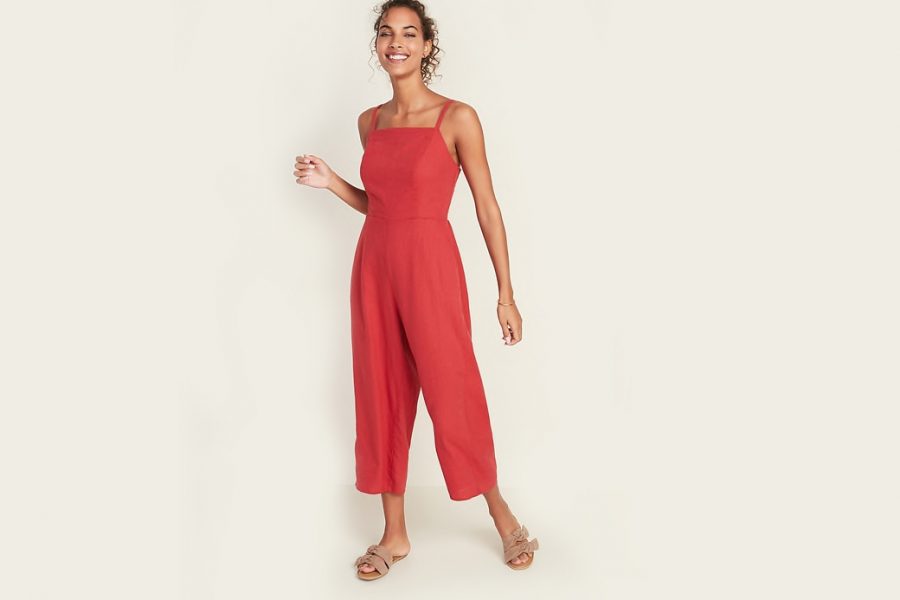 This spaghetti-strap jumpsuit from Old Navy comes in a bold color called "Tomato Juice," and it's helping us channel major summer vibes. It's available in both petite and tall sizes, so the cropped cut will hit the right ankle spot on everyone. Pair it with a cardigan or a jean jacket on windy days.
2. ASOS Design Soft Denim Relaxed Boilersuit in Washed Black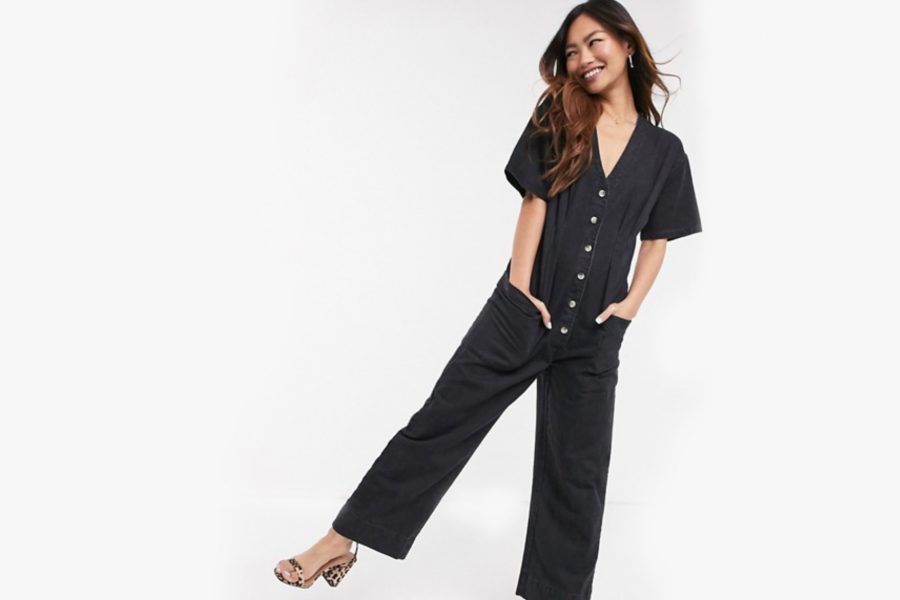 If your local weather isn't in full-on summer mode yet, this short-sleeved jumpsuit might be more up your alley than a spaghetti-strap piece. The relaxed silhouette and soft denim fabric make for a comfortable fit, while the buttons and V-neck design elevate the piece to make it look more put together. Pockets are always a plus in our books, so this detail is a bonus.
3. Billabong x Sincerely Jules Shout It Out Geo Print Wide Leg Linen Blend Jumpsuit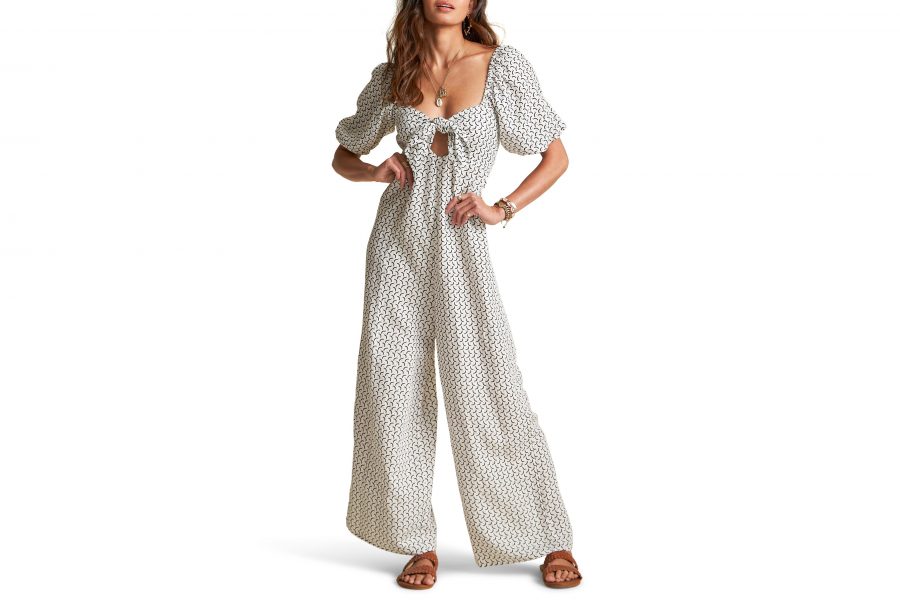 Although the bottom of this jumpsuit looks like pajamas, the top is totally work-appropriate. The puff sleeves and keyhole cut-out add a playful touch to this flowy jumpsuit, and the spunky pattern makes it a total winner.
4. Topshop Tie Waist Pinafore Jumpsuit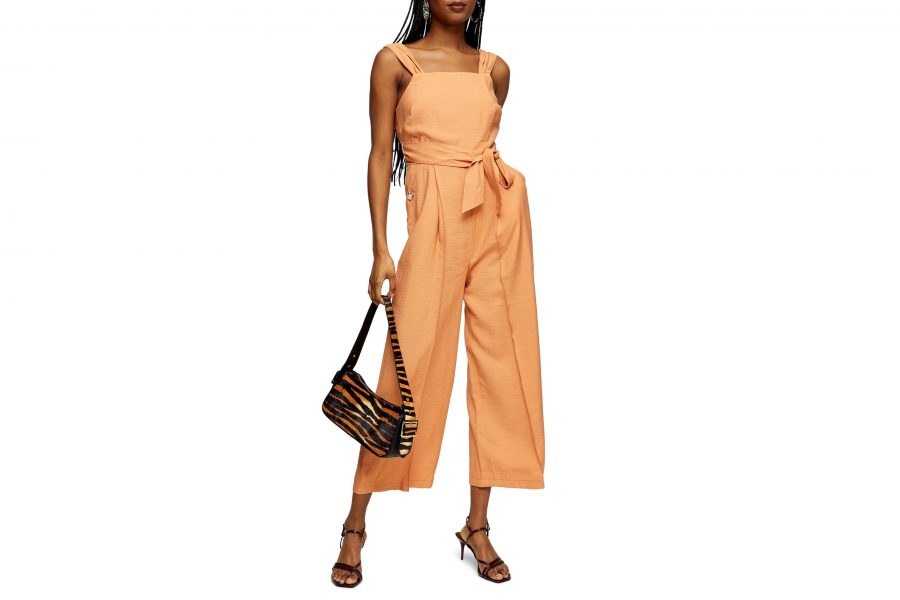 The light orange color of this jumpsuit has us craving a sherbet cone, but, more importantly, the color will complement most skin tones on a Zoom call and IRL. The waist bow makes this jumpsuit super flattering, and the wide legs add a flirty flair. We'll be wearing this number from home as we count down the days until we can show it off in public.
5. ASOS Design Lounge Tie Waist Jumpsuit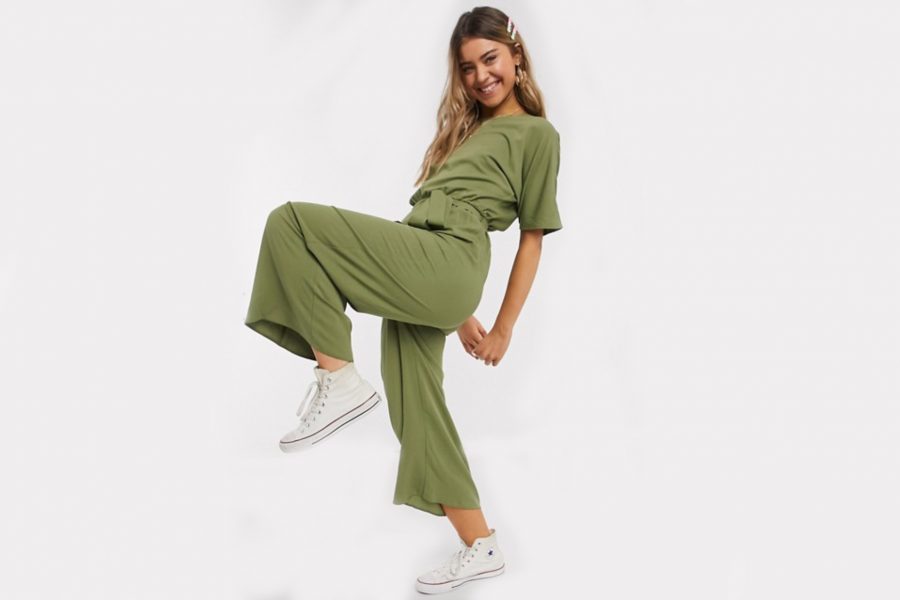 Spring is in full swing, and there's no color more fitting for the season than grassy green. Match the trees in this flattering and fun jumpsuit that has a tie waist, flare pants, and a scoop neckline. Post-quarantine, pair this jumpsuit with sneakers for a casual brunch or with espadrilles for a date night.
6. Topshop Sadie Belted Jumpsuit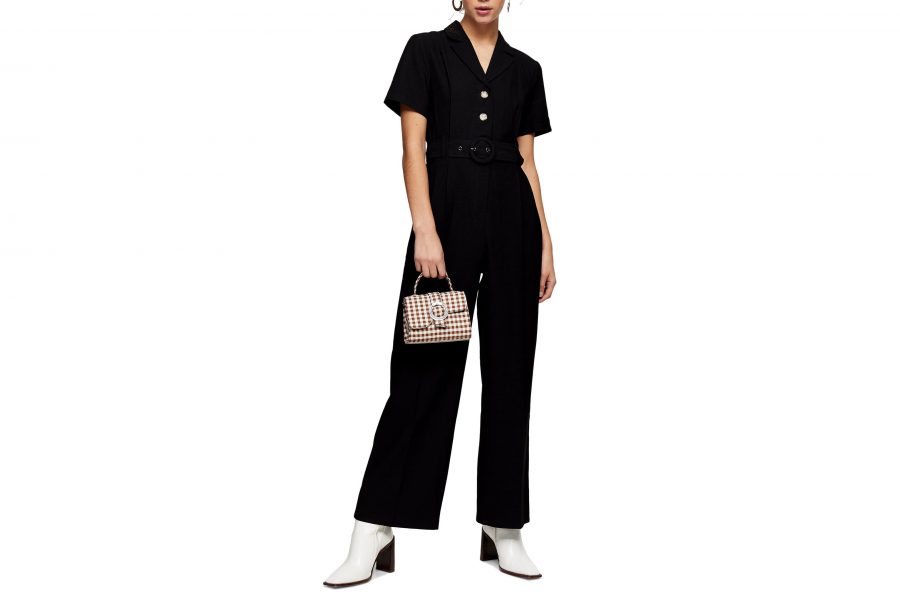 Forget your typical LBD: We're totally on board with a little black jumpsuit. The front buttons, notched collar, and waist-defining belt work to elevate the sophistication of this classic black jumpsuit.
7. Lane Bryant Faux-Wrap Flutter Sleeve Jumpsuit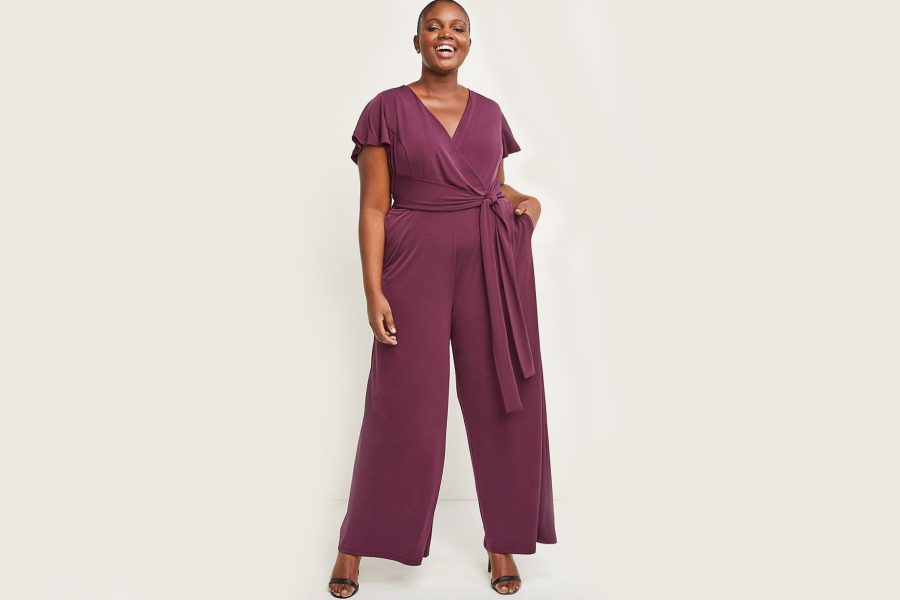 The ultra soft fabric on this jumpsuit will have you feeling like you're still in your pajamas—but you'll look way more put together. This jumpsuit ranges from sizes 10–28, and it comes in the above wine color and in black.
8. Chelsea28 Floral Jumpsuit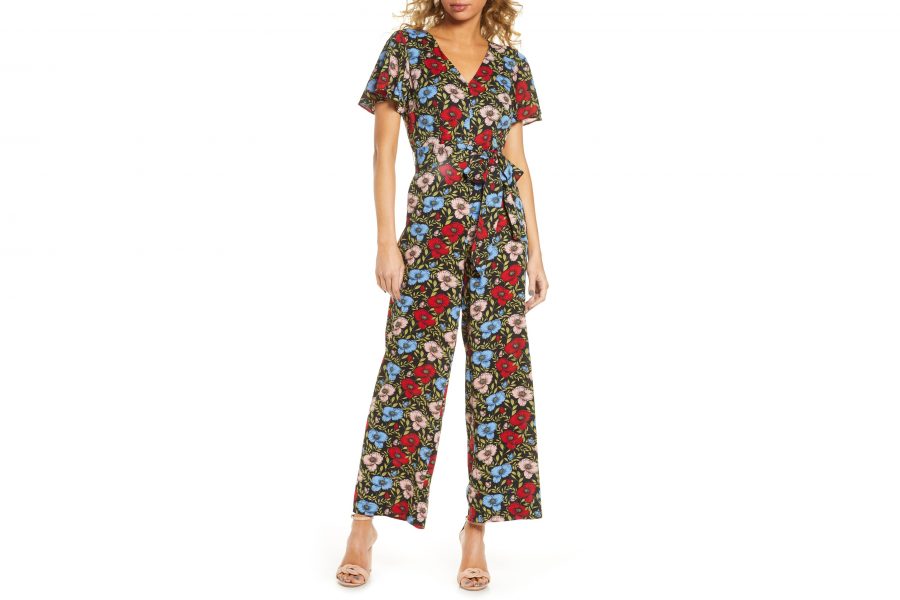 A bold floral print brightens everyone's day, and this pattern is no exception. Flutter sleeves and a waist bow add flirty energy to this statement jumpsuit, and at 60% off, it's a total steal.
9. Free People Current Obsession Jumpsuit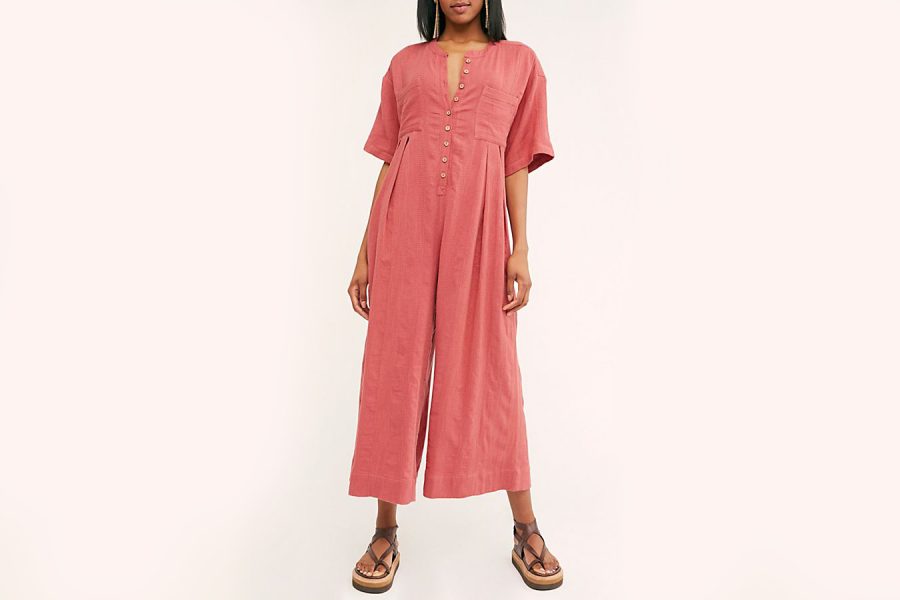 Although this jumpsuit is pricier than some of the other options, shoppers rave about its comfort and high-quality material. The textured cotton jumpsuit comes in this pretty coral, plus navy and cream options. The oversized shape is roomy which makes it perfect for lounging, while the buttons, chest pockets, and embroidery ooze effortless style. Wear a cami underneath this jumpsuit during meetings, or pair it with a pretty bralette when you're done for the day.