We want to live in this magical castle made entirely of cake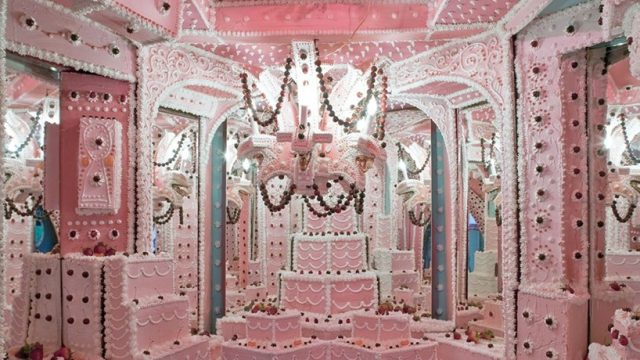 A full-size castle made entirely of cake sounds more like something out of Marie Antoinette's #DecoratingGoals than a real, actual thing. But bless our buttercream-loving souls, it's not. The Think Tank Gallery in Los Angeles, California, has been transformed into a magical dreamland of sugar and frosting, and you kind of have to see it to believe it.
The decadent food art installation encompasses a 7,500 square-foot castle with six rooms, an ice cream truck and a chandelier made from more than 2,000 hard candies. (Holy tooth decay, Batman!)
This sugary insanity is called Break Bread, and its creators are an artist called Baker's Son and Scott Hove, who is the co-creator of Banksy's Dismaland. A closer look at the cake castle reveals it has a sinister side, much like Dismaland is a dark homage to Disneyland. As Hove explains on his website, the exhibit "addresses our notions of comfort, pleasure, celebration and their dark counterparts in the form of carefully crafted artificial cakes. Intended to at once attract and repel, each of my cakes and installations will engage the viewer's emotions with a sense of imminent beauty and satisfaction, quickly followed with impending threat."
Threats like these bared teeth.
Okay, yeah. That's slightly disturbing. But hey, you're still basically standing inside of a wedding cake. The scariest thing about it might be the fact that beneath all that frosting, the walls aren't made of cake. (Sorry to be the bearer of such bad news.) But hey, there's a dining room with pop-up food vendors, so we're thinking you can probably indulge your sweet tooth while you're there. 
The exhibit opened on February 13, lasts for 30 days and will include all sorts of special events, like a private Cirque du Soleil performance an underground comedy show.
We are SO there. For more information or to book reservations, visit here.