The cast of "A League of Their Own" reunited this weekend for an AWESOME reason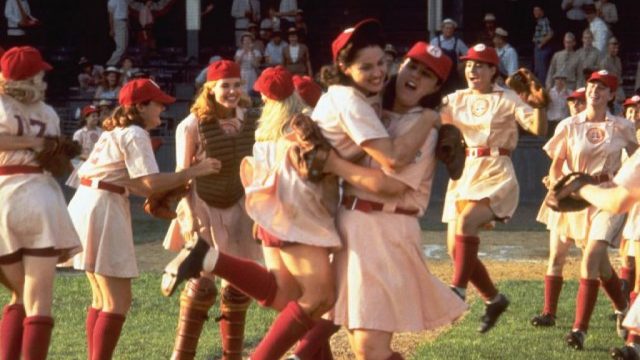 Batter up… hear that call… the time has come… for the cast of A League of Their Own to reunite for a softball game, and for all of us to live vicariously through their ongoing bond.
Almost 25 years after the release of the film, Geena Davis (Dottie Hinson) cheered on some members of her former Rockford Peaches team — Patti Pelton (Marbleann Wilkenson), Freddie Simpson (Ellen Sue Gotlander), Megan Cavanaugh (Marla Hooch), Anne Ramsay (Helen Haley) and Tracy Reiner (Betty Spaghetti) as they played in a softball game during the second annual Bentonville Film Festival at Arvest Ballpark in Springdale, Arkansas.
"It's 20 years later and we're still playing," Pelton said. "It's great to be here. It's a gift that keeps on giving."
For them AND for us. It's so cool to see the cast reunited after so many years. It's even cooler to know they're all still badass ball players. Once a Rockford Peach, always a Rockford Peach.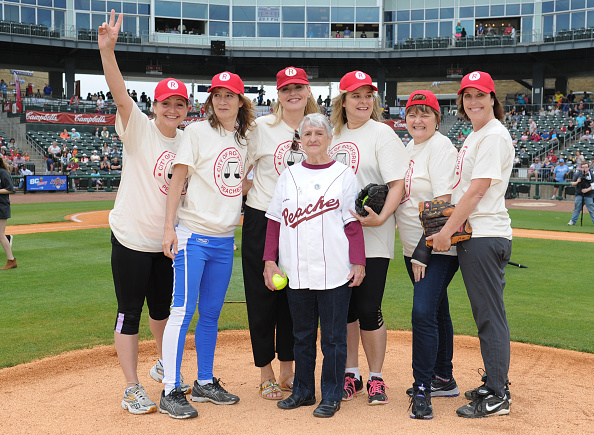 Davis co-founded the Bentonville Film Festival in 2015, and their mission is to "champion women and diverse voices in media," according to the website.
"This event was so popular last year that we decided to do it again," Davis said. "And I'm so thrilled to have six of my Rockford Peaches castmates attending the game this year."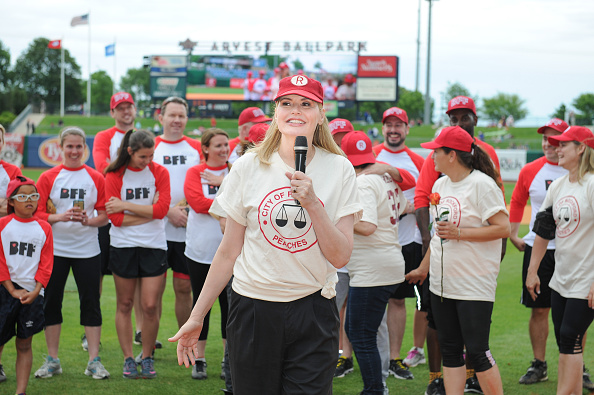 Noticeably missing were Madonna ("All the Way" Mae Mordabito), Rosie O'Donnell (Doris Murphy) and Lori Petty (Kit Keller). However, O'Donnell attended last year's event.
Davis managed the blue team who played against the red team. The blue team' who happened to have former Arkansas Razorbacks running back Peyton Hillis and former professional soccer player Cobi Jones — no biggie — won 20-4, according to Arkansas Online. false
After the game, Davis thanked fans for their hospitality during the six day festival.
"We've had the best time," she said. "Everybody loves Bentonville. Obviously we'll be back again next year. And it's all because of your incredible support."
That should give other castmates plenty of time to clear their schedules, right? (We're looking at you, Mo, Ro and Lo).