Casey Wilson dressed her son up like Donald Trump and it's literally a look-a-like
Actress Casey Wilson, known for her role of Penny Hartz on the ABC comedy Happy Endings and before that for her part on Saturday Night Live, recently shared an Instagram of her son's Halloween costume a few days early and oh my GOD are we so grateful. Seriously, those costumes that make babies look like they're riding dinosaurs or birds or horses? Funny. Pictures of babies dressed up as old people? Ha ha. Eyebrows drawn on super expressive infants? Big ol' yes. But THIS costume? Blows them allllllll out of the water.
Meet the only version of Donald Trump we've ever looked at and said "AWWWWWWWW."
First of all, we love that he's wearing a Hillary pin. Just really kicks the costume up a notch, and also will probably prevent Casey from getting approached by some serious crazies while taking her kid out trick or treating. But whatever her political opinions are, we seriously can't get over this costume.
The comb over! The tiny tie! The little suit jacket! The utter lack of eyebrows! The expression on his fickle face. Like, come on…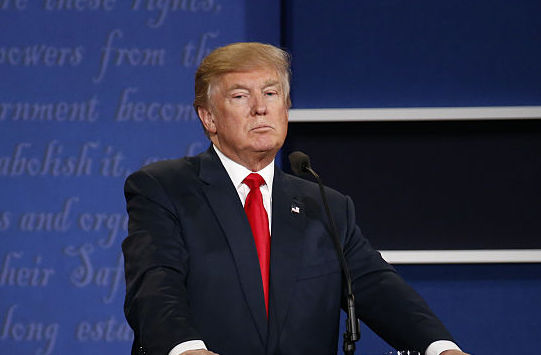 Honestly, though, this might be our favorite Halloween costume of the year, and it's not even Halloween yet. In an endlessly frustrating and tumultuous election, we absolutely needed this little bit of presidential levity to get us through until November 8th. Thank you, Casey Wilson, for brightening this stressful time of year.
And you, baby Wilson/Trump, definitely have our vote.