Carrie Underwood's new music video for "Dirty Laundry" is here!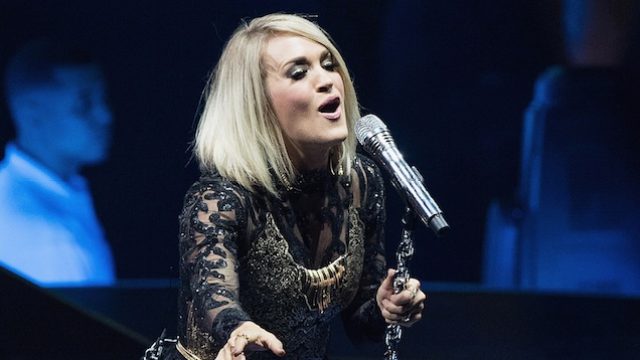 Whether Carrie Underwood is posting relatable Instagram photos or breaking musical records, she never ceases to dazzle us with her effortless charm, ridiculous talent, and humble nature.
If you're a fan of her sound (who isn't), Entertainment Tonight let us know that she dropped a new music video for "Dirty Laundry" today!
The term "dirty laundry" often refers to wrongdoing of some kind, and in this case — Underwood is singing about her partner's list of mishaps.
"'Dirty Laundry' is about a cheating man -- the girl in the story kind of talks about stringing up his laundry, getting rid of his laundry, that's how she finds out he's been cheating on her," Underwood said.
"That lipstick on your collar, it ain't my shade of pink. And I can tell by the smell of that perfume it's like forty dollars too cheap. [...] Imma hafta hang you out to dry... "
The black-and-white video is directed by Shane C. Drake, and it has an abstract feel while also being story-driven and visually striking as people and animals move in and out of the frame. Despite the subject matter, the song doesn't come off in a harsh way. In fact, it's like a fun feminine power mantra!
Oh, and it's catchy AF.
Here's what Underwood revealed in a press release:
"It's about emotion -- my emotion, [and] we have other people that came in to just kind of be one-on-one with the camera and just emote directly into the lens. Shane had the idea to include some beautiful animals that represent the parallels between human and animal behavior and instincts, which look great interwoven with visuals of emotional women and men."
Sold? Head over here to see the video.
H/T: Entertainment Weekly